By Joe De Luna, Director of Tennis and Pickleball
Four Cordillera Ranch teens have excelled on their high school tennis teams,
 

leading to district and state titles, and well-deserved bragging rights.

 
Jess and Sam Gonzales
For 2023 Boerne High School graduates, Jess and Sam Gonzales, they both agree that their greatest personal victory was winning the Tennis Doubles State Title with each other, as it was the last competitive match they will ever play together. But the twins' accomplishments extend father back and to a much bigger degree. In fact, they ended their high school years as the most decorated athletes in Boerne High history. And they are the only athletes to win gold in two separate sports. Jess and Sam each list 2020 Team Tennis State Finalist; 2022 Soccer State Champion; 2022 Team Tennis State Finalist; and 2023 Tennis Doubles State Champion on their resumes, with Jess also adding 2021 Soccer State Championship. Jess and Sam credit the support they received from their parents, coaches, players and the community for enabling them to succeed and accomplish their goals. While they have both decided 
to not play college tennis, they will spend their summer prepping for their next adventure — Jess at A&M and Sam at UTSA — and they shared with us some life lessons they learned from their high school sports careers.
What is your biggest takeway from participating in team sports?
Jess: My biggest takeaway from team sports was how important family is. On both my tennis team and soccer team, we have built our own family that has helped us push each other to accomplish many things.
Sam: My biggest take away from team sports is to be nice to people.
Now that high school has ended, what was your greatest challenge?
Jess: My greatest challenge was realizing that my career as a student athlete has ended.
Sam: My biggest challenge was myself. It was just me trying to find motivation.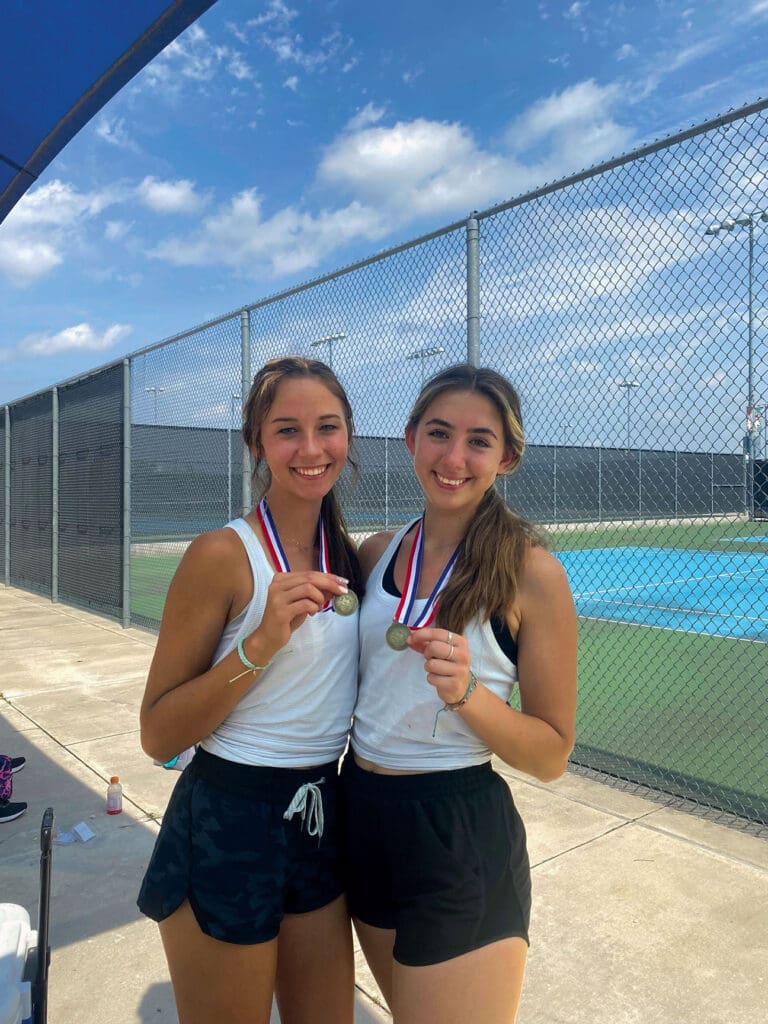 Cameron Sudyka
Incoming Champion High School senior Cameron Sudyka recently won the Girls Junior Varsity District Title in Tennis Doubles with her partner Sydni Sage. However, Cameron's goal is to make it to State with her doubles partner in her senior year! She treasures the sense of unity and encouragement she receives from playing on a team, and even though the tennis season for the school year might be over, Cameron will have many opportunities to play and have fun on the court. She's planning to stay busy on the tournament circuit, plus at camp and team tryouts. As for college, if the right opportunity presents itself, it's possible she will continue to play tennis. But Cameron said that whether she plays competitively or not, tennis will still be a part of her life in college as a way to stay active and meet new friends. 
Ingrid Braden
Ingrid Braden might be the youngest of the group, entering her sophomore year at Champion High School in 2023/24, but that just means she has three more years of accolades to add to her resume. She was undefeated in Tennis Singles for the entire school year, and she also won Girls Junior Varsity District in Tennis Singles. Ingrid has been working regularly with Cordillera instructors Joe De Luna and Alejandro Chong at the Tennis Club since her family moved to the Ranch a year ago, and said her skills have improved tremendously since then. She credits tennis for helping to improve her confidence and persistence, and even calm her nerves. Ingrid also competes in local USTA tournaments, especially in the summer. She wants to play college tennis, and plans to continue her lessons with Joe and Alejandro to achieve that goal.  
Joe De Luna is the Director of Tennis and Pickleball at The Clubs of Cordillera Ranch. He can be reached at jdeluna@cordilleraranch.com and 830.336.9004.
High School Sports Wrap Up the '22-'23 School Year
Boerne ISD high school sports were always making the news this past school year, and if you have kids in the district, you know that things are already revving up for this fall. We want to take the opportunity to recognize the achievements from both high schools. Go Greyhounds and Chargers!
BOERNE HIGH SCHOOL
Football
State Finalists 2023
Baseball
Regional Finalists 2023
Softball
Regional Finalists 2023
Boys Basketball
State Semi-Finalists 2023
Girls Basketball
State Semi-Finalists 2023
Boys Soccer
Regional Finalists 2023
Girls Soccer
State Semi-Finalists 2023
Golf
Boys Team State Tournament
Qualifiers 2023
Tennis
Sam Gonzales & Jess Gonzales – Boys Doubles State Gold Medalists 2023
Track & Field
Tori Adams – State Silver Medal in the shot put 2023
Kendall Lemm – State Qualifier in the high jump 2023
CHAMPION HIGH SCHOOL
Baseball
State Bronze Medalists 2023
Boys Basketball
Regional Semi-Finalists 2023
Girls Basketball
Bi-District Finalists 2023
Boys Soccer 
District Champions 2023
Girls Soccer
Regional Quarter Finalists 2023
Golf
Girls Team State Tournament Qualifiers 2023
Phoenix Guerra – Boys Individual State Qualifier 2023
Swim & Dive
Griffin Orloff – State Gold Medalist in the 100 m Breaststroke 2023
Track & Field
Elizabeth Leachman State Gold Medalist in the 1600 m 2023