Stuart Rowland, Director of Agronomy
Marc DeWall, General Manager
It has been fun to watch the transformation of the golf course this spring and summer as our new Director of Agronomy Stuart Rowland continues to put his stamp on it with continued agronomic improvements. While we have been blessed with somewhat cooler temps and above average rainfall this summer, Stu and his team have the golf course in outstanding condition. We have seen green speeds improve with smoother and firmer conditions. Bunker consistency has been very good. The Zoysia fairways are tighter and the golf course has played faster, which has led to better playability and health of the turf. We have also been more aggressive in maintaining the native areas, which leads to a more enjoyable round of golf for our members.  
While the playability has certainly improved, so have the aesthetics. Stu and his team have great attention to detail and it shows in the various aspects of the golf course. It truly is a joy to play and the agronomic conditions are as good as we have seen. One of the things I have enjoyed listening to this year are the overwhelming positive member comments.
Marc DeWall, General Manager at The Clubs of Cordillera Ranch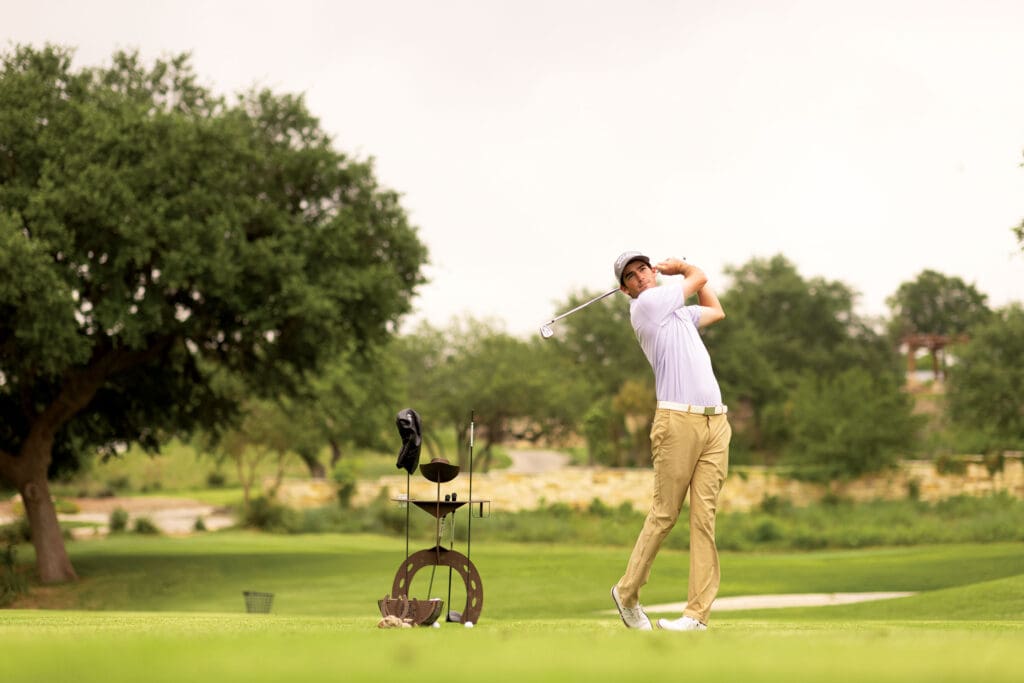 "After playing in multiple Senior interclub events around the SA area, I discovered that we picked the top golf course to live in retirement. The zoysia fairways and bent putting surfaces are as good as I've ever played. Then to top it off, the good Lord above provided some spectacular views." – Ron Ainsworth
"So pleased with the improvements in the conditioning and maintenance of the course. Stu and his team have worked incredibly hard to get the course is in its best overall condition since its opening in 2006." – Ken Nibling
"I want to give a big shout out to the entire agronomy team. This is the best our course has looked and played in the month of August in quite some time. Hats off to the group as our greens are absolutely perfect and the bunkers are in great shape. Thank you!" – Tony Coleman
"Having been a member for 14 years, I have never seen the course in better shape. Fairways are incredible and greens perfect with great pace. Knowing that Stu is a great golfer, he is addressing issues around playability of the golf course, which is so encouraging. Stu and his team have done a fabulous job in such a short time since his arrival. It makes me proud to say I play golf at Cordillera Ranch." – Andrew Tosdevin
The Clubs of Cordillera Ranch Agronomy team continues to be hard at work as we continue our desire to "Make It Better." But what is better? For us it is the idea that a standard practice can become more efficient, a turf cultural practice can become less invasive to keep daily play enjoyable and that we can transform existing areas to have a more aesthetic appeal. For our team, we accomplish this by using a method we call Orchestrate and Evaluate. That is, with every task, no matter how small, we will execute a process and then self-critique that process.  
Reflecting on the last five months, our team has made tremendous strides both on and off the course orchestrating and evaluating everything we do. In the self-critiquing manner, we're never satisfied; however, highlighting several successes on the course is always a good idea to show how and what is being accomplished by each of our practices. From day 1 in March, our first goal was to have excellent putting surfaces for daily play as well as the upcoming member/guest tournaments. We achieved a primary goal of solid turf coverage and then began to lower heights and dry the surfaces. For spring daily play, we achieved a 12+ on the Stimp and then an amazing 14.5 for the C-Star Member/Guest. This summer, we have been able to maintain lower heights and smoother conditions by simply staying consistent with cultural and fertility programs as well as plant protectant programs. We are very happy with the results as we move into the fall and October's aerification, which will begin the good process of promoting great root development thus producing a healthier plant for the following summer.
Greens are always an important highlight of any club but we also have a desire for our Zeon Zoysia surfaces to be equally as good from tee to green. This year, we've been able to mow the Zoysia even lower and tighter, which gives a great presentation on the tee as well as better performance on fairways and around greens lending to the ball rolling a few more yards than usual. This summer, we aggressively vertical cut and aerified these areas and heavy sanded them (see July/August Cordillera Ranch Living column). By this, we are reducing the puffy thatch nature of the zoysia that "grabs" a chip or run-up to the green by diluting the spongy thatch layer with sand. These practices are a huge benefit to both the playability in shot making and in health of the turf.
Playability and aesthetics are our primary goal for the course. As we move into fall, we are excited to continue our important turf practices and begin anticipated projects that will sharpen every corner of the property. We will begin by defining all landscapes and mulched areas with a sharp turf edge and then installing new mulch. This detail will also be addressed in all walkways to tees and from tees to fairways. Along with these perimeter areas, all native areas will continue to be mowed down to allow for new growth and elimination of overgrowth. Our unusual summer rains have led to very thick and lush native grass and thus more attention has been focused to mow down strategic areas first for play and then all areas for health and regeneration of grass and wildflowers.
Lastly, I'd like to mention a special goal: An enhancement to our Culture and Environment here in the Agronomy department. Change on the course doesn't happen until we look at things a little differently within. Every morning after the team meets, we push in our chairs — we've just made the first accomplishment and small detail of the day. That transfers over time to sweating every detail on the course. Today, we are also changing our environment as the agronomy team has renovated the offices and breakrooms by repainting, renovating floors, enhancing the crew room atmosphere with furniture and TVs, and keeping an inviting presence. Culturally we also challenge ourselves to be better at what we do — our work and our interactions. This is something we also look forward to this coming season as we plan a special "Behind the Scenes" tour of the facility and our daily operation.  More details this fall!
Agronomy at Cordillera gets better each day. No one process on the course or in the office is a "one and done." They are evolutionary shifts and they are fun to watch happen in the people and, in turn, the product. We are pleased with the progress and even more excited to build on those achievements in bringing you, your family and guests a great experience.
Stuart Rowland is the Director of Agronomy at The Clubs of Cordillera Ranch. He can be reached at srowland@cordilleraranch.com or 830.336.3710.