Boerne's public art scene flourishes and delights.
Ann Koehler Courtesy of The City of Boerne
In 2015, Art al Fresco was created by the City of Boerne as a 5-year, large-scale sculpture competition with a stated intention to grow Boerne's permanent public art collection. This 5-year plan was wildly successful, showcasing 40 large-scale sculptures by artists from around the country, and most from right here in Texas.
"Boerne has always been a community that values the arts and we are fortunate to have a strong artist community here. Public art contributes to Boerne's quality of life and sense of place, and Art al Fresco was a great vehicle to expand the City's collection," said Paula Horner, president of the Hill Country Council for the Arts, a key supporter of the arts in the Texas Hill Country that includes artists and galleries, performance arts, the Boerne ISD Fine Arts Department and many other programs and partnerships. 
This initial program included a public voting element to see which pieces community members most loved. From this competition, seven new sculptures were acquired and are now on permanent display in the city. These include Traction by Art Fairchild of Dallas, Texas, Comet & Raven: Messenger from Afar by Joe Barrington of Throckmorton, Texas, Dancer 2015 by Jerry Daniel of Sanger, Texas, Tilt by Wesley Stolusky of Kaufman, Texas, Foundation of the Doo Dah by Dewane Hughes of Troup, Texas, Bull by Jeffie Brewer of Nacogdoches, Texas and Solar Wind by Patricia Vader of Martinez, California.
Art al Fresco's origins are rooted in a long-term, grassroots effort by the Boerne arts community over many years to bring public art to Boerne. In addition to the sculpture competition, the City of Boerne has acquired other public art sculptures by renowned artists through purchase, donation and partnership. Boerne's most photographed public art is Wild Bill Hickok, a bronze by Eric Christianson, who sculpted Wild Bill at the Texas Treasures Fine Art Gallery in Boerne. Wild Bill is located on Main Street and, depending on the season, you may see him sporting a Santa hat, a Diva Night boa or bunny ears to name a few. Wild Bill was acquired through a funding partnership with the City, Hill Country Council for the Arts and Texas Treasures Fine Art Gallery.
Boerne's collection includes many generous donations. Majestic Ranch Arts Foundation (MRAF) has donated several bronze sculptures to the City. Two of these are located at the Patrick Heath Public Library and include The Trio by Eric Christianson and Adventure Tales & Fairy Tales by Marianne Caroselli, who also created Lucky Ducks that is located at Main Plaza near the fountain. Other donations include Land of the Cheyenne by wildlife sculptor Jonathan Bronson — this bronze eagle was donated by Brenda Shaddox and is located on the Cibolo Trail. A favorite in River Road Park is Father Gander, a bronze sculptor by Larry Stevens of Stevens Art Foundry. One of Boerne's most beloved pieces, the Veterans Memorial at Veterans Plaza, was created by local artist Jay Hester.
 Over the years, additional sculptures have dotted Boerne's Hill Country Mile and trails for limited times, and one temporary sculpture is currently on display. Mary Woods, project manager for Art al Fresco, has enjoyed seeing how the program has been a platform to make art really accessible for the public, especially Boerne's smallest residents. "It's been amazing watching the kids interact with our sculptures around town, especially on the library grounds. Kids naturally gravitate towards art, and if we can make it tangible and interactive for them, it truly is the beginning of a lifelong love of the arts," Woods said.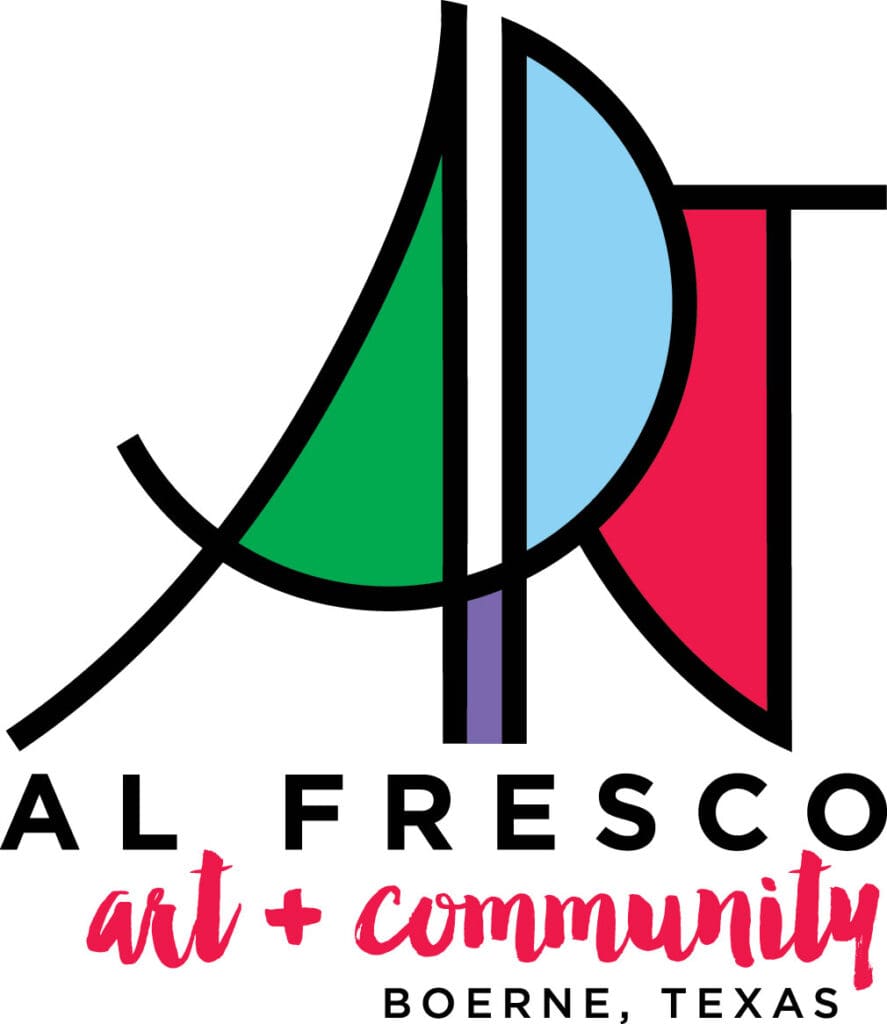 Art al Fresco
artalfresco.org
Pictured Above: Bull :: E. Castle Photography & Fine Art
Plan your walking tour throughout Boerne's historic Hill Country Mile, trail systems and library grounds, where visitors are always encouraged to touch and take photos with the sculptures. You can even pop into art galleries along the way! Complimentary walking tour brochures are available at various locations throughout Boerne, including the Boerne Convention and Visitors Bureau, Greater Boerne Area Chamber of Commerce and Patrick Heath Public Library. To help navigate each exhibit, download the free Otocast app and listen to discussions from the individual artists themselves!
Permanent Collection
1. The Trio
By Erik Christianson of Bulverde
Patrick Heath Public Library, 451 N. Main Street
Donated by the Majestic Ranch Arts Foundation in 2016
2. Adventure Tales & Fairy Tales
By Marianne Caroselli of Fair Oaks Ranch
Patrick Heath Public Library, 451 N. Main Street
Donated by the Majestic Ranch Arts Foundation in 2016
3. Traction
By Art Fairchild of Dallas
Patrick Heath Public Library, 451 N. Main Street
4. Wild Bill Hickok
By Erik Christianson of Bulverde
Main Plaza, 100 N. Main Street
Funding Partners: City of Boerne, Hill Country Council for the Arts, Texas Treasures Fine Art Gallery
5. Lucky Ducks
By Marianne Caroselli of Fair Oaks Ranch
Main Plaza, 100 N. Main Street
Donated by the Majestic Ranch Arts Foundation in 2016
6. Land of the Cheyenne
By Jonathan Bronson
Cibolo Trail behind Boerne City Center
Donated by Brenda Shaddox in 2014
7. Comet & Raven: Messenger from Afar
By Joe Barrington of Throckmorton, 2015
Cibolo Trailhead at Newton's Alley
8. Father Gander
By Larry Stevens of Bulverde
River Road Park, 415 River Road
Donated by Stevens Art Foundry in 2012
9. Dancer
By Jerry Daniel of Sanger, 2015
River Road Park, 415 River Road
10. Veterans Memorial
By Jay Hester of Boerne, 1992
Veterans Plaza, 801 S. Main Street
11. Tilt
By Wesley Stolusky of Kaufman
Old No. 9 Trail at Blanco Road
12. Foundation of the Doo Dah
By Dewane Hughes of Troup, 2017
Currey Trail at North Trailhead 1017 Adler Road
13. Bull
By Jeffrie Brewer of Nacogdoches, 2014
Hwy. 46 at Esser, near Longhorn Café
14. Solar Wind
By Patricia Vader of Martinez, CA, 2015
City Park at Hwy. 46 near Corten Steel Bridge, 106 City Park Road
Temporary Exhibit
A. Skittles
By GiGi Miller of Austin
Patrick Heath Public Library
451 N. Main Street