Katie Dillard, Player Development Coordinator and Coach
The Player Development Programs at the Golf Club receive rave reviews
Private instruction, monthly clinics and other golf programs have helped members improve their game, and they're here to tell us all about it.
Tyler Chapman (pictured above)
The monthly clinics Katie puts on are first class! Over the past year, I've been working to improve my game and decided to give the clinics a try in addition to my swing lessons with Corey. These clinics have helped me improve other aspects of my game that I haven't traditionally given much thought. So far, I've attended sessions for improving swing speed, assessing club gapping, a putting clinic from one of the best putting coaches in the business, and most recently, a golf ball fitting. I have been playing golf for 27 years, and the putting clinic alone has completely changed my putting approach and technique. I also would have never considered switching from a ProV1, but after the golf ball fitting lesson and the data provided by the Trackman, the need for a switch was undeniable. I am now hitting a golf ball that creates more spin around the greens and allows me much more forgiveness. If you are serious about improving your game outside of the traditional swing mechanics, then these monthly clinics are meant for you!
Richie Merck
Jerry and I have lived in Cordillera Ranch for almost 19 years. We moved here when there was no golf course, but when the course was being built, that was all the neighborhood talk. Jerry had always played golf, but I never had, so I decided to take it up to stay connected socially. It has been a fantastic way to stay active and involved.
Since I was new to the sport, I knew I needed to take lessons. I have taken them regularly ever since. Having that one-on-one coaching experience keeps me focused on technique and improvement. And — perhaps most importantly — it keeps my frustration level under control. The lessons help keep things in perspective. When the Golf Performance Center opened, having a coaching session is easier than ever. Being out of the elements makes a lesson possible in all weather, and the technology provides immediate feedback. Attention can be given to each tiny detail of my swing, both good and bad! When I combine my lessons with the regular clinics that are conducted here at the Club, my game improves. In the last year, I have gained distance from my one-on-one lessons, and I have become a better putter as a direct result of the putting clinics. What more can you ask for?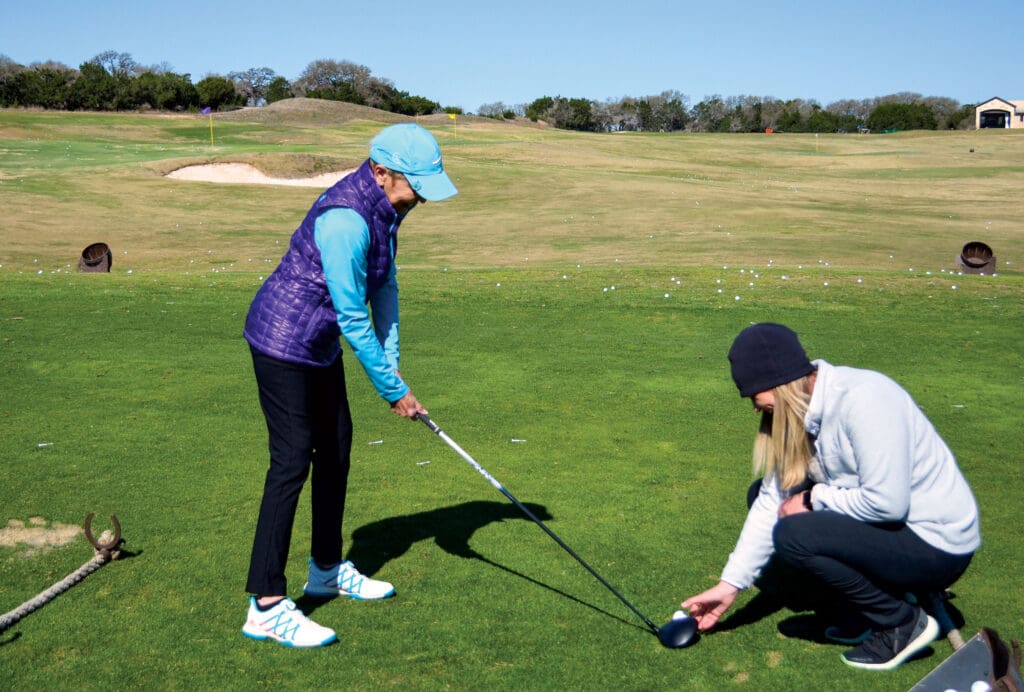 Geraldo Ortiz
I have been working with Katie for a little over a year now. Her instruction, along with the technology at the Golf Performance Center, have been incredibly helpful to my game. My iron play is much more consistent and my most recent fitting gave me about 20 yards on my driver and another 25 yards on my 3 Wood. Katie was able to focus on two or three key components and tailor the technology to my swing. I had no idea spin rate was so important, but it was killing my distance! She has made golf much more fun, and has easily become one of the three most important ladies in my life!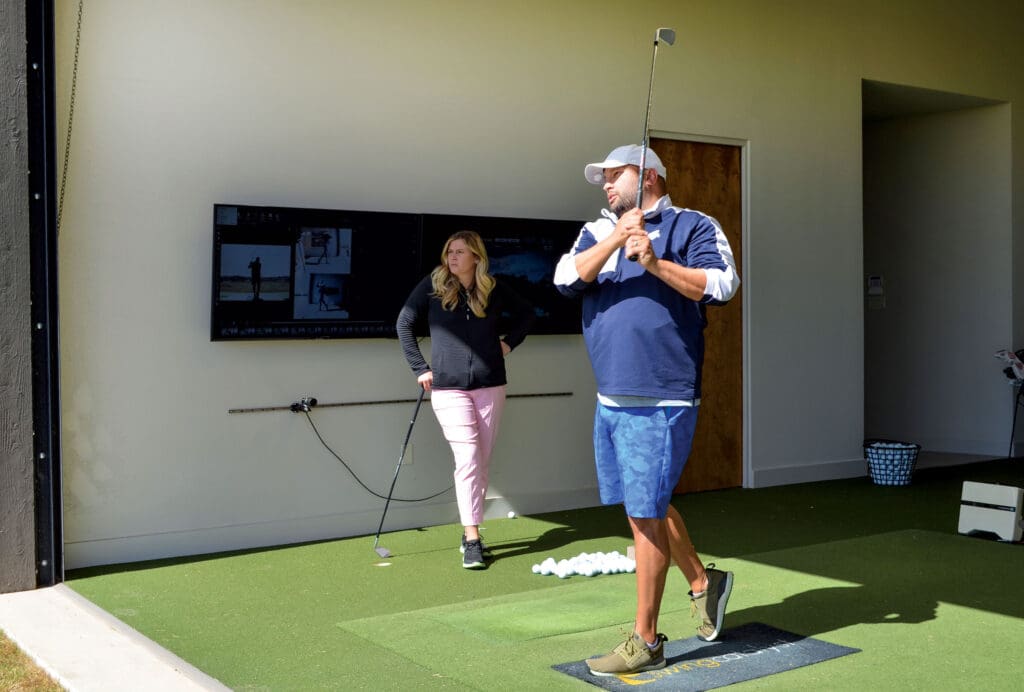 Tony Coleman
I reached out to Corey for lessons because of the inconsistency I was experiencing from shot to shot. One shot would be great and the next would be bad. I have had a lot of very technical golf lessons and that's the way I think. But over time I started overthinking every aspect of what I was doing (my body, my swing path, my hands, my hips, was I too shallow or too steep). Before my lesson with Corey, he asked me what I thought I needed to work on. As you can imagine, I gave him a lot of info. Corey did not get technical with me, although I'm sure he could have. Instead, he had me focus on two feelings: weight distribution in my feet and letting the club fall down into position from the top. This sounds so simple and it was for me. My ball striking consistency changed immediately. Now, when things get out of whack, these two simple thoughts help me get back on track.
 Additionally, we noticed some gaps at the higher end of my irons. My 5, 6 and 7 irons were all within 15 yards of each other (190-208). We scheduled a fitting session with my irons to understand the true distances. I would highly recommend everyone get their irons fitted to ensure proper gaps to give you the confidence to know how far the club will go.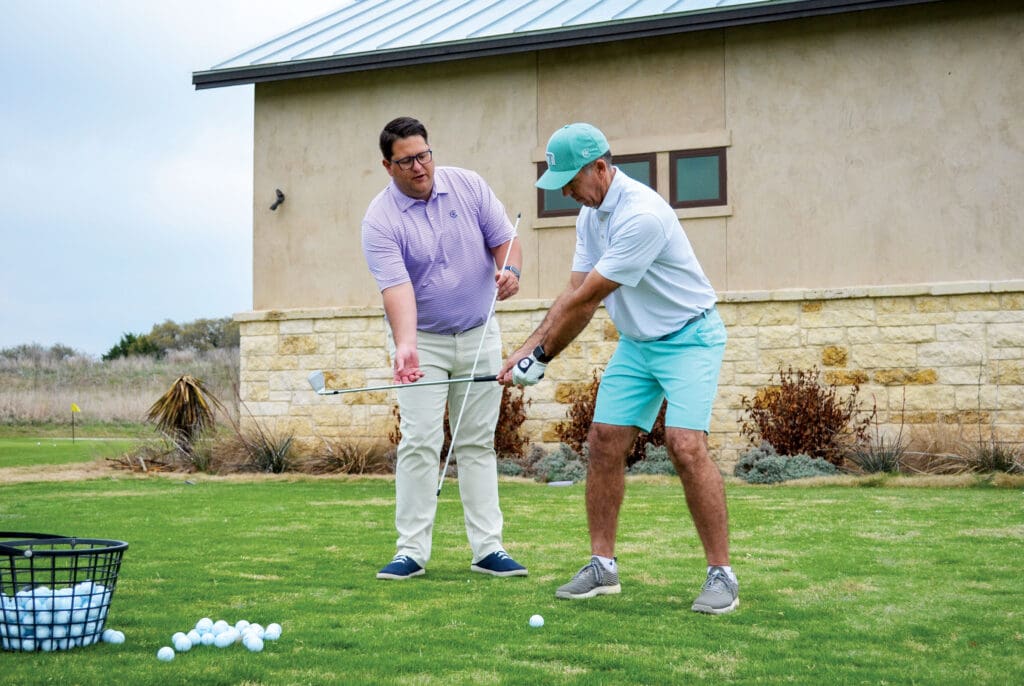 Jill Briggs
When I first heard that Cordillera's Chicks & Sticks program was open to Ranch Members, I jumped on the chance to learn some new skills and explore a part of the Clubs that was new to me. I have participated in several rounds of the program, and it has developed into more than just an introduction for beginner golfers. Chicks & Sticks is a group ladies golf lesson, with a relaxed and fun atmosphere. I enjoy the group that has become "the lifers" (as we call ourselves), and also welcoming new members at every session. Under Katie's direction, the program continues to change and stay fresh, while she works to make us better golfers! I look forward to my Tuesday afternoons, not only working on my golf skills, but also enjoying the after-golf cocktails on the patio and the place I live even more.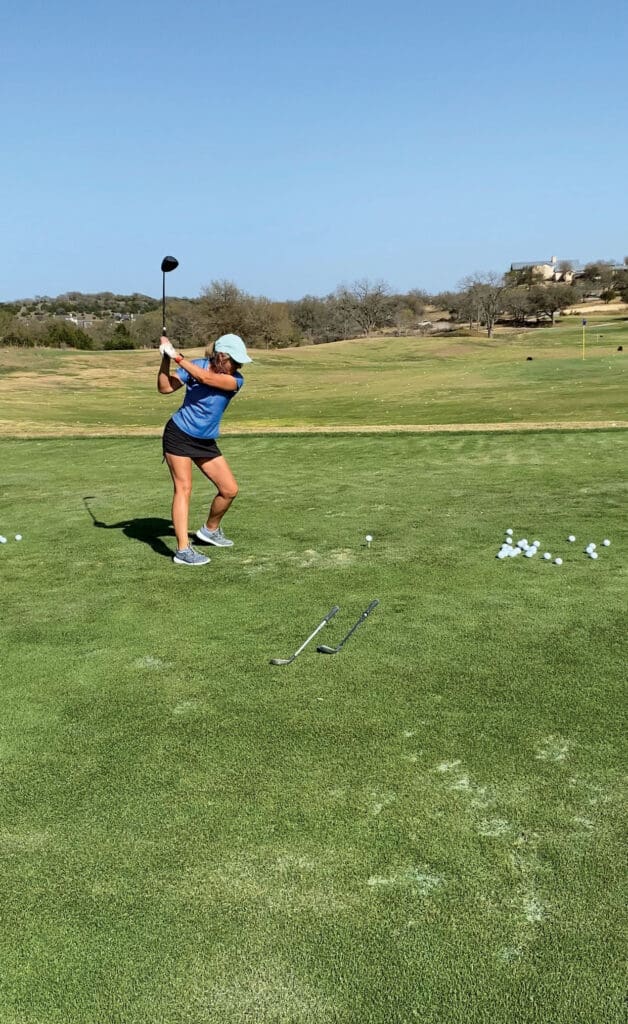 Janet Curtis
After not golfing for thirty years, Kelly Talbot encouraged me to try Chicks & Sticks last May. I found I love the program because it is an easy, non-competitive way to start golfing again. Katie and the other golf professionals present different topics, usually followed with on-course instruction and play. I have met so many ladies through Chicks & Sticks and enjoy all the fun, encouragement and laughter on the course and after!