Two Boerne/Kendall County residents and businessmen respond to growth in the Bergheim area with a new convenience store and gas station at the intersection of SH 46 and Voss Parkway.
The developers, Cordillera Ranch resident Jason Hirko and his business partner James Schuepbach, recognized the need for more businesses in Bergheim and purchased the 4.8-acre property in 2017 when construction of the adjacent Voss Middle School was announced. Both men's backgrounds led to this venture, having worked on numerous types of projects from multi-family, restaurants, shopping centers and business parks: Jason said he began investing in residential real estate in 2010 in Southeast Texas and expanded into commercial real estate in San Antonio and the Hill Country in 2015, including several historic properties on Main Street in Boerne. James, with Ryoak Real Estate Group, has been in commercial real estate since 2005 and has completed numerous ground-up construction projects including a 292-unit multi-family project in Southtown, San Antonio. "This is our first convenience store and gas station. We decided on this type of project because we felt there was a need for an alternative to the Valero in Bergheim. Our convenience store has a full commercial kitchen that will serve a variety of freshly prepared food, which is the biggest void in Bergheim," said Jason.
The new business consists of a 6,000-square foot convenience store and gas station as well as a 7,700 square feet of shopping center for a total of 13,700 square feet. The developers were intentional with upgrades to the building and surrounding land to make sure the project didn't end up looking like your average gas station. Some examples of this attention to detail were the developers' use of high-end materials such as locally sourced Ashlar stone, Nichiha Vintagewood architectural panels and native plants and grasses throughout the project. They also engaged with two local firms, Grit Co. and Manifestive Design, to design a hand-painted mural that highlights Bergheim, Kendall County, Boerne ISD and the Guadalupe River.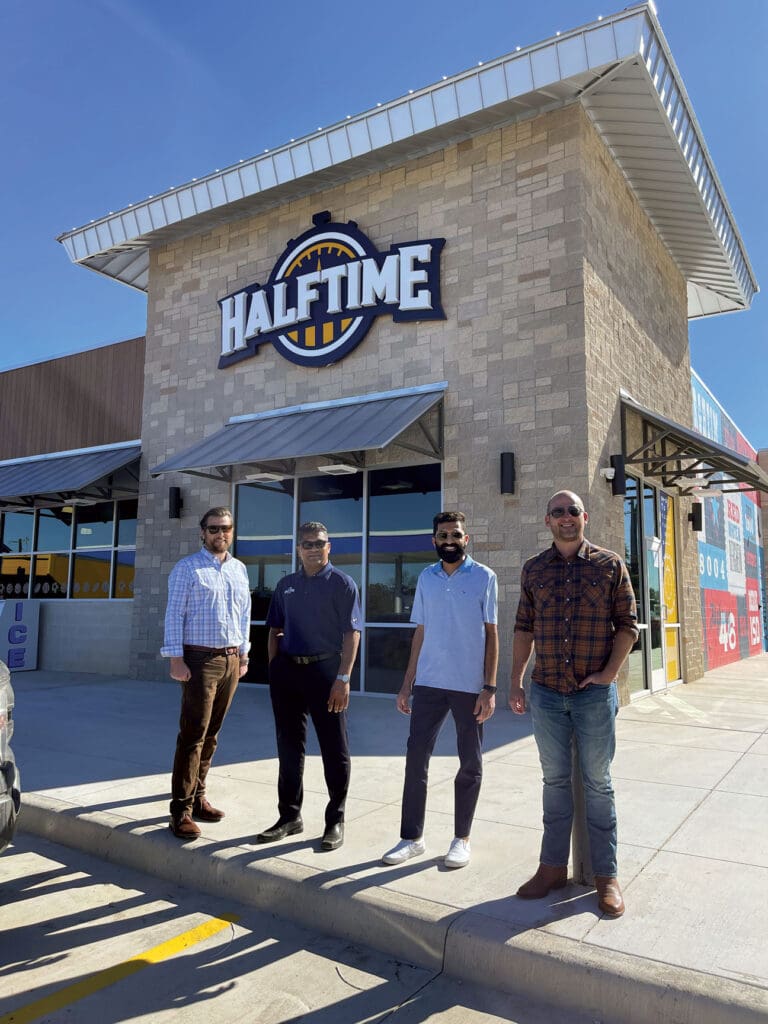 The convenience store is operated by "Halftime" and the fuel is provided from Chevron. Halftime is a new brand from Karim Ali who currently owns and operates approximately 50 "Big's" convenience stores in South Texas, including the location on Highway 46 at Herff Road in Boerne at the Longhorn Cafe. His company is in the process of rebranding his stores as Halftime, which is a sports-themed concept. The new store will have a full kitchen and provide a variety of food options to include "Hanger54" pizza and "Champs" chicken.  
One of the first tenants in the shopping center is "The Cup," a new coffee and restaurant concept from Karen and Eric Cate. Eric is the Pastor of Bergheim Christian Fellowship, a new church plant sponsored by Currey Creek Church in Boerne. They are currently holding services at Voss Middle School every Sunday. The Cup is affiliated with the church and will help with their ministry. The developers are working with the owner of Botero in Boerne to expand dining options for families in the Bergheim area, and have signed a lease with Texas Treasures Fine Art to move the high-end art gallery to the property. A recent purchase of adjoining property to the east of Halftime will bring more restaurant, retail and office space to Bergheim.
In addition to this project bringing needed services to the Bergheim area, it will also give back to the community. A portion of the proceeds from this project will be donated to The Wounded Warrior Project, and Chevron has agreed to match this donation dollar-for-dollar. "The Kendall County community is very supportive of our United States military and with the middle school being named after Mark T. Voss, a fallen Airforce serviceman and Boerne ISD student, we believe that our commitment to helping The Wounded Warrior Project will engage the community with this important effort and will be reflective of the values of Boerne and Kendall County," shared James whose father and father-in-law were both disabled military veterans. 
This project was not without its challenges, from Covid-related labor shortages, supply chain issues, to wild material cost fluctuations. However, the developers said the positive feedback from the community who welcomes more businesses to Bergheim has made it worthwhile. Chevron and Halftime, along with The Cup, opened in December, with projected openings for the other two businesses in the first quarter of 2023. 
Bergheim Memorial Shopping Center
919 E. State Highway 46
Bergheim, Texas 78004