The key to success in any sport is fitness training, and every sport has specific training to ensure consistent performance.
ABOVE: Assessment for Balance and Stability 
Balance and stability are key to your golf swing. PGA norms for balance are 16 to 20 seconds…with your eyes closed! An assessment will reveal core strengths, plus weaknesses to work on for improving your game, and Tamra will develop a personalized program that will help you create a better swing.
We are all athletes in one way or another, even if we are still perfecting in our game. The Clubs of Cordillera Ranch offer many recreational sports to choose from. Golf is at the heart of the ranch, with our majestic and challenging Jack Nicklaus Signature Golf Couse. Tennis is another love among our members. Both sports have something in common: they involve powerful trunk/torso twisting. Our everyday workouts are great, but if you are really dedicated to improving your game, meet with our pros and trainers to determine a regimen tailored to your specific needs in your sport. 
Let's talk golf. It's a sport that is an art. Fine tuning your game is as easy as knowing the avenues to go about it. Start by getting fitted with the right set of clubs, gear and clothing in the pro shop. Next, set up time with a golf pro. We have the best here! Our pros can analyze your game and get you to a smooth swing or perfect putt. Fitness is your next stop. Your flexibility and core-to-total body strength affects your golf swing more than most realize. I am TPI (Titlest Performance Institute) Certified and will help you with your Swing Connection. This is the correlation between your body mechanics and your game. If you would like to swing stronger and last longer (aka: low back pain mid- and post-game), a TPI assessment is highly recommended. Out of this assessment, you will receive a program specifically designed for your needs. For example, you can work on your core, power, stamina and flexibility in the Fitness Center and complement that with Pilates and ELDOA. Pilates with Kris Kracknell will strengthen and lengthen your body for better stability and power. Pilates is an effective way to repattern movements that aren't serving you on the golf course, tennis court or life in general. Kelly Vizzone will increase your flexibility at an extremely detailed level with ELDOA and yoga.  
Tennis and Pickleball are equally as popular, and our tennis pros Joe De Luna and Bradley Hill will help you perfect your game with private or group lessons. Your game and how well you play boils down to specificity of what you need to do to gain strength, skill, mental-focus, flexibility and injury healing/prevention. It takes dedication and special attention to leg and core strength. Your instructors can pinpoint areas that need improvement, and I am happy to show you how to use the Power Plate, which allows for rejuvenation, strength and power training, and other equipment to help you reach your goals. 
I have had members that gained flexibility, found relief in their backs and shoulders and saw their game improve. They added in sport-specific strength training and saw more powerful shots, stronger hits and greater stamina. At The Clubs of Cordillera Ranch, we all work together to provide the best services and training to take you to the top of your game.
Tamra Christiansen is the Fitness and Wellness Director at The Clubs of Cordillera Ranch. She can be reached at tchristiansen@cordilleraranch.com or 830.336.9184.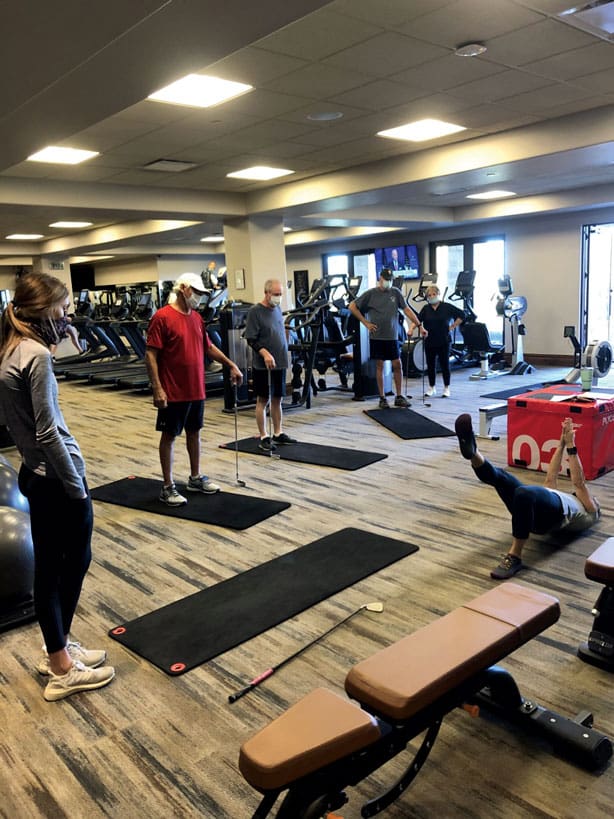 Bridge with Leg Extension
Strong glutes align the hips and spine for an amazing swing! The Bridge with Leg Extension Assessment determines your glute strength, and Tamra can suggest exercises to build that area.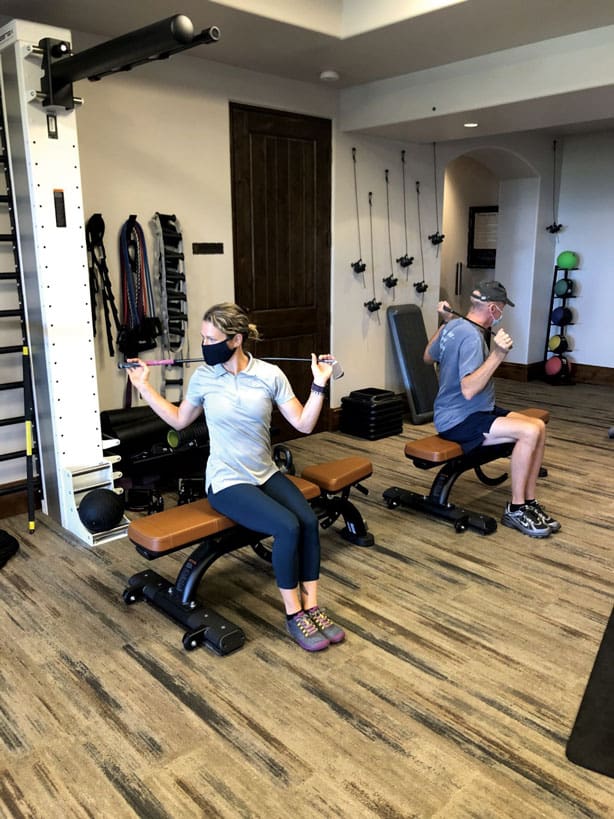 Seated Trunk Rotation
This test assesses how far your trunk can rotate independently of your hips. These movements are involved in the powerful torque it takes for your long game. The PGA norm for this is a 45-degree rotation.