Jessica Beals, Club Events Coordinator
Activities surrounding the holiday season are a heartwarming testimony to the importance of family, joy and goodwill in Cordillera Ranch. Family-friendly gatherings are set within the spectacularly decorated Clubhouse, which is transformed into a Texas-style winter wonderland where ornaments and garland are truly hung with care. In fact, with Christmas trees and wreaths decorating all buildings on the Ranch, it's easy to be drawn into the spirit of the season. We are happy to celebrate these holiday traditions at the Clubhouse.
TURKEY TROT
Date: November 25
Time: 9:30am Registration Opens / 10:00am Run or Walk Begins
They say that Christmas officially begins right after Thanksgiving dinner. If this belief holds true for you, then before you hit the malls, take a little trot around the Clubhouse to work off that extra helping of dressing (Texas Fun Fact: we call it dressing whether it's stuffed or not!). The Friday after Thanksgiving marks the annual Turkey Trot where more than 100 Cordillera Ranch residents come out for a 5k walk or run followed by some healthy breakfast choices at the end of the race. All ages are welcome, so push the kids in strollers and bring along your pets!
UGLY CHRISTMAS SWEATER GOLD RUSH / BLUE SANTA FUNDRAISER
Date: November 30
Time: 5:00 to 9:00pm 
Ugly Christmas Sweaters are cool, so put on your most outrageous holiday attire and join your neighbors who are all vying for the coveted 1st Place Award, bragging rights included. It's also cool to help local kids have a very merry Christmas. Cordillera Cares is partnering with the Kendall County Sheriff's Office BLUE SANTA program to fill stockings for children this holiday season and you can bring your donations along for this special fundraiser! Please reach out to Vicki Hansen at vhansen@cordilleraranch.com for more information. 
BREAKFAST WITH SANTA
Date: December 10
Time: Reserved seating at 9:00 and 11:00am
Picture Fee: $15 for the first photo; $5 for each additional photo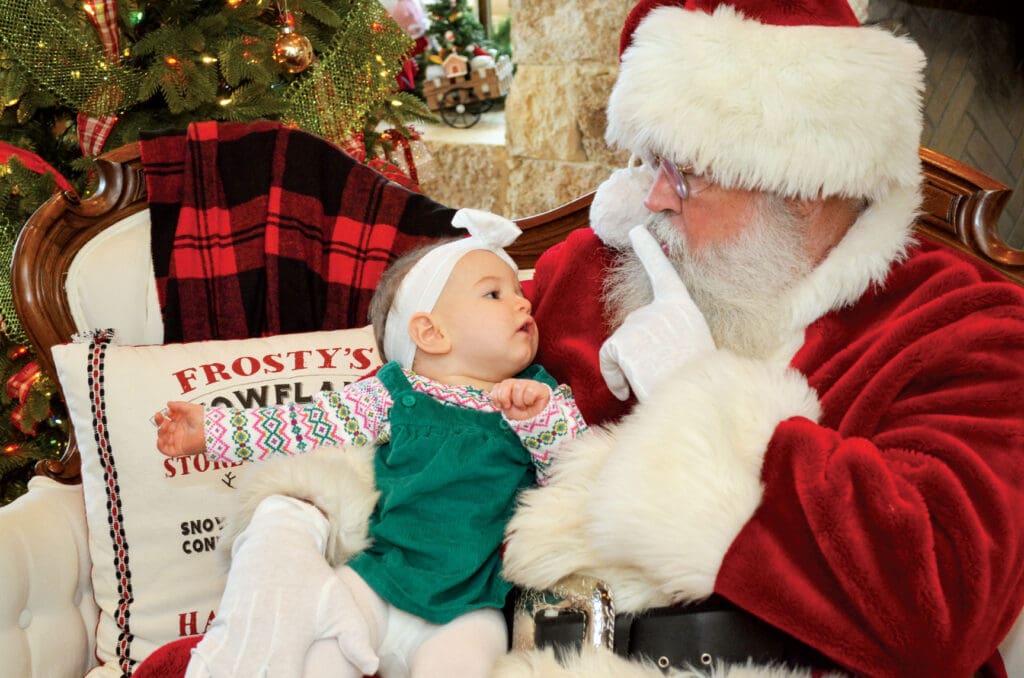 Kids, bring your whole family to the Clubhouse for breakfast with Santa and enjoy all of your favorites such as Chef-crafted omelets, traditional pancakes and so much more. Be sure to dress festively to have your pictures taken while you tell Santa what you would like for Christmas. There will also be Christmas crafts to make while your parents and grandparents are enjoying mimosas and entertainment by Peter Gloria. If your wish list changes, do not worry — the Letters to Santa Mailbox will be out during all of December to make sure your letters arrive at the North Pole on time. 
GINGERBREAD HOUSE DECORATING 
Date: December 17
Time: Reserved seating 9:00 to 11:00am and 12:00 to 2:00pm
Welcome to the ultimate candy land! Every year more than 50 kids attend our annual holiday Gingerbread House Decorating Party. We provide everything needed to create these colorful confections: assembled gingerbread houses, icing and candies to decorate and, best of all, we take care of the cleanup! Drinks, a brunch buffet and holiday treats are also included, and did we mention that the Gingerbread Houses are completely edible?
Watch for more fabulous holiday events to pop up around the Ranch. We look forward to celebrating with you and we wish you and your loved ones merriment and magic during this holiday season.
Jessica Beals is the Club Events Coordinator at The Clubs of Cordillera Ranch. She can be reached at jbeals@cordilleraranch.com and 830.336.9176.