Joe De Luna, Director of Tennis
Fall has arrived at The Cordillera Ranch Tennis Club and as the weather cools down, ladies' tennis heats up.
Net Chix
The Cordillera Ranch Tennis Club is offering Net Chix this fall. Net Chix is not a new program but has been absent for a couple of years. With more members playing tennis, along with an influx of new members, the Tennis Club decided to bring this program back. Net Chix is a program for our lady members, designed to serve a variety of purposes. The program can be for members who have never played tennis but are interested in learning the game. It is great for members who used to play but have not played for a while — some might have played when they were younger but stopped for a variety of reasons like their career path, raising kids or perhaps an injury that sidelined them for some time. It can also serve the member who simply wants a weekly workout or is looking for a basic evaluation of their tennis skills. Net Chix meets Friday mornings and the program consists of basic stroke production and technique combined with cardio drills, with a progression to point and match play. You can sign up through the Club's website or by contacting the Director of Tennis or Tennis staff.
As you can see, our ladies' tennis is busy this fall. Approximately 40-50 members participate in tennis programming at The Clubs of Cordillera Ranch and as the community grows, so does interest in the Tennis Club. This programming includes but is not limited to private lessons, clinics, USTA league teams, ball machine and open play.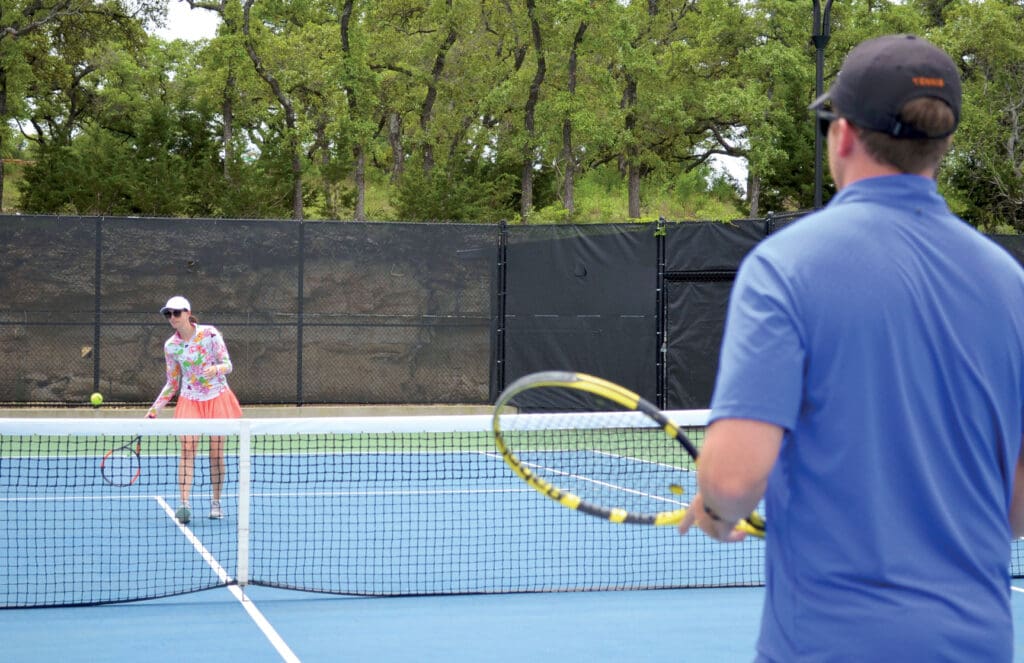 United States Tennis Association (USTA)
Our Tennis Club boasts two USTA Ladies' teams competing at two different levels on two different days of the week. These teams compete through the San Antonio Tennis Association (SATA), which is the local branch of the USTA.  
The Cordillera Ranch Aces are a 2.5 level ladies' team — 2.5 is the entry level for USTA team tennis in San Antonio and the surrounding area. The 10-lady member roster has a 10-week season in the fall and a 10-week spring season. The Aces have been together four seasons and continue to build and improve their roster. The team plays on Friday mornings, and practice on Mondays and Thursdays. Their matches consist of one singles match and two doubles matches, and they compete against Fair Oaks Country Club, The Clubs at Sonterra and San Antonio Country Club, to name a few. The Aces have made great strides over the past few seasons and will compete well this fall. If you are interested in playing competitive tennis in a team format, this is a great place to start.
The Cordillera Ranch BOCO Ballbusters are an age 40 and over, 3.0 level ladies' team with a roster of 16-18 members, and they continue to add new members and strengthen the depth of talent on the team. The Ballbusters season also consists of 10 weeks against various clubs and tennis facilities in the San Antonio area, with matches on Thursday mornings. The team practices on Tuesdays, and several team members participate in open clinics and take private lessons to improve their tennis skills and strategy. This team has won the league at the 3.0 level before and will be a force to reckon with this fall. 
See you at the courts!
Joe De Luna is the Director of Tennis at The Clubs of Cordillera Ranch. He can be reached at jdeluna@cordilleraranch.com or 210.363.9004.