The All American Tennis Cup and Joe De Luna, Director of Tennis
November 11-13 at the Freeman Coliseum in San Antonio
In its inaugural year, the All American Cup will welcome top US players and benefit the Bush ACE Outreach Program, an organization that was formed at the Bush Tennis Center in Midland, TX to advise, counsel and encourage (ACE) area youth by connecting positive role models with elementary-aged children through the sportof tennis. Beginning in San Antonio, the event will alternate years with Austin.
The All American Cup will feature two teams consisting of five players. The Bryan Brothers, the winningest doubles team in ATP Tour history, will serve as captains and face off in the three-day team event. The USA West team will be captained by Mike Bryan and led by Taylor Fritz, the number one ranked American. Fritz will be joined by teammates Marcos Giron, Jenson Brooksby, Mackenzie McDonald and Steve Johnson. The USA East team will be captained by Bob Bryan and headed up by former top 10 ATP Tour star, John Isner. Frances Tiafoe, Jack Sock, Denis Kudla and J.J. Wolf will join Isner on the team. The teams will compete in both singles and doubles matches.
The Tennis Channel will broadcast the All American Cup to over 61 million households throughout the United States.
"Bob and I are excited to return to San Antonio and honored to captain the All American Cup. San Antonio is a great tennis town and we have enjoyed playing here over the last 20 years," said Mike Bryan. "This will be a new experience competing against each other but I know everyone will be battling to win the cup." 
Tickets can be purchased at www.AllAmericanTennisCup.com or at www.ticketmaster.com. WEST TEAM
Mike Bryan, Captain
Taylor Fritz
Marcos Giron
Jenson Brooksby
Mackenzie McDonald
Steve Johnson
EAST TEAM
Bob Bryan, Captain
John Isner
Frances Tiafoe
Jack Sock
Denis Kudla
J.J. Wolf
Joe De Luna is the Director of Tennis at The Clubs of Cordillera Ranch. He can be reached at jdeluna@cordilleraranch.com and 210.363.9004.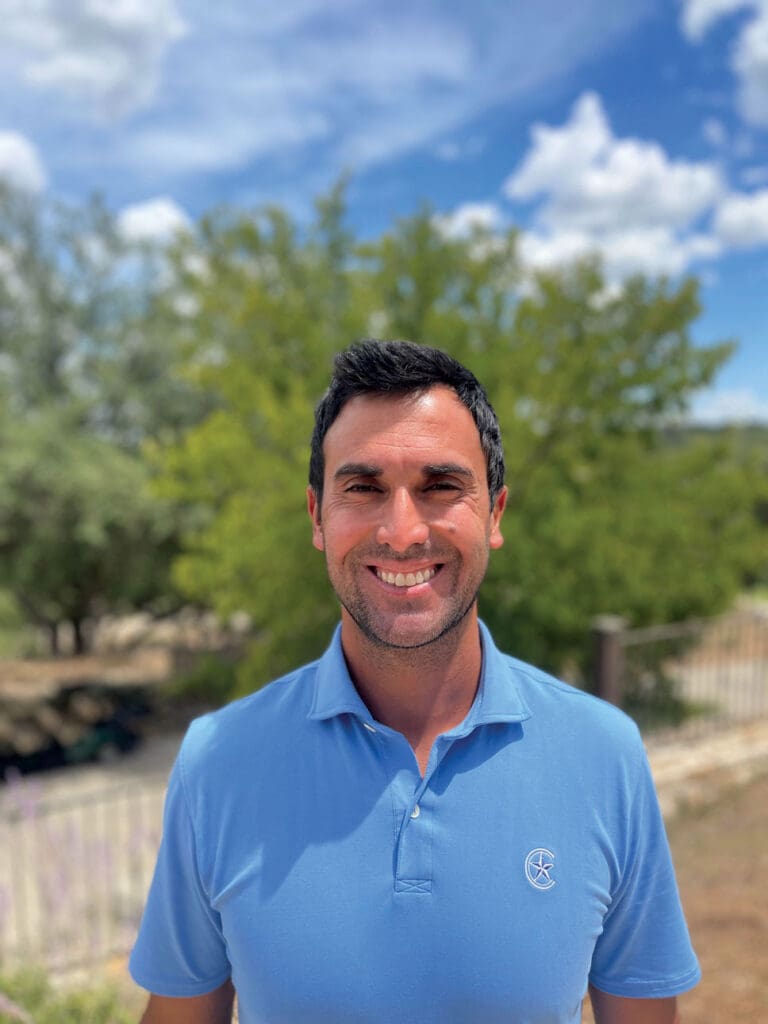 The Tennis Club at Cordillera Ranch is thrilled to introduce the new tennis and pickleball coach, Alejandro Chong. Originally from Caracas, Venezuela, Alejandro represented his native country, accomplishing great results in ITF tournaments as well as national tournaments. He moved to Arkadelphia, Arkansas at age 17 to play college tennis at Ouachita Baptist University and helped OBU become Top 5 in the NCAA II rankings. He loved playing doubles as well as singles at Ouachita. 
His coaching career began at Trophy Club Country Club in 2007. In 2012 he followed a different path for the next few years, joining the Southlake Tennis Center team before returning to Trophy Club Country Club in 2016 to run the activities and programs. Alejandro was promoted to Head Tennis Professional/Co-Director of Racquet Sports at Trophy Club in 2017. Early in 2021, he became the Director of Racquet Sports at Hackberry Creek Country Club, implementing and increasing all tennis and pickleball programs and activities.
Alejandro has been married to Brooke Chong for six years. They love playing tennis and pickleball with each other in their free time. Brooke is currently attending UT Health San Antonio as a medical student. 
Other hobbies include playing soccer and watching movies, and his favorite foods include Italian and Venezuelan. Alejandro is also fluent in English and Spanish.
Alejandro is USPTA and PTR Tennis certified and PPR Pickleball certified. He is eager to meet everyone and incorporate what he has learned throughout his experience to take Cordillera Ranch to the next level. In addition to his tennis classes, he will be providing pickleball lessons and pickleball clinics, helping Cordillera Ranch members enjoy and learn the fastest growing sport in the country. He looks forward to serving members of Cordillera Ranch to the best of his ability to create meaningful relationships and provide outstanding services.
Alejandro can be reached at achong@cordilleraranch.com and 972.256.6677.