Stephanie and Colin Shelton are masters of their own destiny.
Colin doesn't remember his first visits to this lovely part of the Hill Country. He was only an infant. His parents, Kathy and Robby Shelton, are longtime friends of the Northington family, the owners of what would eventually become Cordillera Ranch, and were invited many times over the years to their ranch, originally called the El Max. Now years later, their lives have come full circle with Colin, Stephanie and his parents all settling in Cordillera Ranch.
When recalling the Shelton's lives up to this point, it seems that they have always instinctively chosen the right path to take, with perhaps a few twists of fate. With professions that include piloting planes, real estate, banking, custom home building and historical restoration, cancer research, men's wellness and fitness, there is nothing this Type A couple can't do and they aren't stopping anytime soon. They have built a portfolio of businesses and investment opportunities that has allowed them to secure a strong future for their family while continuing to pursue their own personal and professional interests. "I have worked in the corporate sector all of my life so this is a new adventure for me," says Stephanie whose career has centered on administrative cancer research. "Colin has always had an eye for things and takes calculated risks as it relates to putting our family in the best place possible. He does his research and uses that gut intuition. We have a wide range of friends that have found success in many different industries, so I feel like we have a great team to be able to bounce ideas off of and really look for new opportunities to grow and invest. Being able to have a chance to be in charge of our destiny really drives us to continue to look for new strategies and opportunities." 
But they also credit their parents for their strong work ethics and strive to set good examples for their own children, Reagan and Cade. Stephanie elaborates, "We both come from hard-working families which taught us both that you have to work for the things you have. We have really tried to instill this same philosophy in our children. They have always known that we both work, but I really feel like this time working from home during the pandemic has opened their eyes a bit more to the time it takes to get jobs done — whether it's their chores to waiting for me to get done with conference calls to take them somewhere — they know that they have to put in the time to earn the rewards."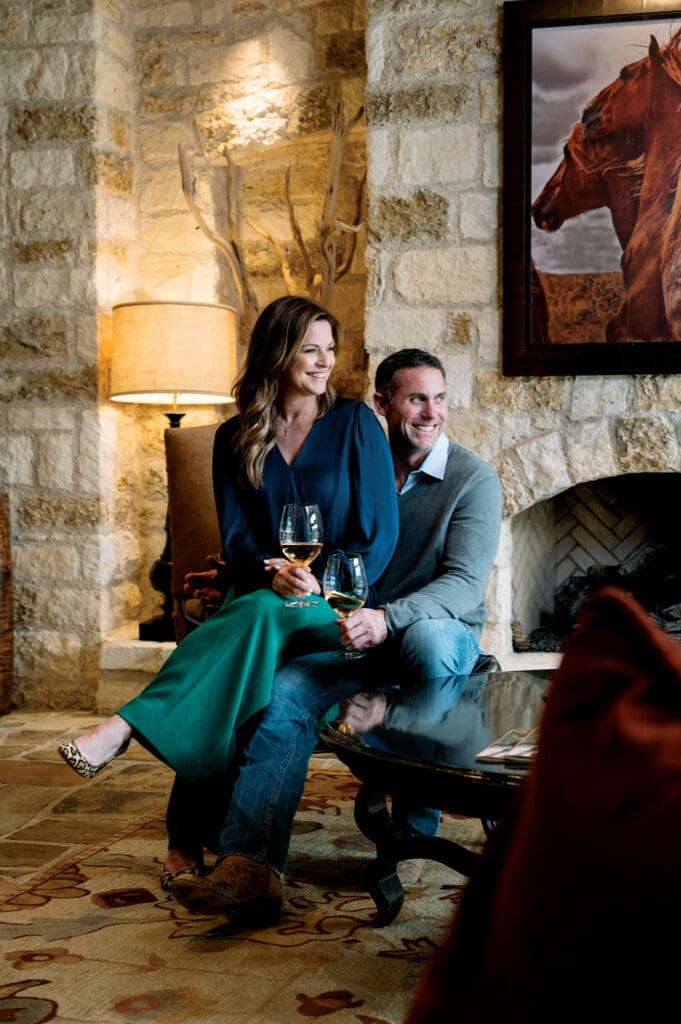 Colin and Stephanie are both Houstonians, growing up in Katy and Cypress, respectively. Colin attended Texas Tech his first year in college before transferring to Stephen F. Austin State University (SFA) and graduating in 2000 with a degree in Criminal Justice. He decided to transfer while visiting friends one weekend, saying, "I fell in love with Nacogdoches. I think it was the shock of living in Lubbock with dust storms and no trees that really made me appreciate the landscape and small town feel of Nacogdoches and SFA."
After he graduated, Colin began flight school in Florida before returning to Texas to work towards his commercial certificate. His plans were derailed with the September 11 attacks and he began co-piloting for local businessmen and politicians.
Colin and Stephanie wouldn't meet until after his college graduation. Stephanie also attended SFA, earning her Bachelor of Business Administration. She was an Alpha Chi Omega while Colin was an Alpha Tau Omega, and they credit a sorority sister and fraternity brother for their introduction. "Colin took me flying on our second date. He picked me up in one of the planes from his flight school that had duct tape on the door and on the wing… talk about being crazy!" laughs Stephanie who admits she didn't tell her parents about the date until they had landed safely on the ground. But the deal was sealed and even though it would be a few years and long distance at times, their love survived. "We were young!" laughs Stephanie again when asked how they kept it together.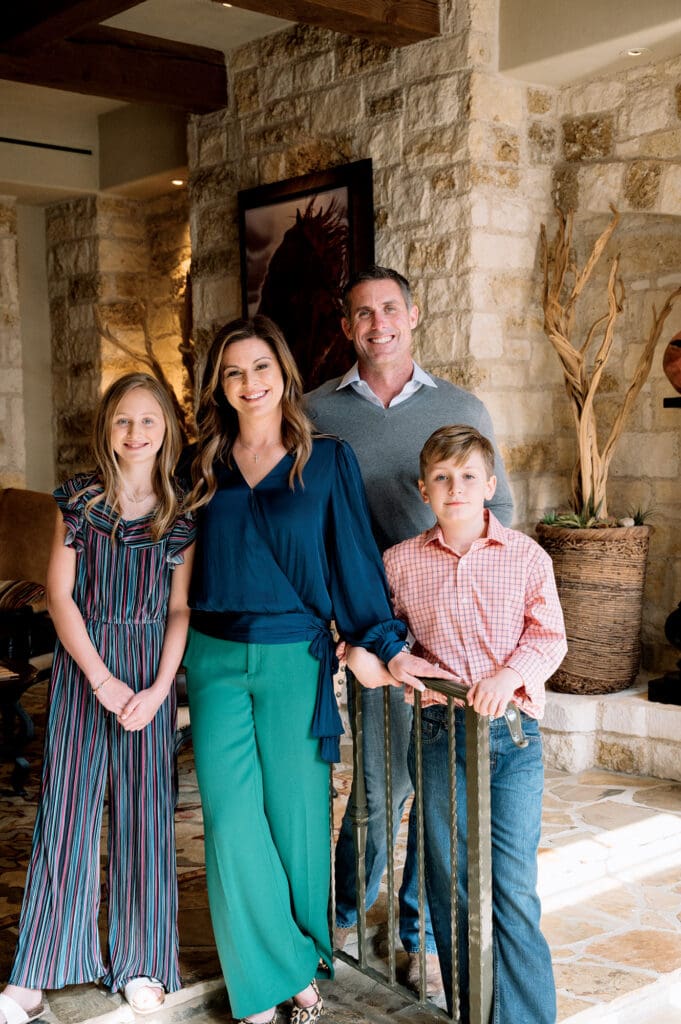 "We both faced challenges in the beginning of our careers with many furloughed pilots and many business-types looking for work after the fall of Enron," says Stephanie. "We decided to relocate to the small town of La Grange, Texas because it was only about 10 miles from Colin's family ranch in Schulenburg. While it was not the ideal location for kicking off long-term careers, Colin had success in the real estate business and I in the banking business, and we both found the true secret of success in small towns — great friends and being closer to family."
Work eventually took them back to big city life in Houston when Stephanie was offered a job at MD Anderson Cancer Center. She says, "I accepted a position as a contract analyst, negotiating private industry research contracts for cancer clinical trials, and Colin went to work for a production homebuilder learning a new side of the real estate market in warranty and new construction." 
"Right about the time we decided to move to Houston is when they started hiring back at the airlines. I was offered an interview with a regional airline (Continental at the time) but I would have been based out of NY making below the poverty level. Getting married changes priorities which was the major driver to transition into homebuilding. The most logical progression for me was to learn the other side of the real estate/construction business in order to someday start my own company." That day came in 2006 when he formed Southland Homes of Texas. "I specialized in custom home building and historic restoration. Houston had a very special group of architects in the 1920s and 30s and it was a privilege to bring those homes back to life. We worked on many historically designed homes and even homes on the National Historic Register. It was a very challenging balance to achieve but we would take the utmost care in preserving the historic integrity, even rebuilding the existing wood windows and repurposing the siding, trim, floors, hardware, etc. We even put a basement underneath an existing three-story, early 1900's home while we restored it to its original design. We built as many new construction homes but there was something special about those renovations," says Colin. He also built two of their own homes. "This made for our own crazy stories, from being pregnant and having the entire back half of our home opened up like a doll house to being the first 'test subject' in our area to build a basement," jokes Stephanie.
Over the next 11 years, Stephanie spent most of her time in the Division of Radiation Oncology, advancing through positions that oversaw research and clinical operations. She explains, "In the cancer industry, research is always leading to new advances in how cancer is treated. I would partner with our physicians to help explore collaborations on developing, testing or advancing different technologies with other academic medical centers or industry partners. Now, my role is more on how we can strategically advance our collaboration with our partners at MD Anderson as well as opportunities to decrease the burden of cancer in San Antonio and South Texas through patient care, research and education." Proud of his wife's accomplishments, Colins adds," I'd like to brag on Stephanie for a minute. She was one of the youngest executives at MD Anderson which employs more than 20,000 people and one of the senior leaders of the Radiation Oncology division before we relocated to Cordillera. Her last boss and mentor is now the Chairman of the FDA. MD Anderson is not only a great place to take care of patients but they really help to develop their employees. A major benefit of her leadership position here and in Houston is her ability to help people not only get in for treatment but to help them through the process. It's been really incredible to watch her help people through a difficult time in their life."
Thank goodness for the Shelton Ranch. "On the weekends, like many Houstonians, we would make the 90-mile drive to Schulenburg. Being away from the city was a great way to reset after a long, fast-paced week," says Stephanie. The ranch had always been their special place to entertain and relax with family and friends. In fact, it was also the location of their 2005 wedding.
Before long, their weekend treks changed directions. After many years of living in Schulenburg, Colin's parents moved to Cordillera Ranch to be close to friends and daughter Kristan's family in San Antonio. "We would venture out on the weekends to Cordillera to visit the family. Those two-day weekends soon turned to three-day, then to four-day weekends, and the drive back each time to Houston became harder and harder!" says Stephanie. A move to San Antonio seemed inevitable.
With the impending move, Colin stepped back from Southland Homes although retaining an interest and serving as a mentor to his former business partner who purchased the company. "I still stay in contact with many of my former clients as well. I've had two clients from 10 years ago recently call to ask for advice on new projects in different cities they've moved to," he says. He and a fraternity brother then began Men's T Clinic, a men's wellness clinic/hormone replacement therapy that has grown to five locations in the Houston area. Colin explains the importance of maintaining men's health, "Most men don't realize the benefits of hormone therapy. The increased focus and added energy are two major parts of men's lives that we lose over time and just don't realize how much of an impact it has until we get it back. We get men that never go to the doctor to come in two to four times per month and that allows our doctors to diagnose other issues which would have never been diagnosed until it's too late in some of these men."
In 2016, an opportunity arose for Stephanie to transfer to MD Anderson's newest Cancer Network partner at UT Health San Antonio where she now works as the Senior Director of Finance and Administration. The move not only allowed Colin and Stephanie to realize their dream of moving to the Hill Country, but also opened new opportunities for their kids. 
"When we were asked if we wanted to know the gender with our first baby, we both looked at each other and said, 'No, we are going to keep this a surprise.' While this was a shock to so many since we both are a bit of control freaks, we both felt that there are so few 'good' surprises in life so we knew if this was a healthy baby, we would be happy," says Stephanie of daughter Reagan's birth, adding, "Fast forward to baby #2 and the entire OR delivery suite knew we had a girl already so when Cade was born, the whole room cheered since it was a boy! It was even better when Colin was able to wheel both of them out after their deliveries and tell a full waiting room of family and friends the genders! It was really a cool and exciting time."  
Like their parents, both kids love to try new things. "Cade is more adventurous with food and currently loves WWII history, hunting and baseball. Reagan has more of a daredevil, adventurous side to her but she has found a love for playing tennis — something she had not done until our move to Cordillera. We are really trying to let them be exposed to many different sports and activities so that they can find some that they are passionate for. I am keeping my fingers crossed for golf!" says Stephanie.
So, how do Stephanie and Colin keep up with it all? "We thrive on having a very busy schedule. Fitness is a very important part of our lives not just for the physical benefits but for the mental aspects. I train Brazilian Jiu Jitsu five times per week and this, along with a regular regimen of weights and cardio, helps keep me mentally and physically fit," says Colin, a brown belt who has competed in several Jiu Jitsu tournaments, winning gold in the World Championship competition in 2016 and silver in 2018. Recently, Cade has started training as well.  
This segues into their newest venture — they recently purchased into the HOTWORX franchise. Thrilled about the possibilities, Stephanie says, "We are looking to open in the Austin area. We are still early in the development process but are really excited to be a part of this franchise. The health and wellness benefits are incredible!"
Basically, "incredible" sums up the Shelton's life in general and at Cordillera Ranch, as Colin says, "It's been a fantastic move for our family because it offers our children the opportunity to grow up in a place with traditional values and to be with others that share those same values. Just last week, several families with young children met at the river park and had a cookout while the kids ran and played like we used to when we were growing up. In Houston, we just didn't have that option which is so important for our children at this point in their lives."