Brianna Botine, Communications Director & Lodging Concierge
The Lodges at Cordillera Ranch provide luxury accommodations and services for corporate outings, family gatherings and many other adult celebrations. Now there is something designed especially for kids! Let The Lodges be your one-stop shop for your child's birthday parties.
We have a passion for thinking outside the box and would love to help you make your son or daughter's birthday one they will be talking about for years to come — a custom sleepover at the Georg House. Our unique tee-pee packages are just the start to their thrilling night. You can upgrade the party to include a balloon arch with a backdrop for group photos or selfies, fun snack trays and custom cake and cookie orders. You can even connect your gaming device to the large smart TV. 
Pool time is definitely a great addition to the slumber party packages. The pool guest fee is included with your sleepover, so let them splash, slide, participate in "Fun in the Sun" games and, of course, indulge in slushies before heading back to The Lodges. The Lodging Concierge is happy to help schedule any other activities around the Ranch such as trail rides for children 13 and older, pony rides for our younger ranchers, kayaking/tubing down the Guadalupe, fishing at Swede Creek and Pickleball rallies. 
There is really not much we can't do to make your celebration as unique and unforgettable as possible. Contact Brianna Botine, to schedule your Slumber Party at The Lodges.
Brianna Botine is the Communications Director & Lodging Concierge at The Clubs of Cordillera Ranch. She can be reached at bbotine@cordilleraranch.com and 830.336.9177.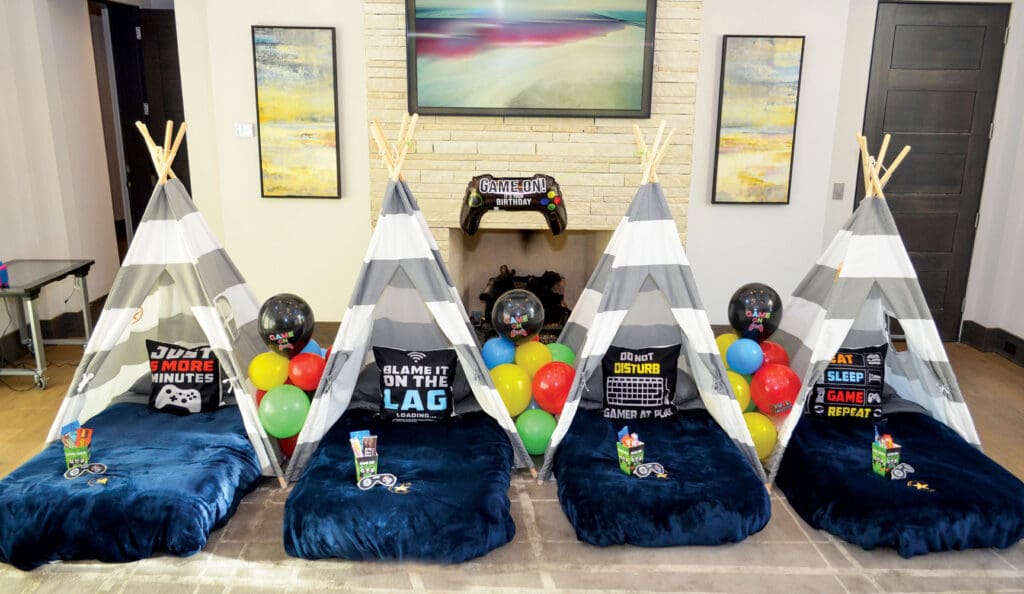 Slumber Party Packages at the Lodges
The Cordillera Ranch Standard Slumber Package
• Themed Sleepover
• Cordillera Ranch Tee Pee
• Inflatable Twin Mattress
• Freshly Laundered Fitted Sheets
• One Pillow and Cozy Blanket
• Keepsake Plush Stuffed Animal
• Garland
The Cordillera Ranch Deluxe Slumber Package
• Themed Sleepover
• Cordillera Ranch Tee Pee
• Inflatable Twin Mattress
• Freshly Laundered Fitted Sheets
• One Pillow and Cozy Blanket
• Keepsake Plush Stuffed Animal
• Garland
• Keepsake Sleep Mask
• Lanterns with Flame-less Tea Lights
• Personalized Name Plates
The Cordillera Ranch Ultimate Slumber Package
• Themed Sleepover
• Cordillera Ranch Tee Pee
• Inflatable Twin Mattress
• Freshly Laundered Fitted Sheets
• One Pillow and Cozy Blanket
• Keepsake Plush Stuffed Animal
• Garland
• Keepsake Sleep Mask
• Lanterns with Flame-less Tea Lights
• Personalized Name Plates
• Bed Tray
• Balloon Bouquet or Cluster for  Guest of Honor
Slumber Party Add-Ons:
• Themed Balloon Towers from 3 to 6 feet tall
• Themed Balloon Garlands
• Themed Balloon Garlands with Photobooth Backdrop
• Birthday Cupcake Bar
• Specialty Cakes
• Custom Sugar Cookies