Personal photography courtesy of
Not many people can say that they met their spouse through the Secret Service, but that's exactly how Jeannie and Ron Treviño met. Now, the couple is happily retired from years of government service and soaking up life at Cordillera Ranch in their seventh custom home – the second home that the couple has built in the neighborhood.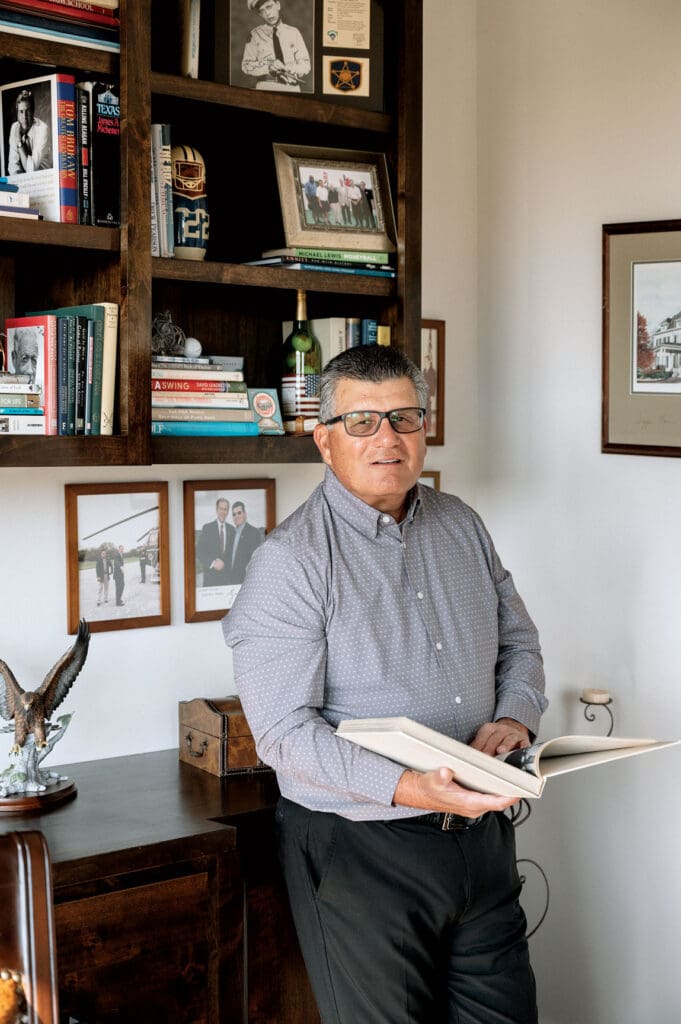 Ron is a San Antonio native who attended Antonian High School. While in high school, Ron and his baseball team clinched the 1971 Texas Catholic Interscholastic League 3A State Baseball Championship. That 1971 team was inducted into the Antonian Sports Hall of Fame in 2018 and Ron, as elected team spokesman, accepted the award the night of the induction.
The gifted baseball player went on to earn a spot on both the Bee County Junior College baseball team, as well as the Trinity University team, before graduating from college in 1976.
Upon his graduation from Trinity University, Ron, who had been active in the Army ROTC program in college, was commissioned as a 2nd Lieutenant in the U.S. Army. He attended Army Field Artillery Officer Basic Training, Paratrooper Training and was eventually assigned to the 82nd Airborne Division, 1st Battalion, 320th Field Artillery Regiment stationed at Fort Bragg, North Carolina. While there, Ron was a Fire Support Team Leader, where he and his team were responsible for coordinating artillery fire on specific targets — often in dangerous, close situations.
"Speaking of dangerous, close situations, during one training exercise, simulating an infantry river crossing, several artillery batteries were prepping the opposite bank of the river with artillery fire. During the prepping, a 'stray' artillery round landed about 20 meters from my team's position. I immediately called for a 'check fire,' the universal phrase used to cease all firing. Luckily the round was armed with an impact fuse and the area where it impacted was so wet and soft, the round went several feet underground before it exploded. Had the round been armed with a variable time fuse, it would have exploded several meters above ground and potentially injured or killed someone," recalled Ron.
It was his military training that led Ron to be hired as a Special Agent by the U.S. Secret Service. "During my career, the U.S. Secret Service was part of the Treasury Department and was responsible for conducting counterfeit money investigations, check forgery investigations, bank, credit card and other financial fraud investigations," explained Ron, adding, "Now the Secret Service is part of Homeland Security, but still maintains all investigative and protective responsibilities as previously assigned."
Ron conducted a variety of criminal investigations during his tenure in addition to serving temporary assignments on the Presidential Protective Division, which included protection of George H.W. Bush while he was campaigning to win the Republican nomination and protection of foreign heads of state who visited the United States. Ron was permanently assigned to the Vice-Presidential Protective Division during the time Dan Quayle and Al Gore were Vice President.
While assigned to the Miami Field Office, Ron served on a temporary investigative assignment pertaining to the investigation of 1959 Heisman Trophy winner Billy Cannon of LSU. The investigation was conducted by the Baton Rouge office and required additional manpower to assist in conducting surveillance and most importantly, manning the six wiretapped phone lines belonging to Cannon and his co-conspirators. "These phone lines required monitoring by agents on a 24-hour basis. The investigation lasted several months and Cannon and his co-conspirators were subsequently indicted and convicted of federal charges relating to the production and possess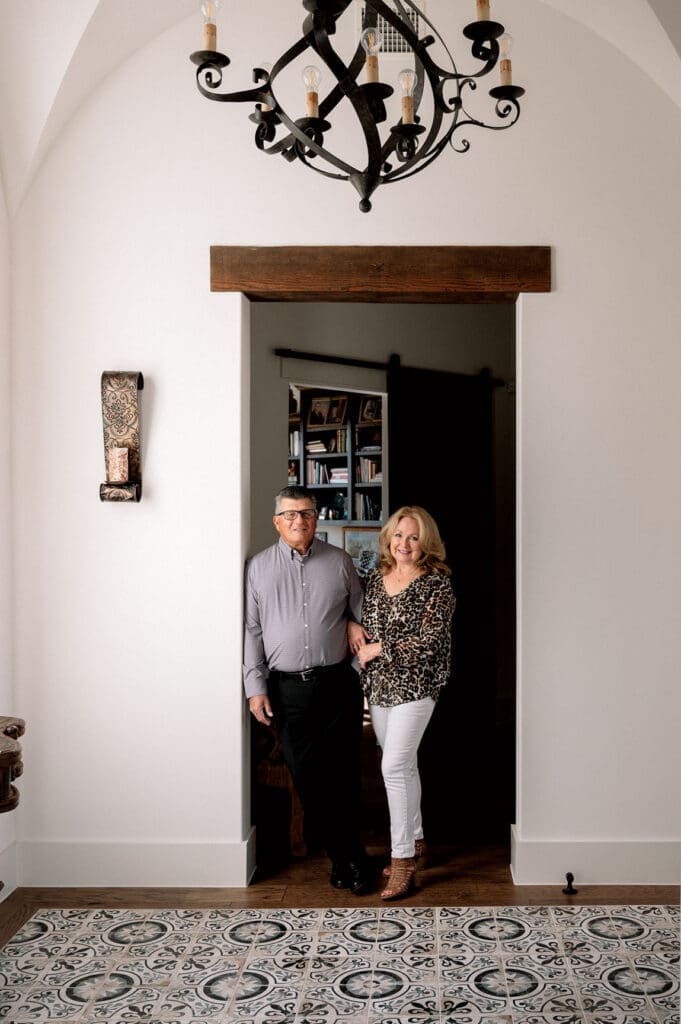 ion of counterfeit money," he said. 
Jeannie, a self-described "Army brat," spent her childhood moving every two to three years. Upon graduating from high school in 1979, Jeannie earned a Bachelor of Arts degree in Criminal Justice from the University of Texas at San Antonio (UTSA) and began a career path in Federal Law Enforcement in 1983 in the U.S. Secret Service Miami Field Office as an administrative assistant. 
Ron and Jeannie met when they were both working at the Miami Field Office and the two quickly fell in love. When it was time for Ron to propose to Jeannie, he knew that he wanted to make the proposal a bit different…dare we say even a "rare" proposal? "It was after work and Ron and my roommate arrived home before I did. When I got home, they seemed very eager for me to start cooking dinner quickly," remembered Jeannie. "I was tired and just wanted to take my time, but little did I know, my engagement ring was hidden in a pound of raw hamburger meat! Ron met me in the kitchen and slipped the 'cleaned' ring onto my finger." The couple married in April of 1986 and are looking forward to celebrating 37 years of marriage this year.
Due to Ron's career, the couple had several transfers but Jeannie was able to "agency hop" with various other Federal agencies (such as the U.S. District Courts, Farm Credit Administration and the U.S. Marshals Service). Jeannie was eventually hired by the U.S. Federal Prisons as a Project Manager and was assigned to Federal Prisons in an 11-state territory.
"As a Project Manager, my job basically was to provide jobs for Federal inmates. I was assigned to the Furniture Department known at UNICOR. By law, Federal inmates must work unless they have a physical disability. This Federal program provides the opportunity for an inmate to learn a trade and earn money for restitution. Federal prisoners earn approximately .11 cents an hour with half of their earnings, which they do not manage, going towards restitution," said Jeannie, explaining that each Federal prison is equipped to manufacture furniture (desks, seating, file cabinets, etc.). A project would begin when another Federal agency placed an order for furniture — such as 2,000 chairs for the FBI. If the order was assigned to one of the prisons in her territory, she would manage the project from inception, production, delivery and installation. "Oftentimes, my duties included visiting prisons in my territory to ensure a project was on track. However, should a prison experience an inmate uproar, my project would be delayed until normal operations resumed," she added.
When the couple welcomed the birth of their daughter, Victoria, in 2001, Jeannie took on her next important role — that of a stay-at-home mom. And after a long, rewarding career with the U.S. Secret Service, as well as the Social Security Administration, Ron retired in December of 2018, where he logged 41 years of government service, 39 of which were in federal law enforcement.  
For Ron and Jeannie, retiring to Cordillera Ranch is a dream come true and the cumulation of years of hard work. "In our 37 years of marriage, we have had 14 different addresses! We've built seven homes, which also means seven temporary rental stays," said Jeannie. 
The Treviños moved into their seventh (and current) home in February of 2022. "This is our second home that we've built in Cordillera Ranch and our first home on the golf course. The views are beautiful on the 13th hole. I really enjoy watching the unobstructed sunrises — they are so vibrant," said Jeannie. "So far, this is our favorite house," added Ron.
While the golf course is the main draw to Cordillera Ranch for the Treviños, the neighborhood's activities and social scene have been a welcome surprise. "The opportunities to stay active and socialize are abundant here at Cordillera Ranch. The members also seem to strive for a sense of community here making home a very special place in which to live," said the couple.
The Treviños share their Cordillera Ranch home with their daughter, Victoria, who graduated in 2019 from Champion High School and was the Cordillera Ranch Junior Tennis Champion in 2016. Recognized for her talents on the courts, Victoria was recruited by Methodist University in North Carolina to play college tennis. Following a shoulder injury, Victoria made the decision to transfer back home and to continue her education at UTSA, where she will soon graduate with a Bachelor of Science in Health and Biology, with the next step being Physician Assistant School. In the meantime, Victoria put herself through Medical Assistant School and earned a certification as an X-Ray technician. She works full time at Main Street Urgent Care in Boerne.
When she's not busy with her studies and her job, Victoria loves spending her time fostering rescued dogs. "I became a foster parent during the pandemic and have since successfully fostered six dogs, who are all now in their forever homes," she said. 
While Victoria has had much success fostering dogs, she did have one "foster failure." That "failure" turned out to be one of her biggest blessings and is now named "Chloe Rose Treviño." Chloe Rose was very ill when she came to Victoria, suffering from fungal pneumonia, flesh wounds and had BB gun pellets in her abdomen, from repeated abuse. "When I began fostering her in 2021, she had never had any human contact. She was basically scared of her own shadow," remembered Victoria. After a lot of time, patience and love, Victoria knew that she was meant to be with her. "She has evolved into my sweet shadow and is enjoying the spoiled life," shared Victoria.
Now that Ron and Jeannie have retired from their busy careers and Victoria is well on her way to a successful career in the medical field, the Treviños are finding that life at Cordillera Ranch is truly as good as it gets. "Cordillera Ranch checks many boxes of our idea of a perfect golf, tennis and family community. In all of our moves, we have always been members of a golf or country club, yet none have compared to Cordillera Ranch," said Ron, the 2016 Men's Club Champion.
The couple added, "The Club staff always share smiles and genuinely care about their positions. We feel comfortable in our Cordillera Ranch community to be exactly who we are — a casual, athletic and social family."