There's an old abandoned home just off the ladies' 9th tee box of the Jack Nicklaus Signature Golf Course in Cordillera Ranch, east of Boerne off SH 46. This was once the home of Sophia and Carl Georg and their family.
Born in Prussia in March 1827, Philip "Carl" Georg arrived in Texas in 1851 at the age of 24. He originally resided in New Braunfels and married Sophia Elizabeth Georg (perhaps a cousin) on March 21, 1852. According to Carl's great granddaughter Gloria Georg Schrempp Obst, Carl hauled freight from Indianola, Texas to San Antonio, New Braunfels and Fredericksburg in ox-driven carts. The trip took six months and Carl was one of two masters who split the year in two hauling the freight. While living in New Braunfels, Carl was also one of the early settlers who helped establish Landa Park. He petitioned to become a citizen in the fall of 1857.
By the time of the 1860 census, Carl and Sophia had four sons — Rudolph, Edward, Hermann and Moritz. In 1867 they were still living in New Braunfels where Carl registered to vote. But by the time of the 1870 census, they are found in Precinct 1 of Kendall County. The post office was in Boerne at the time. Moritz must have died by then but two more sons, Julius and Charles, had been born.
In 1860 Carl purchased 320 acres of land from C. H. Bergstrom. He then purchased 60 acres from W. Gilmore, and in 1882, patented 128 more acres from an original grant. In 1872 he built the house, which is still called the Georg house. By the time of the 1880 census, Sophia and Charles must have died. Carl is listed as a widower and in his household are Rudolph and his family, as well as Herman and Julius. According to his great granddaughter, Carl and Sophia also lost twin girls.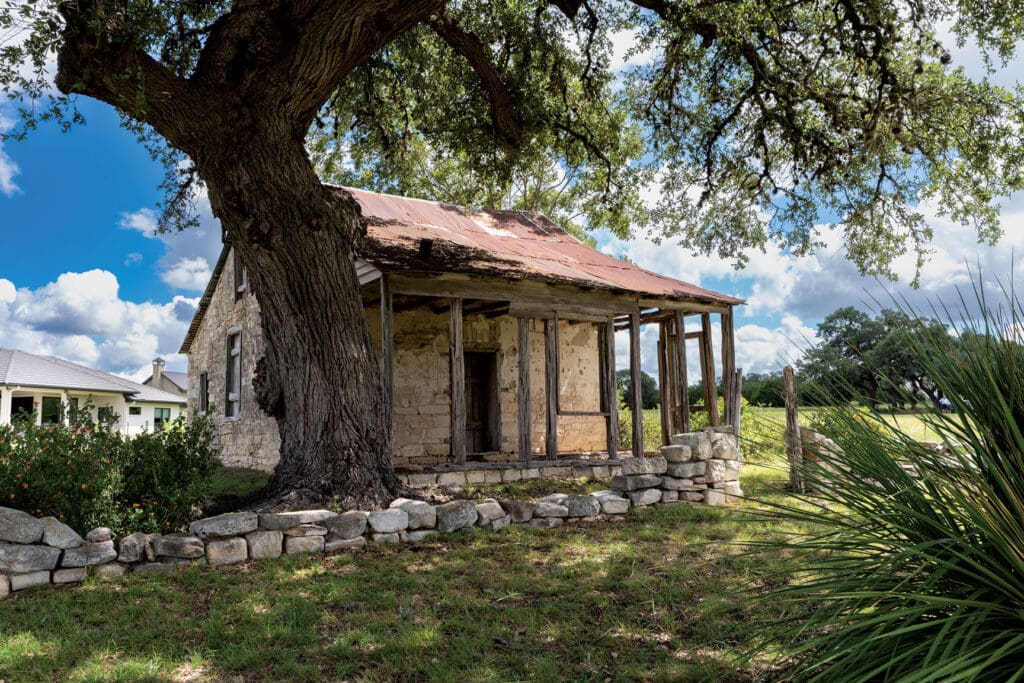 By 1886, all of Carl's sons had married and moved away except for Rudolph. He and his family stayed to help Carl run the farm. Carl died in 1906 and, along with Sophia, their twin daughters, Julius and three of Rudolph's children, is buried in the family cemetery. Family tradition says that there was an old couple already buried there when Carl and Sophia built their home. The cemetery is located south of the eight hole, but not much is left of it today. The rock wall still encloses it, but it's hard to see where the graves are. After Carl's death, the family sold the property to Edwin, Walter and Henry Mertz.
Today, the home remains near the 9th tee box with a plaque paying homage to these early settlers, which is a subtle reminder of how we should appreciate the luxuries we have today and what the early settlers endured to simply sustain a livelihood in this remote area.
Sources:
• 1860, 1870, 1880, 1900 U.S. Censuses
• "Gone But Not Forgotten, Vol. I"; p63 / Catharine Schwarz // printed June 1997; marriage record of Carl and Sophia Georg.
• Tax records for the years 1880-1890
• Naturalization record of Philip Carl Georg
• "Georg Family" by Gloria Schrempp Obst