Brianna Botine, Communications Director and Lodging Concierge
The Clubs of Cordillera Ranch have a mission to be the employer of choice in Boerne and San Antonio. Our goal is to help create a rewarding and enthusiastic work environment by recognizing our employee partners for their continued commitment to Cordillera Ranch, and the Cordillera Ranch Employee Recognition Program is an important element to attracting and retaining great people to serve our members.
Our Employee Partners recognize that what makes Cordillera Ranch so special are the people. We are proud to have amazing people on our team who build relationships and serve our members by creating unique products, services and programming designed to provide a world-class lifestyle. This means both Club events and private events are operated with outstanding attention to detail, with employees thinking outside the box and continuing to push the envelope, always looking for new ways to engage with our members.
One way that we respond to their service is by hosting Employee Appreciation parties twice a year — the summer parties have been hosted at Top Golf®, Canyon Lake boating, New Braunfels floating the river and Chicken N Pickle®, to name a few. These summer celebrations are open to all of The Clubs of Cordillera Ranch employees and their families. This summer, we'll host an event at the pool on a Monday where staff will be able to bring family and enjoy games and entertainment.
Every January the Clubs host a formal dinner celebration open to all employees and their spouses. This celebration features an elegant dinner with awards for service. We recognize employees for being a Ranch Hand (minimum three months of service), Wrangler (minimum six months of service) and Trail Boss (minimum 12 months of service). Gifts are awarded to employees that work to reach the Wrangler and Trail Boss levels. The Trail Boss level employees are the Best of the Best. They are our team members that always go above and beyond and strive to deliver the best experience to our members.
We also recognize our Employee of the Year that is gifted the "Outstanding Service" award. This award is a Clint Orms C-Star bracelet with their initials and "Outstanding Service" etched on the inside, or a C-Star money clip for men with their initials and "Outstanding Service" etched on it.
2021 Employee of the Year:
Katie Dillard
Previous recipients:
Phil Sloan (2015)
Kelsey Guzman (2015)
Vicki Hansen (2015)
Andrea Peterson (2016)
Brianna Botine (2017)
Amanda Carlisle (2017)
Dillon Rios (2018)
Patrick Drinkard (2019)
Laura Grudle (2020)
Nothing says more about a company than tenure, and we love to recognize our team members for their continued dedication to the Clubs. Our employees that celebrate their 10-year anniversary are awarded a Clint Orms C-Star bracelet or a C-Star necklace, and men are awarded a Clint Orms C-Star money clip.
10+ Year Employees:
Richard Kilpper (2017)
Nick Menger (2018)
Vicki Hansen (2020)
Jeff Cohen (2020)
Debbie Pepper (2021)
Carlos Flores (2021)
This year we were able to celebrate four team members that are celebrating 15 years at the Clubs! Their tenure has had an incredible impact on the development and growth of the Club. These four men were gifted custom C-Star boots from C'Rae by Collynn'Rae Nichols. The men were able to pick their boot material and colors, and Collynn'Rae came out to measure for a custom fit.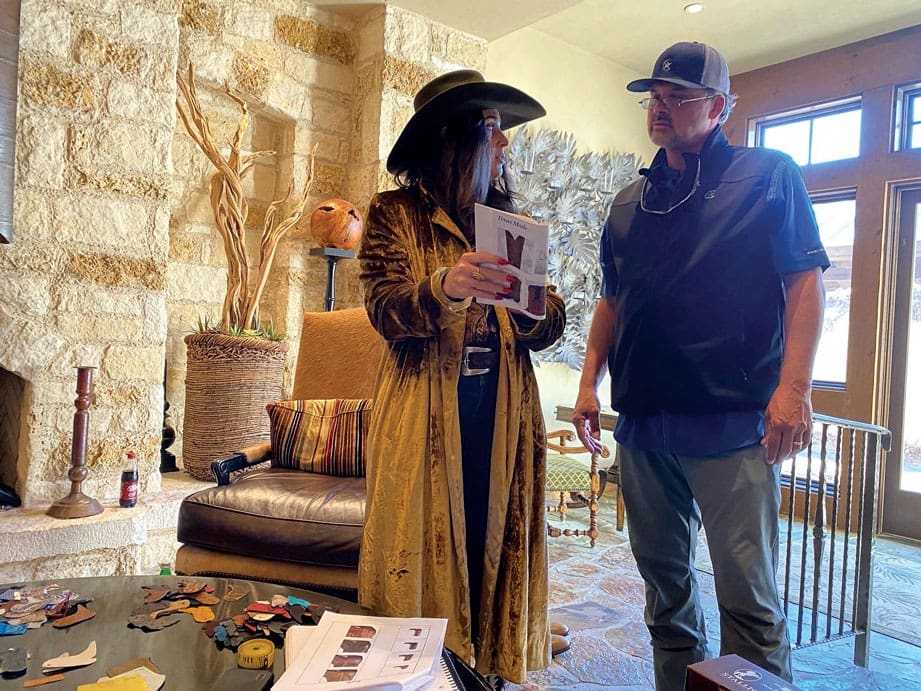 15-year Employees, 2022: 
Marc DeWall (General Manager)
Ernesto Fernandez (Agronomy)
Jonathan Stevens (Agronomy)
Shane Reynolds (Director of Outdoor Recreations)
We also like to recognize our team through our C-A-Star in Action program. This program is available for members and staff to recognize employees for going above and beyond. You can find the submission forms around the Clubhouse, on the Mobile App and on the website under C-A-Star in Action. A committee meets quarterly to review and vote on the employees nominated and choose four winners. These winners are able to enjoy a lunch at the Club with David Hill, Charlie Hill, Marc DeWall and Kathi Spink. They receive a Yeti® water bottle that has Outstanding Service and their names etched on the outside, and a gift card. We highly encourage members to make sure to complete a C-A-Star in Action form when you have an outstanding experience. These nominations help us choose the Employee of the Year, and our staff loves to read the sweet messages you took the time to submit. 
2022 First Quarter Winners: 
Colt Myers (Agronomy)
Justin Montano (Equestrian)
Lee Smith (Culinary)
Chris Nault (Bartender)
We thank our employees for their dedicated service and we thank our members for the continued support they give our employees every year. We look forward to continuing to serve both our members and employees!
Brianna Botine is the Communications Director and Lodging Concierge at The Clubs of Cordillera Ranch. She can be reached at bbotine@cordilleraranch.com and 830.336.9177.