Kevin Koether, General Manager, Cordillera Ranch POA
The Property Owners Association Management Team is happy to provide the following update of a few active POA projects.  We hope our residents are as excited for these updates as we are to provide them.    
Guardhouse Remodel
The guardhouse at the Highway 46 entrance is showing its age. We will be updating the aesthetics as well as the functionality of the guardhouse. We hope to begin this project by October and expect the project to be completed in January. The POA will keep all residents updated with any temporary changes to entry or exit protocol at the Cordillera Trace/Highway 46 entry. We will be making significant changes to the exterior, such as adding a complete glass corner to the Northeast side of the building (facing the visitor lane), which will not only modernize the style but provide better view of incoming vehicles for the guards. The interior will undergo a renovation to make the space more efficient for the guards in hopes of expediting service. We believe this upgrade will not only increase efficiency but also help enhance the initial impression guests have when entering Cordillera Ranch.  
Lighting Replacement at Highway 46 
A replacement plan for the entire landscape lighting system at the Highway 46 entrance is also underway. The goal is to upgrade the lighting system to a more efficient and reliable LED system featuring the entry columns, walls and landscaping. Using LEDs will not only make the lighting system more energy efficient but also much easier to repair when needed. We are working diligently to ensure the final product is also compliant with preserving our Dark Sky initiative to further preserve our views of the stars.  
Repair and Repaving of Roads
Repair, crack seal and chip sealing of Lantana Hollow, Agarita Circle, Indian Bluff, Park Ridge and Valley Knoll have been approved by the Board of Directors. The POA is working with Clark Construction, who was utilized last year for the paving of Cordillera Trace, to complete the project. Clark anticipates beginning the work in late September or early October. Any imperfections in surface (small potholes and divots) in the roads will be repaired first. After those repairs are complete, all large cracks will be sealed to deter moisture penetration, and then chip sealing will begin. It is estimated that this total project will take approximately four weeks, weather-permitting. As we near commencement of the project, the POA will release more detailed information via email to residents.  
Wildflower Planting in the Parks
The POA would like to thank the Cordillera Ranch Nature Club for their dedication and help in beautifying Cordillera Ranch. Discussions with Nature Club members regarding the parks system within Cordillera Ranch identified a lack of wildflowers in the parks. In addition to the added beauty, wildflowers also enhance the native environment by attracting wildlife and butterflies. As the fall season begins, POA Maintenance will begin tilling selected areas around the parks and seeding those areas with Hill Country native wildflower seeds. The seed blend being used will be based around perennial wildflowers to allow for self-propagation year-after-year. The maintenance team will be planting the seeds in a way where turf walking paths will wind through the wildflower areas.
Pavilion Park Playground
The existing playground structure at Pavilion Park (Cordillera Trace and Park Ridge) will soon have a more modern playground. We consulted multiple playground manufacturers and have conducted extensive research to ensure we select the best product for Cordillera Ranch. The new play structure will include a separate set of swings and incorporate playground-rated mulch as a base. The playground improvements are currently scheduled to completed in the 4th quarter of 2021.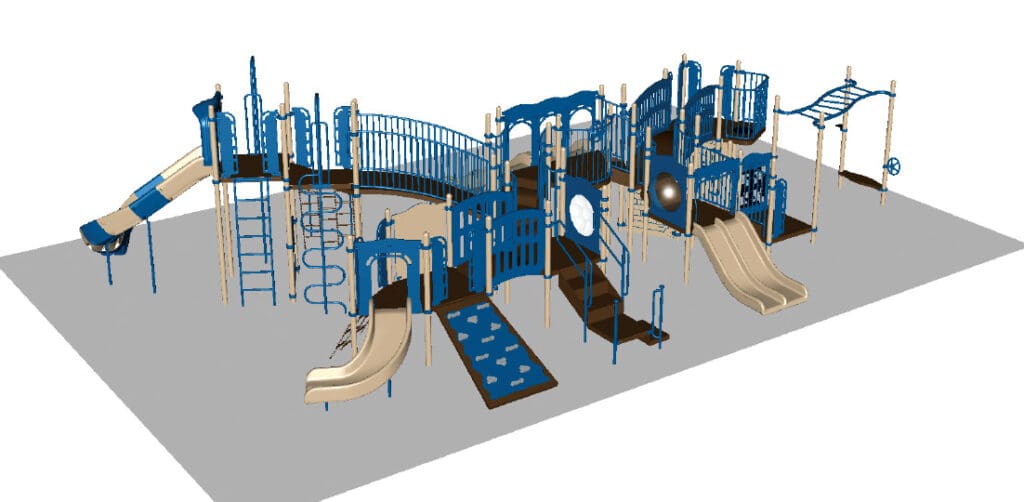 Realignment of Maintenance
With an extensive review of the scope of work the POA Maintenance Team routinely undertakes, as well as the needs of leadership, we have decided a realignment of the Maintenance Team is warranted. Lenny Tomasini will remain as Maintenance Superintendent, but recently we promoted Jeff Muenchow to Assistant Maintenance Superintendent. Jeff has worked for Cordillera Ranch for seventeen years in our maintenance department and has a wealth of knowledge of the community and its needs. We will also be selecting three Crew Leads to head up the different grounds teams. We believe this restructure will provide additional levels of accountability and better project management. Lenny will move to more of an administrative role, assisting POA General Manager Kevin Koether with capital project development and forecasting upcoming maintenance needs. Jeff will direct project management and oversight of the three Crew Leads to ensure implementation.     
We're excited about these projects and are confident they will provide an improved first impression, ongoing functionality and sustainable enjoyability for our community. We welcome your comments and suggestions for the same. As always, we are here as a resource for our residents and we hope to see you soon. If you have any questions regarding any of these projects, please reach out to the office at 830.336.3501 or via email at crpoa@cordilleraranch.com.
Kevin Koether is the General Manager of the Cordillera Ranch Property Owners Association. He can be reached at kkoether@cordilleraranch.com,  cordilleraranchpoa.com or 830.336.3501.