Graham House, Clubhouse and Lodging Manager
In Texas, barbeque is king. It's synonymous with summer days, tailgating and just about any other year-round celebration Texans can dream up. There's also the sauce-or-no-sauce debate. If your summer grilling headquarters is the Clubhouse, you can't go wrong. If you want to DIY right in your own backyard with Akaushi Beef from the Club's Butcher Retail Shop, Cordillera's own Pitmaster, Sous Chef Greg Lopez, can help. Whether you declare yourself a pitmaster or novice, grilling and smoking is something to be enjoyed by all. Simply follow these tips to be the master of your own barbeque.
OUR CORDILLERA RANCH PITMASTER, SOUS CHEF GREG LOPEZ
Greg graduated from Le Cordon Bleu in 2007 and started his career at the Westin La Cantera. This is where he really began to hone his skills and by 2012, his passion for the unique style of Texas barbecue was sparked. Since then, barbecue has become his expert craft. Greg handles all of the Club's slow smoked meats, rubs and barbeque for events and the menus.
Greg has been married to an incredibly supportive wife for almost 12 years and they have a beautiful eight-year-old daughter. His long-term goal is to have his own barbeque restaurant. While we support his endeavor, we also want Greg to remain at the Club for as long as possible, providing our membership with great smoked meats and barbeque! The following are Greg's expert tips for your best grilling experience.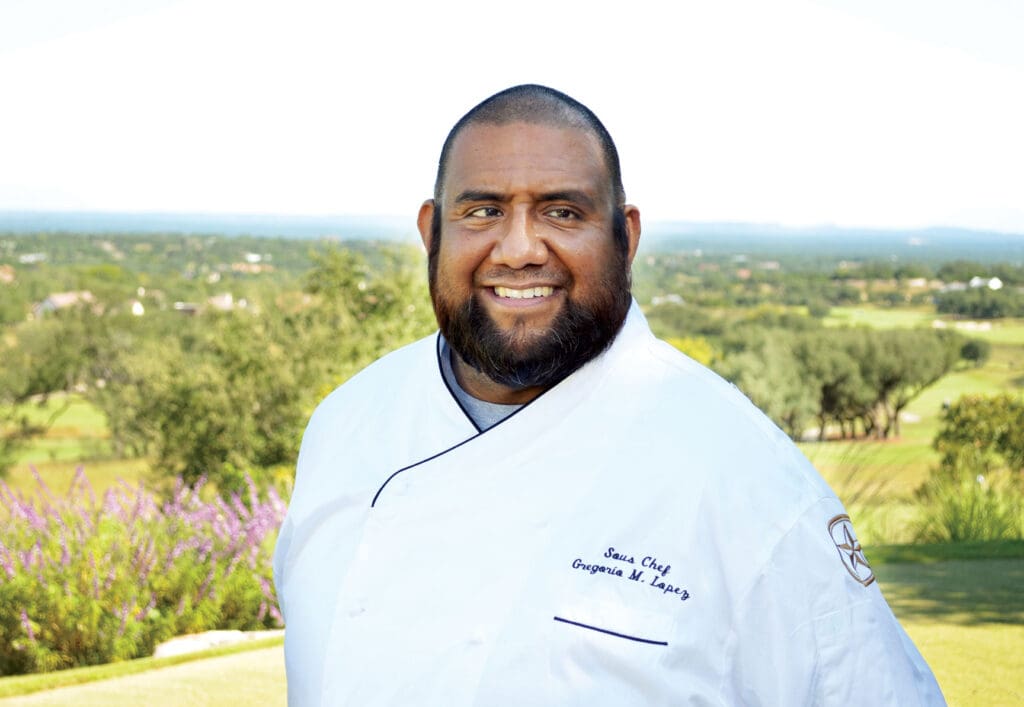 KNOW YOUR EQUIPMENT
• Start with a clean grill. Don't let last night's salmon skin impart a fishy-char flavor to tonight's burger. Use a sturdy metal     brush to clean the grates in-between uses. (This is easiest when the grill is hot.)
• Know your device (Smoker, BBQ Pit or Grill) and learn the hot spots! Every grill is different and hot spots can move!
• Temperature Control: Keep temperatures from 250°F – 275°F.
• Wood Pellet Grills are the newest equipment on the market that ensure consistent temperature for those longer cook-time     items like briskets, ribs and smoked meats. Different woods are available to enhance the flavors of your steaks and proteins. 
• Determine when to use direct heat vs. indirect heat. Example: Smoking a brisket uses indirect heat, cooking a burger uses     direct heat.
• Buy a meat thermometer. Unless you are a very experienced cook or chef, it is hard to tell the meat's temperature merely by touching it. The MEATER® wireless thermometer is the newest thermometer on the market that also measures core and ambient temperature readings in one probe. 
Start Grilling!
• Season your steaks or proteins generously with salt and pepper at least 30 minutes before putting them on the grill — this lets them come to room temperature.
• Alternatively, our Akaushi burgers should go on the grill cold (not room temperature) after seasoning with a generous amount of salt and pepper.
• Set up your charcoal or gas grill with a hotter side and a lower heat side; the hot side is to get a nice sear on both sides of your steak and then place them on the lower heat to continue cooking until they reach your desired temperature.
• Don't move the food around too much. In general, the fewer times you flip something, the better (once is ideal for most meats). If the meat is stuck to the grill, let it cook more — it will unstick itself when it's ready for flipping.
• One of the most important things to note is to allow your meats and proteins to rest before cutting or eating! This lets the juices settle in and relaxes the meat.
• Don't squeeze or flatten meats. Yes, I know that burst of sizzling flame that comes from squishing a burger with a spatula is tempting. But do you know what is creating that flame burst? Fat. And do you know what fat is? Juicy flavor. Don't squish meat because you will squeeze out the taste and moisture.
• Keep a spray bottle handy for flare-ups. Flames are not your food's friends — they will char it unpleasantly. Keep a spray bottle filled with water handy; this will allow you to dampen flare-ups without interfering with heat.
TEXAS-STYLE SMOKED BRISKET — SO SIMPLE
Every pitmaster has their own technique for that perfect brisket. The process is very simple, and the long cook time is the vital factor to having a juicy, tender brisket.
• Select a brisket cut, 15 to 20lbs. Higher-grade briskets have more marbling, which leads to a juicer and more flavorful finished product. Wagyu and Prime briskets are prized, but lesser grades of meat also work.
• When buying a brisket, get a full packer (both the point and the flat). The point (also called the deckle) is the fatty part of the brisket. It has more marbling and stays juicier when cooked. The flat (also called the first cut) has the point removed. It's  leaner and less tender. Go big when buying your meat — you'll trim off a surprising amount of fat before you even begin cooking.
• When trimming a brisket, you want to remove excess fat that won't render, and the "silver skin" that doesn't break down as the meat cooks. To make the process easier, use a sharp boning knife and trim while the meat is cold. 
• The rub is an important component of your brisket's taste. Texas-style smoked brisket rub has just two ingredients: equal parts of coarse salt and coarse black pepper.
• Post oak delivers the classic smokey flavor for Texas-style brisket and is Sous Chef Greg's go-to wood. Mesquite is another popular option. Some smokers prefer to use fruitwood for a sweeter taste.
• Preheat your smoker to 250°F – 275°F.  
• Place the brisket in the smoker, fat side up, with the thicker side closest to the heat and smoke 8 to 10 hours, depending on the size. Slow is the guiding principle when smoking a brisket.
• Pull the brisket off the smoker and get ready for the "Texas Crutch." This is the final phase of wrapping the brisket in aluminum foil and placing it back in the smoker for another three hours. 
• Remove and let your brisket rest. The excitement to dig in once your brisket is fully cooked is only natural, but it's worth the wait to let it sit for a bit. Keep your smoked brisket wrapped, and let it rest for an hour — preferably two — before slicing. This allows the juices to settle and keeps them in the meat, rather than on your cutting board.
• Serve and enjoy.
BBQ AT THE CLUB
One of our most popular items on the Cordillera Ranch Menu is our Slow-Smoked BBQ Chopped Salad, which calls for pulled chicken. We smoke close to 50 pounds of chicken per week for this popular dish! Here is the recipe for the Slow-Smoked Maple-Scented Chicken which can be added to any of your 
favorite salads or dishes.
Slow Smoked Maple Scented Chicken
Ingredients
2 Whole Chickens (split in half)
1 gallon Water
1 cup Maple Syrup
2 cups Molasses
2 cups Kosher Salt
½ gallon Ice Cubes
Your favorite BBQ Sauce
Method
Combine all of the wet ingredients with the salt in a large pot to make your brine. Heat the brine mixture just enough to combine all of the ingredients and dissolve the salt. Place the split chicken into a large container, add the brine mixture and ice, ensuring the mixture cools and the chicken is fully submerged. Cover with a lid or plastic wrap and refrigerate for at least six hours.
Get your smoker going at a slow smoke temperature of 275°F; this might take about an hour to achieve this temperature without major fluctuation. Place chicken on your smoker, as far from the heat as possible. Close the top but keep your chimney and smoke box open for air circulation. Smoke for at least an hour and a half. Remove when golden brown. Ensure that the internal temperature is 165°F in the crease of the thigh.
Let the chicken cool and pull apart the meat from the bones. Toss in your favorite BBQ sauce and add to your favorite dishes.
BUTCHER RETAIL SHOP 
Don't let the meat shortage in stores get you down. Cordillera Ranch is still taking orders for fresh hamburger meat and steaks from the Club's Butcher Retail Shop. To be precise, this is the most amazing certified Akaushi beef you will ever have, raised right here in the state of Texas by HeartBrand® Beef. It is one of the nation's largest family-owned branded beef companies in the U.S. and is the largest producer of Japanese Akaushi cattle in the world. HeartBrand Beef prides itself in producing beef that creates the best eating experience you will ever have. It's a perfect steak with the most incredible color, texture and marbling. Whether it is prepared by a famous chef or by you, the master of your own grill, you will agree when you take a bite of a ribeye, strip, filet or hamburger that it is something you will always remember and it will leave you wanting more. A Butcher Shop Gift Basket is perfect for the foodies in your life, or surprise your spouse with a Butcher Shop Dinner For Two. The Club also has the following selections available to order and butcher for you: 
8oz Ground Akaushi Patties or 5lb Chubs  •  6oz Filet  •  8oz Filet 
14oz New York Strip  •  16oz Ribeye Steaks
5 REASONS TO EAT HEARTBRAND® BEEF
Certified Akaushi Beef provides an eating experience that is above and beyond what any other branded beef product can offer. It's more than just tender and flavorful. Akaushi cattle provide the best-tasting and most healthy beef you can eat.
1. Heart-HEALTHY FATS
One of the main things that sets Akaushi cattle apart from the rest of the beef on the market is the fat content in the meat. While all beef has saturated fats, Akaushi has a higher concentration of monounsaturated fat. Monounsaturated Fatty Acids are a healthy addition to our diets that can actually help people shed fat. The American Heart Association has reported that a diet with a higher amount of monounsaturated fats versus saturated fats can help lower cholesterol.
2. UNIQUE, BUTTERY TASTE
Akaushi beef is also a natural source of oleic acid, the same compound found in olive oil. The USDA has shown in studies that oleic acid is a heart healthy part of our diets. Along with being good for you, oleic acid also gives Akaushi a delicious buttery taste unlike any other beef.
3. USA RAISED
All HeartBrand Beef is raised in and sourced from the United States. When you purchase HeartBrand Beef, you get the peace of mind of knowing that the product on your dinner plate is source-verified and has been produced entirely in the United States. You're dealing directly with the HeartBrand Ranch and Beeman family when you purchase their beef, which is something few branded beef companies can offer.
4. ALL NATURAL
HeartBrand Beef is raised naturally without hormones. The cattle are grass-fed and then pulled into the Bovina, Texas feedlot for finishing. Akaushi cattle have extremely good production and produce the world's most consistent beef all on their own with minimal inputs. 
5. FAMILY-OWNED
HeartBrand Beef is owned by the Beeman family in Texas. Their president, Jordan, lives with his wife and children on the ranch. Ronald and Jordan Beeman are fourth and fifth generation cattle ranchers and take great pride in the care of their land and animals. The family is involved in every step of the process, from the Akaushi calves being born to the steaks on consumers' dinner plates.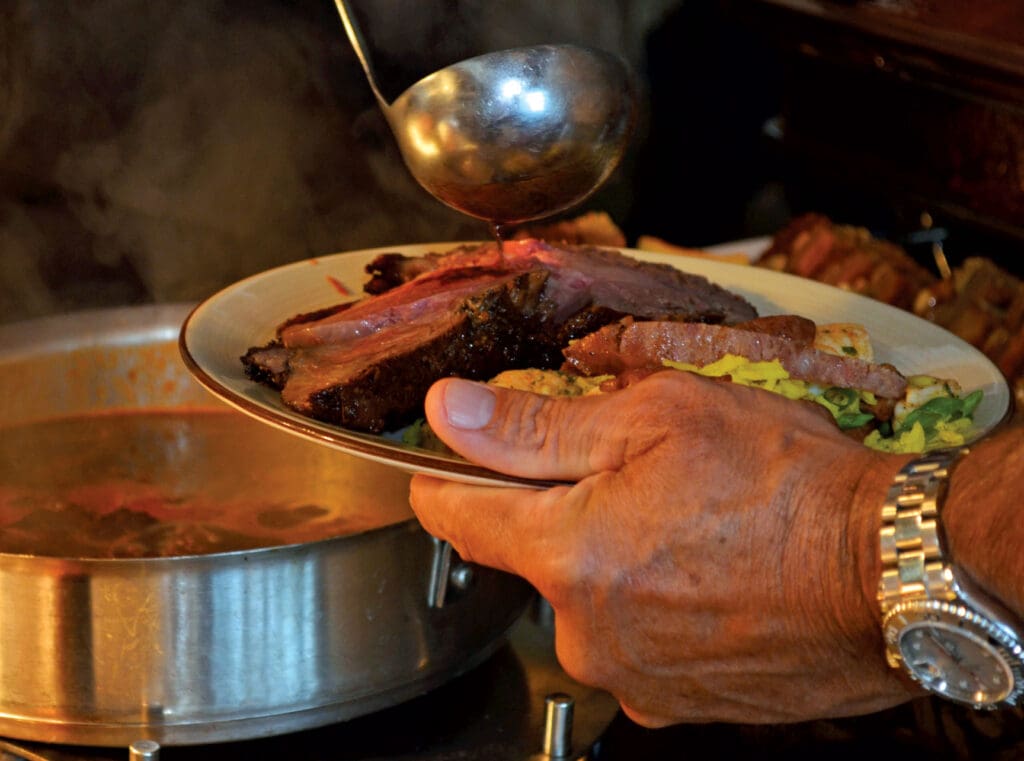 GOLD RUSH IS BACK!
The very popular weekly dining event on Wednesday nights is back! GOLD RUSH has become a Club tradition featuring our Prime Rib buffet with an Akaushi Prime Rib roll, slow roasted to perfection and carved to order. The buffet includes seasonal fresh vegetables, baked potatoes and a salad selection. In addition to the buffet, the Ranch Menu is available.
Wine specialist, Jeff Cohen features a wine tasting table in the living room with a weekly, ever-changing selection of vineyards and varietals to taste. Wine specialists from the feature wines join us to provide tasting notes and vineyard information about the process and winemaker. All the wines tasted are available to preorder for home.
The fun part of the night starts at 7:30pm, with the well-known theme song kicking off the drawings. The first drawing is for a complimentary bottle of wine. Then we draw the name of the member that wins the GOLD RUSH pot… but the member must be present to win! If no one is selected, the pot grows by $50 for the next drawing. The pot has been as large as $2,000, and the winner receives a food and beverage credit for future dining.
Graham House is the Clubhouse and Lodging Manager at The Clubs of Cordillera Ranch. He can be reached at ghouse@cordilleraranch.com or 830.336.9164.