Olivia Burdick and Emily Perry
Kelsey Grudle and courtesy of Rainbow Senior Center at Kronkosky Place
Kronkosky Place, also known as Rainbow Senior Center, is a familiar resource in our Boerne community. While 2020 posed extreme challenges for the seniors and the Center, the organization continued to shine bright, illuminating the tremendous impact it has on our community. Cordillera Ranch residents supported every aspect of what the Center does with their volunteerism through Meals on Wheels, vaccine distributions, serving on committees and supporting the Center and their programs through donations. 
"Isolation that seniors feel all the time was particularly spotlighted during COVID-19 and we all now know what it feels like to have limited outside resources," says Karen Love-Werner, Chair of the Board of Directors for Kronkosky Place and Cordillera Ranch resident. "What members miss the most is the fellowship — what everyone misses after 2020." The past 12 months posed a particularly larger challenge for this part of our community due to COVID-19; Kronkosky Place navigated as a north star for other senior centers who looked for guidance and wise council. It was necessary for the CEO, Olivia Burdick, and her team to reimagine and put in place strategies for what this industry would morph into post pandemic. When the very first vaccines came to the county, the Center stepped up and partnered with My Urgent Care Clinic to successfully vaccinate 450 of our county's seniors. When Kronkosky Place saw other needs arising, such as an increase in phone calls due to seniors needing help registering for the vaccine, they created a call center within the organization and partnered with both The City and The County to further prioritize seniors, and assisting those who were not tech-savvy or had limited access to the internet in scheduling vaccine appointments. Love-Werner adds, "Olivia conducted monthly meetings with other senior centers within the region and Boerne non-profit organizations to determine the best strategies to help address the needs of those in the community during the pandemic. It was a matter of figuring out how creative and resourceful we can be during something that no one has experienced before."
COVID-19 quickened the pace on an already increasing need for the evolution of the traditional senior center model; Kronkosky Place has already been recognized as one of the most innovative senior centers in the industry. Burdick was honored as Businesswoman of the Year at the Boerne Chamber of Commerce Awards Gala on Saturday, May 22nd, selected from 10 candidates by an esteemed judging committee. It was particularly an honor to be recognized amongst all businesses when you are running a not-for-profit. 
Burdick explains how senior centers have been around since 1970 with the initiation of the Older Americans Act, but the population and generations keep changing. For instance, the 85+ population enjoys certain activities while those in the 55+ group like others. This goes beyond activities to include different menu choices — some prefer to continue eating the home-style recipes they are familiar with, while younger generations are used to many choices and are aware of healthy eating and its impact on smart aging. "Our vision is to be the central resource center for seniors and their families; we educate caregivers and help to navigate the aging process, provide area transportation and resource connection," says Burdick. The services provided at the Center are ever evolving. "We quickly shifted our typical program and service model to include drive-thru lunches, computer training and technology classes to learn zoom, and virtual support groups and phone call connections for what was traditionally in person. Now that we are on to the next normal, you can expect to see the introduction of classes like yoga to help your golf game, wine tastings, day trips and even speed dating! It goes without saying, fitness classes, socialization, support groups and health and wellness initiatives, such as our Meals on Wheels program, remain golden for us," says Burdick.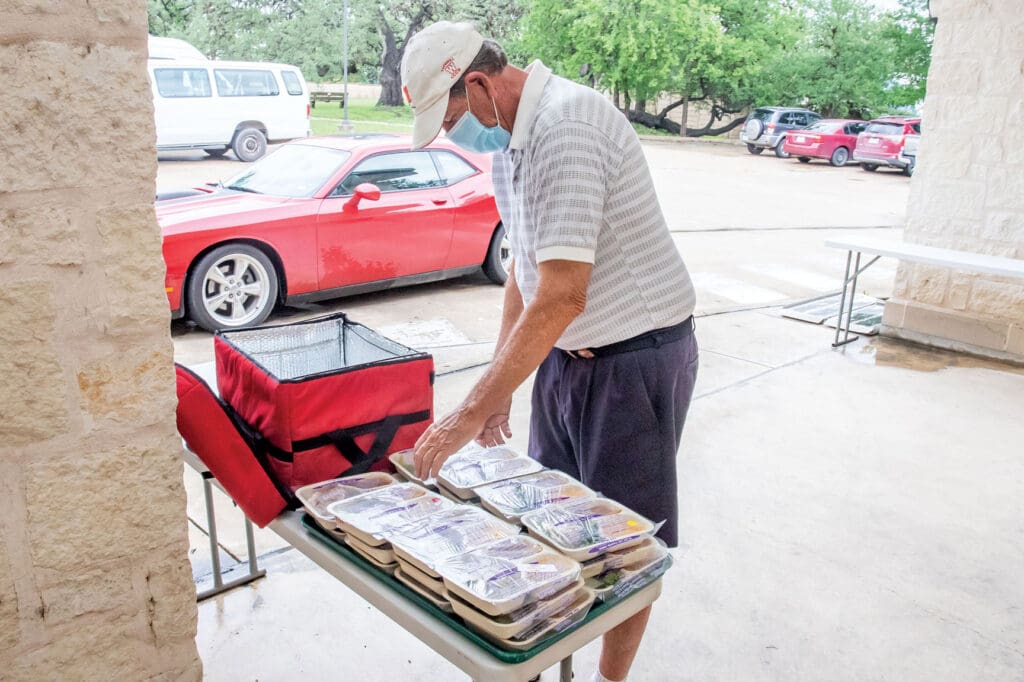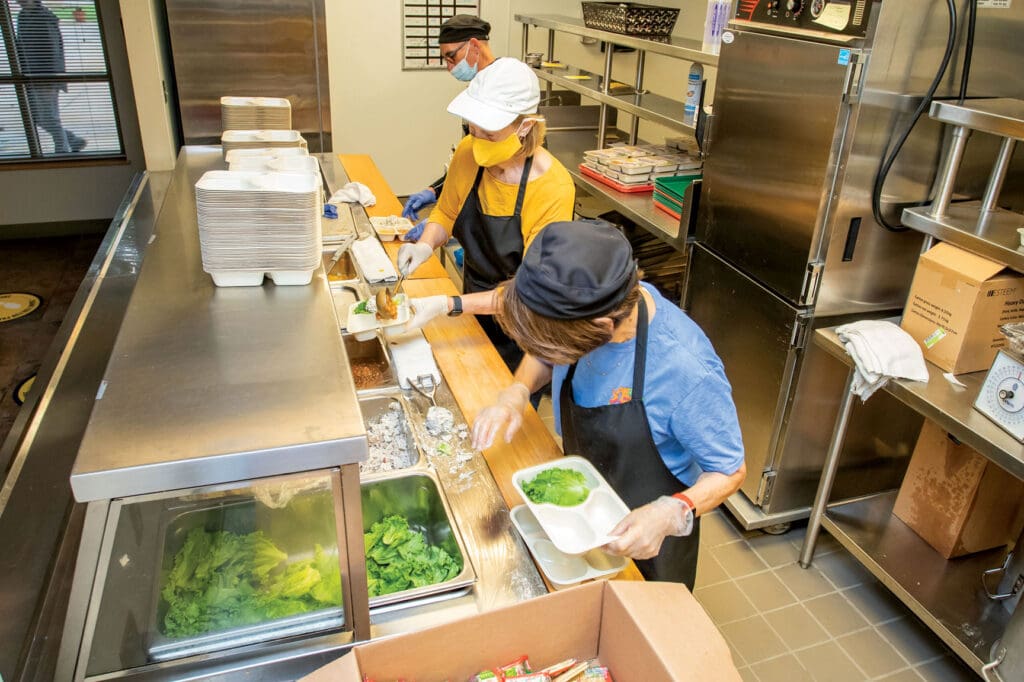 As the Kendall County hub for Meals on Wheels, Kronkosky Place is projected to serve 75,000 meals this year, which is a 25,000 meal increase due to the pandemic. Many seniors are living on fixed incomes and depend heavily on Social Security payments which leads to sometimes facing the choice of paying for medication or food. 83% of the seniors on the Meals on Wheels program cannot afford to make a voluntary contribution of $3 for their meal — Kronkosky Place serves ALL regardless of their ability to contribute.  Additionally, meals are delivered to the Comfort Golden Age Center where their own community volunteers distribute to that area. Deliveries continued as usual during the entirety of the pandemic, and during the freeze earlier this year, the Boerne Police Department stepped in to assist during the severe weather conditions. "Meals on Wheels not only delivers food but also acts as a well check. Sometimes the only contact a senior has all day is the interaction with the volunteer driver. The volunteer acts as a liaison to report any concerns regarding their well-being that need attention. The volunteer is their friend, advocate and they know these individuals' habits as if they were family," says Burdick. These volunteers deliver 15 to 20 meals on the same day of the week, every week, and have regular routes so seniors know when to expect them. The 55+ make up a considerable number of volunteers for Meals on Wheels and at the Center. 
"Meals on Wheels not only delivers food but also acts as a well check. Sometimes the only contact a senior has all day is the interaction with the volunteer driver." – Olivia Burdick, CEO, Rainbow Senior Center at Kronkosky Place
"To be an integral resource for the community, sustainability is key and there is a consistent need for fundraising and volunteers," says Burdick. The Center is funded by grants, individuals, Older American's Act funding and local government entities including The City of Boerne and Kendall County. To that extent, Kronkosky Place has developed an events and catering division for community groups who utilize their meeting facilities. The upstairs spaces were also designed as physician offices, fulfilling two needs: generating revenue for programs and operations, and providing an added value for seniors who have access to their local physicians while at the Center. The organization just completed their second Golf Tournament fundraiser with help from so many Cordillera Ranch residents, raising $25,000. And a gala is planned for August 14 at Mark Motors with an "Out of this World" space theme. Individual volunteers are always needed and welcomed, but it is not limited to senior assistance. Volunteer positions in areas like marketing and human resources are perfect examples of the realm of knowledge the organization seeks to further its mission. "To be the best stewards of our funding, we are always seeking creative and unique approaches to find necessary solutions with limited resources," says Burdick. There are at least 250 volunteers, with 90 volunteers just to support their Meals on Wheels program. 
In leading the organization, Burdick believes you can gauge any quality of life by visiting the local Senior Center. She concludes, "We could not have survived COVID-19 nor foreseen such a bright future without the support of this community, along with the volunteers we will be needing to meet the growing needs of the influx of the maturing population."
To offer your support, contact Emily Perry at 830.249.2114 or emily@rainbowseniorcenter.com.