There was a time when Cordillera Ranch resident, Steve Mayfield, wore bell bottoms and had long hair. It was the '70s, after all, and it was all the rage at the time. One day, Debbie walked into Sill's Snack Shack, a bygone eatery in Alamo Heights, and spotted the debonaire Steve, flipping burgers.
"For me, it was love at first sight," recalled Debbie. "I thought he was so cute. My friend Jo Jo and I went in there every afternoon, and I'd flirt with him. You wouldn't believe the stuff I'd eat!"
Steve added, "After literally weeks, maybe months, Jo Jo pulled me aside and said, 'Do I have to knock you over the head or what? Ask her out!' So, I asked her out."
Come to find out, their mothers had gone to high school together, and interestingly, Debbie's mother had even dated Steve's dad while in high school. It just seemed like something out of a rom-com, or what others call destiny.
Although Debbie graduated from Trinity University and went on to become an elementary school educator for 22 years before founding Benefit Processing Services, LLC, and Steve attended Texas A&M before becoming a CPA, now running his own practice, it's quite clear that their true second love in life is actually wine. 
According to Steve, some folks might claim they have a wine cellar when what they really have is a wine room or closet, but not so for the Mayfields.
"When we built our house in Cordillera Ranch, we actually tunneled underground to build our wine cellar," explained Steve. That cellar now holds a wine collection of 700 bottles, including Debbie's prized bottles from Scarecrow and Schrader Cellars. 
The couple is most fond of Cabernet. "But I love everything from the well-known regions of Spain, especially Priorat, a tiny region that's coming back into its own," said Debbie.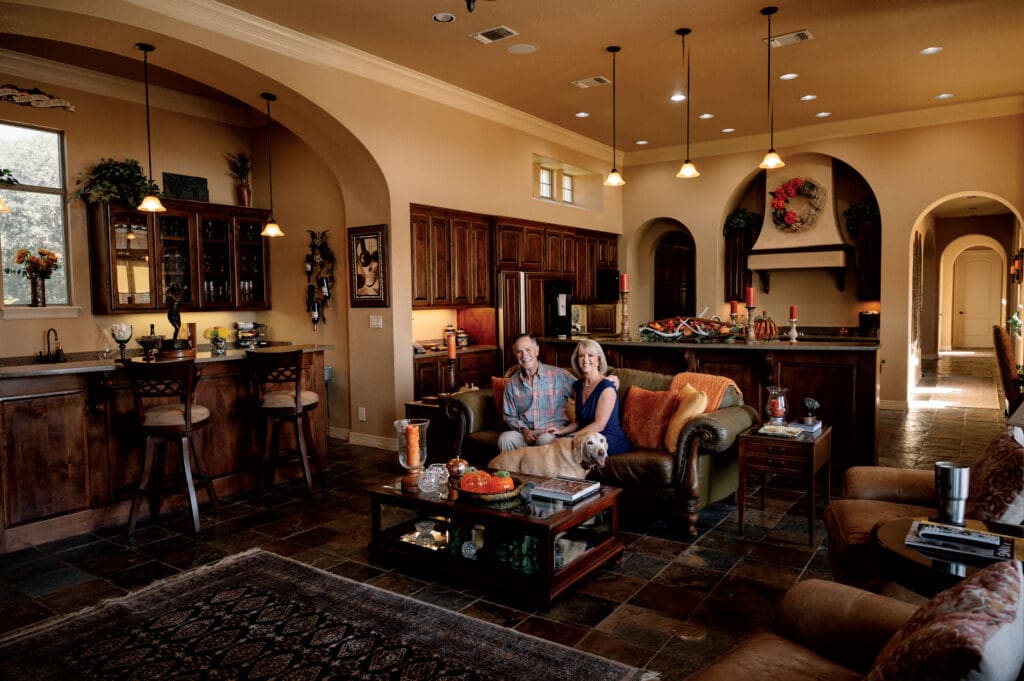 What started out as a way to supply their wine cellar grew into a flourishing business that they have nurtured for the past 15 years. In 2008, the Mayfields opened up a wine and liquor store, called Bergheim Cellars, just minutes from their home in a strip center along Hwy. 46 and Ralph Fair (3351). 
In 2017, Bergheim Cellars was named Retailer of the Year for the State of Texas by Brown Foreman; in 2019, it was awarded the Silver Medal for Wine Retailer in the Boerne Star "Best of the Best," and most recently, it was awarded the Gold Medal for Wine Retailer, in the Boerne Star "Best of the Best" for 2021, 2022 and 2023, as well as Best Liquor Store in 2023.
Both Steve and Debbie are proud to have had the same exceptional sommelier, Janet Easterling, since the day they opened.
"It's kind of blossomed into what it is now. We offer tastings every Friday and Saturday afternoon, and we have people from as far away as Kerrville and Comfort coming in. It's become a destination spot on weekends," said Steve. "Janet is like a watchmaker — she can basically tell you how wine is built."
The couple advocates for wine and spirits retailers by serving as board members of the Texas Package Store Association. Debbie is on the Executive Board and is the voice of the 3,500 Independent Retailers in the state, saying, "I represent independent retailers across the state to help make decisions that benefit all of us against threats to the Three Tier System the state has for selling liquor." Debbie also represents Texas on the Federal level with her service on the board of the American Beverage Licensees (ABL), an organization that, in addition to promoting responsibility through educational programs and communications, lobbies for legislative issues regarding the alcohol industry.
Also golf lovers, Steve and Debbie haven't been able to take advantage of the Cordillera Ranch Golf Club in recent months due to Steve's injured back, but that doesn't stop them from meeting up with friends in the bar, where Debbie makes sure to order a cocktail made with one of the liquors the bar orders from Bergheim Cellars. 
"It makes them have to reorder from me," she laughed.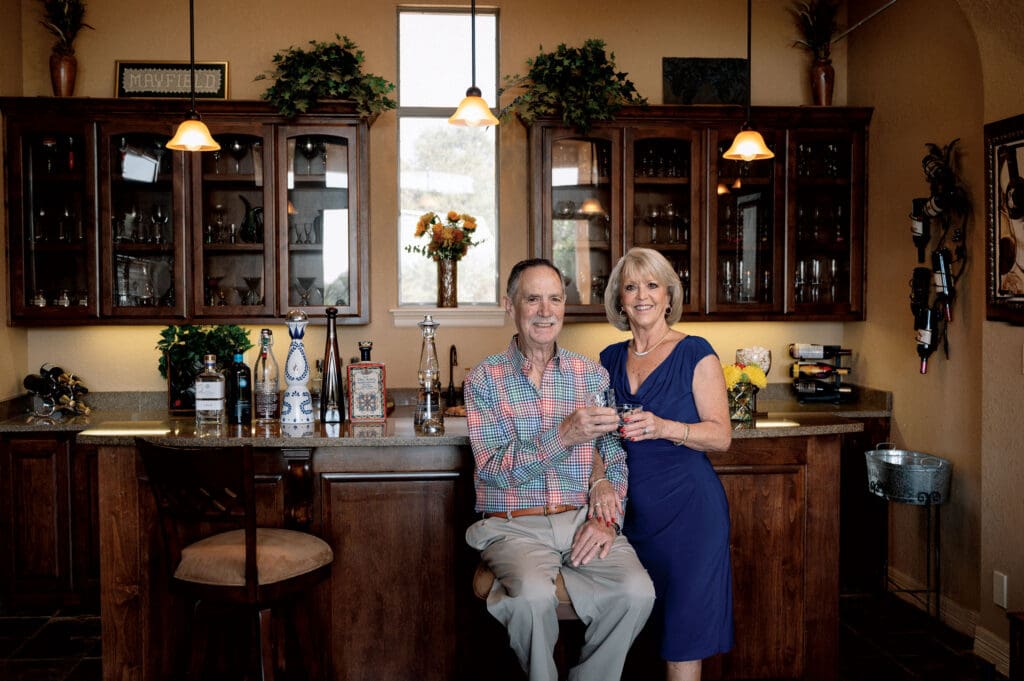 Family also plays a big part in their lives. They have two adult children — Courtney Tanneberger, who works for Steve as a staff accountant, and their son, Steve Mayfield II, nicknamed "Dos," who is a tactical flight officer for DPS. As a result, Steve and Debbie have five wonderful grandchildren.
"We lived and raised our children in San Antonio but wanted more space so we moved to Cordillera in 2005. Best decision we ever made," shared Steve, who notes that Debbie has always been the glue that holds the family together. 
The couple loves to travel and has been to Europe four times. They like to take Windstar cruises, which are small compared to what most people think of and look more like sailing vessels. They've visited Rome, Venice, Nice, Athens and Istanbul, to name a few. Any chance they get, they specifically enjoy exploring the wine regions.
Debbie likes to read at night to wind down before bed (perhaps with a glass of Cabernet?). She often reads trade magazines about the wine industry, as well as novels. She recommended the last novel, which she really enjoyed, called "The Second Mrs. Astor" about Madeleine Talmage Force, the second wife of John Jacob "Jack" Astor. 
When Debbie isn't working at the store, she's taking care of their two labs, both rescues, and donates her time to great causes. She volunteers to help with fundraisers for the Library Foundation and the Cibolo Center for Conservation, and in 2021, became a founding member of The Kendall County Sheriff's Office Foundation Board of Directors, which is getting ready to put on their first fundraising event, a golf tournament, on October 9.
"I believe being involved in the community you live in is one of the most important things you can do to make a difference," she commented.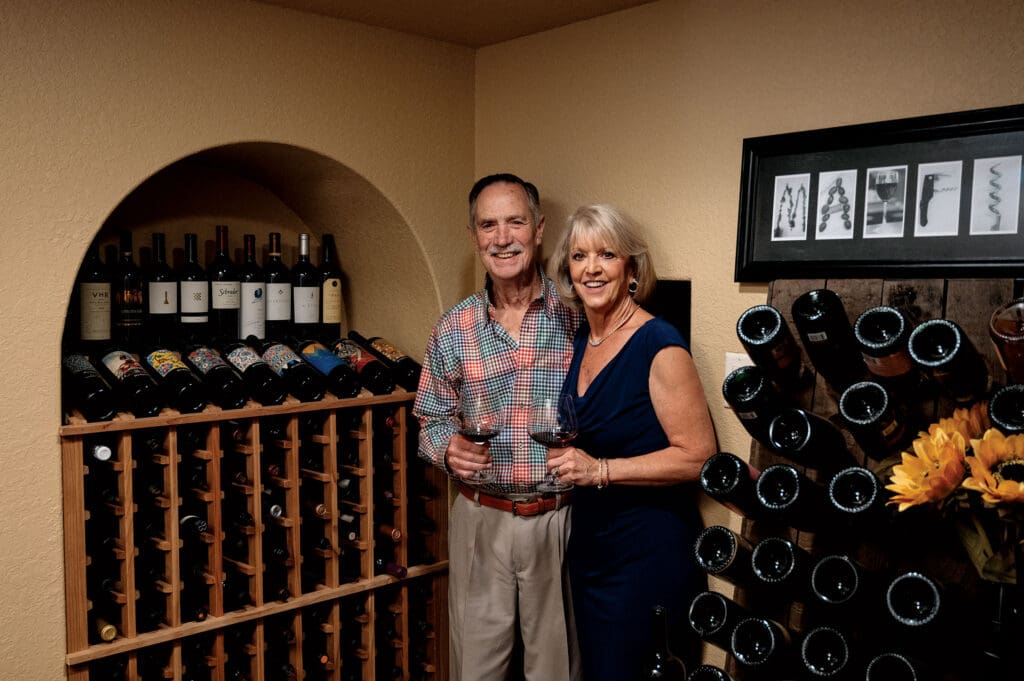 As if there isn't enough on her plate, once a year, she cooks a delicious gumbo dinner for the Cordillera Ranch Men's Group, usually feeding more than 100 men. The dinner includes chicken and andouille sausage gumbo, rice, French bread and bread pudding with both a vanilla and bourbon sauce.
"I have done this for close to 10 years with a group of fabulous friends from Cordillera that come and help," she said. "We serve and sip a little wine and sometimes tequila to reward ourselves!"
Although in recent months Steve has been enjoying watching sports on TV, mostly football and baseball, as he played a lot of sports when he was younger, he can't wait to get back on the Cordillera golf course and score some birdies.
If destiny is a real thing, it's likely lots of birdies and some spectacular wine are in the Mayfields' future. We hope you have an opportunity to share a toast with them some day!