Corey Roberson, Director of Golf
Tournament season at the Golf Club is in full swing. El Compadre Member/Member was moved to March this year from its previous spot to open the golf course for more regular play in the month of May.  This and the Couples Putting Tournament had terrific turnouts!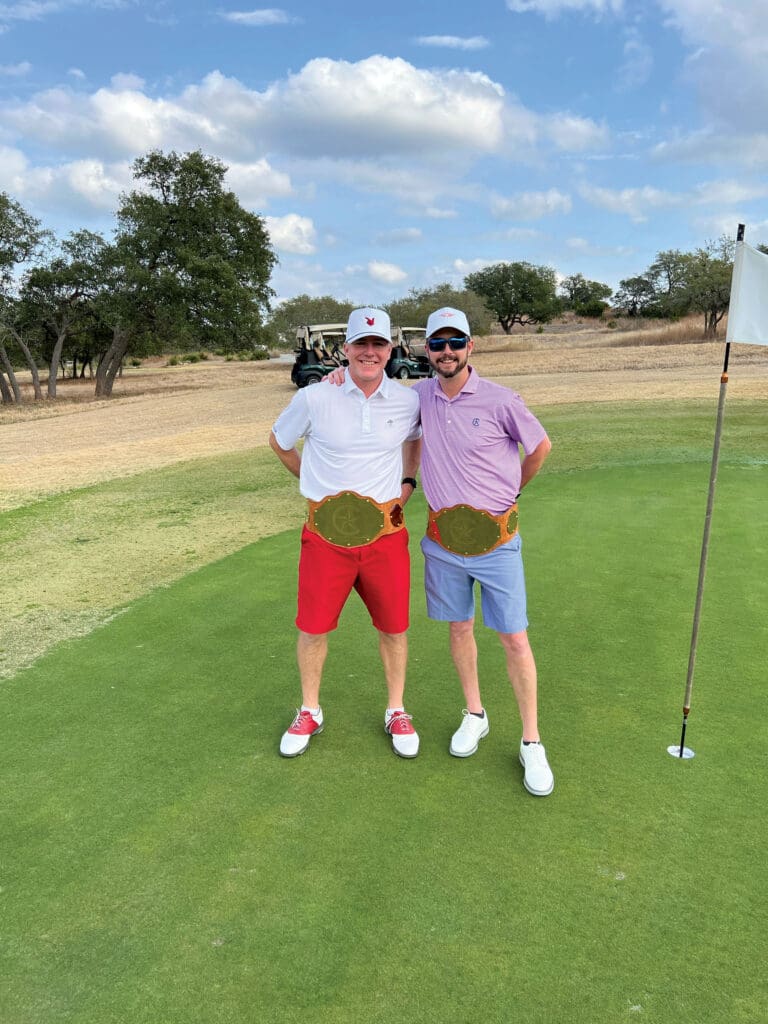 El Compadre Member/Member
The 2022 El Compadre Member/Member was contested over two days where the 80-player field played four different formats. The first day, the 
players could feed off each other in best ball and shamble formats. On the second day, it got a little more interesting with scramble and modified alternate shot. After 36 holes of golf, the seven flight winners headed to a shootout.
First Flight – Chris Hill & Charlie Hill
Second Flight – Tony Coleman & Rick Webb
Third Flight – Roy Sachs & Zach Watts
Fourth Flight – Doug Bird & Tom Boehme
Fifth Flight – Ron Ainsworth & Richard Jackson
Sixth Flight – Ron Doornink & Nick Schommer
Seventh Flight – Tony Kohn & Brian Werner
The Doornink/Schommer and Sachs/Watts teams were eliminated on #10 and then things got a little weird on #16. The first two guys couldn't find dry land, two found the green and one ended up against the rocks in the back bunker. For good measure, the team of Ainsworth/Jackson donated two more balls to the canyon from the drop zone — instead of breaking open another fresh sleeve, they removed themselves from the shootout. The Boehme/Bird team made a tough 5 from the back bunker, which tied Kohn/Werner after they played their third shot from the drop zone. This led to a chip off where Doug Bird hit a shot that left the crowd speechless — his lobber slid right under the ball and it didn't move. This left Tony Kohn, who was playing in his first ever golf tournament, with a fairly simple shot — all he had to do was advance his ball about three inches to win the chip off and make it to the next hole.
On the 17th tee, the three teams left standing were Hill/Hill, Coleman/Webb and Kohn/Werner. That hole would end with Charlie Hill draining a sliding 8-footer to advance and Coleman/Webb chipping off against Kohn/Werner. The selected chip off required a lofted wedge and Rick Webb stuffed it to about three feet. Brian Werner played his off the backstop and needed about another six inches of roll back to get inside of Rick's chip. The Kohn/Werner team were eliminated..
For the last hole — #18 — Charlie Hill and Rick Webb both hit good tee shots into the fairway. Tony Coleman yanked his second shot left into the trees. Chris had a short wedge left and while his knees almost hit the ground through impact, it was a beautiful shot that landed past the hole and sucked back. Tony didn't leave his partner in a very good spot and after they chipped it a couple of times, Charlie drained at 6-footer for the win. I imagine Charlie and Chris found a good spot for the Championship Belts in their offices.
Couples Putting:
The 2022 Couples Putting tournament saw a massive turnout of 144 players. We actually changed the format so we could fit more players in the tournament while maintaining a reasonable pace of play. The field was paired in 8-balls and while there was a little modified alternate shot putting going on, that wasn't the main priority. This event is all about having a good time, enjoying a fresh cocktail and hanging out with your friends. My favorite comment in this event is from the spouses that don't actually play golf but enjoy something as low-pressure as the putting tournament. It wouldn't be an official tournament recap without mentioning our 2022 
Champions — Mark and Mary Brooker. They fired an impressive 3 over par 39 to win by one over new members, David and Polly Hinshaw.
See you on the course!
Corey Roberson is the Director of Golf at The Clubs of Cordillera Ranch. He can be reached at croberson@cordilleraranch.com and 830.336.4653.