Corey Roberson, Debbie Pepper and Shane Reynolds
The Clubs of Cordillera Ranch offer the finest in resort-style amenities in the master-planned community of Cordillera Ranch. 8,700 acres of Texas Hill Country beauty provide the ideal playground for golf, tennis, swimming, equestrian and water sports, and so much more. Through the Clubs' Signature Vacations, this same level of attention is considered, and a variety of exclusive and well-appointed trips scheduled year-round are designed to appeal to the many interests of Club members. Here's a sampling of the Club's one-of-a-kind vacations.
Golf Trip Recap: Club Members Explore Pinehurst's Legendary Golf Courses
In August, my wife, Colleen, and I hosted seven couples from the Club on a trip to Pinehurst. According to their website, Pinehurst is the "Cradle of American Golf." They have nine golf courses, a short course called the Cradle and a giant putting course called Thistle Dhu. They have many lodging and dining options, and we selected the historic Carolina Hotel for its central location.
A few couples arrived early enough on Wednesday afternoon to slap it around on the Cradle, where the longest shot is 125 yards. You only need to carry a few clubs and there's a drink cart that you pass twice — it's not easy, but it's fun! That evening we enjoyed a casual dinner at Pinehurst Brewing Co.
The next day, we attempted to conquer the legendary No. 2 golf course — we were unsuccessful. No. 2 was designed by Donald Ross and recently restored by Coore & Crenshaw. It has played host to three U.S. Opens along with many other championships and is now an anchor site for the U.S. Open. This is one of the unique characteristics about golf — amateurs get to feel what it's like to play on the same course as the pros. Dinner that night and for the rest of our trip was in the Carolina Dining Room.
On Friday we took a short shuttle ride over to No. 8, which is one of the more scenic courses at Pinehurst. Many of the couples dubbed this as their favorite course.
On Saturday, most of the ladies took a break from golf to experience the spa and shop at the Village. The guys split up between playing No. 2 again and the Rees Jones-designed No. 7. A couple of the ladies were itching for more golf and played the Jack Nicklaus designed No. 9.
We still had one last signature piece of Pinehurst to experience — the recently renovated No. 4 course. In 2018, Gill Hanse restored the No. 4 course to be a "perfect complement to No. 2." We got to enjoy this masterpiece on Sunday morning before departing back home to Cordillera Ranch.
We played some great golf courses, had good dinners and enjoyed cold beverages, but the best part of the trip was the company. We had a great trip and the question I kept getting asked is, "Where are we going next time?" – Corey Roberson, Director of Golf at The Clubs of Cordillera Ranch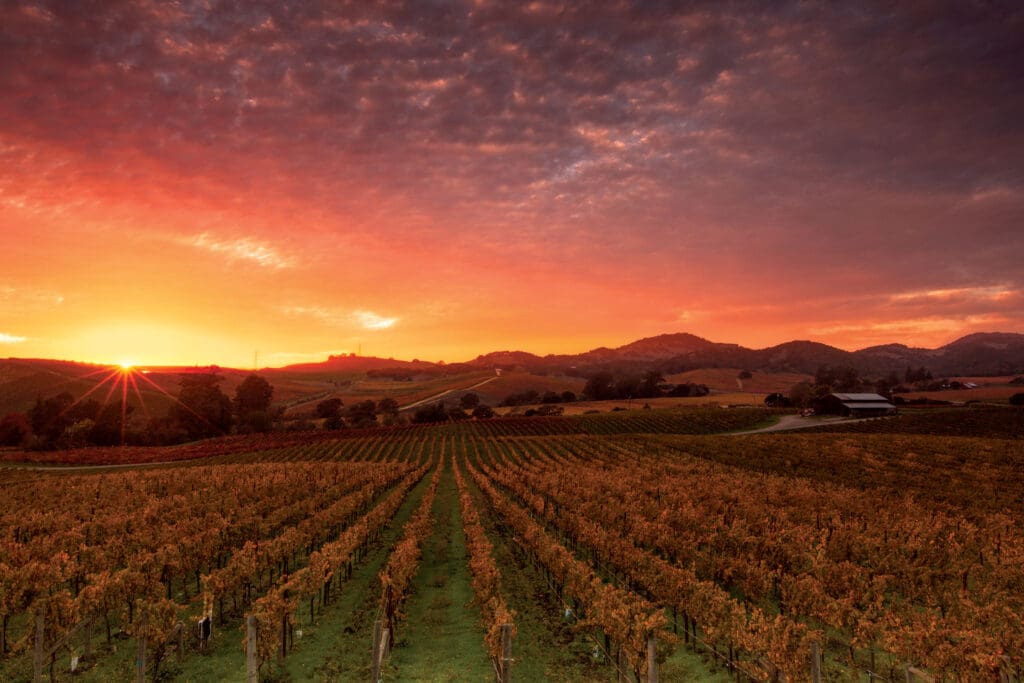 Cordillera Ranch Cellar Club
"Behind the Vines" Wine Trip
Napa Valley  ::  July 17-22, 2022
Membership Director Debbie Pepper and Wine Specialist/Sommelier Jeff Cohen are hosting the 7th Annual Cellar Club Wine Trip, and are going back, once more, to Napa Valley. On this trip, you will explore top-rated wineries — some boutique, exquisite and rustic, some not open to the public and a few time-tested favorites. As always, the goal is to feature the "Best of the Best" little-known, high-quality wineries, many of which will include personal tastings with owners, making it both a personal and an educational experience all while discovering new favorites!
Napa Valley's newly renovated Hotel Villagio will be the home base for five nights of luxury lodging in premium guestrooms with either a patio or balcony, wood burning fireplaces, indulgent mini-bars and plush robes and bedding. Located in Yountville, the hotel includes spa and resort amenities, and close proximity to shopping, restaurants and more to explore.
The daily itinerary will start with a Wine Country breakfast before the first tasting at 10:00am, followed by a wine tasting lunch and mid-afternoon tasting. Evenings will have organized group dinners with wine and/or cocktails at favorite Yountville and Napa restaurants. One night will feature an elegant Cave Wine Dinner at B Cellars, which will certainly be a trip highlight!
Contact Debbie Pepper at dpepper@cordilleraranch.com or 830.336.3544 for more information.

Living la Pura Vida in Costa Rica
Los Sueños Resort ::  November 8-13, 2021
Los Sueños is a resort destination that provides ideal accommodations, adventure experiences and relaxation. Those in search of unforgettable offshore and inshore sport fishing experiences need to look no further than Los Sueños Marina, home to an extensive charter fleet certified by the Costa Rican Ministry of Tourism. Costa Rica's waters literally teem with big game: dorado averaging 40 pounds, yellowfin tuna that push the 300-pound mark and one of the largest concentrations of big Pacific sailfish found anywhere. In fact, Costa Rica boasts one of the healthiest billfish fisheries in the world, with 20-fish days being a common occurrence.
Inshore fishing is exciting as well, offering a great opportunity for 50-pound+ roosterfish and 40-pound+ dorado. You can try your hand at catching these on a fly rod as well as regular spinning rods. 
For golfers, the resort's La Iguana Golf Course features 18 championship holes with a 73.4 course rating, par-72 and slope 145. Playing the exotic 6,698-yard Ted Robinson-designed golf course in Costa Rica would be any golfer's dream. The naturally challenging layout will please players of all skill levels. The golf course is richly landscaped to include exotic native plants, banana trees, orchids, monkeys and more than 150 species of birds and local wildlife.
Contact Shane Reynolds at sreynolds@cordilleraranch.com or 210.616.6051 for more information.
SUMMER 2022 FISHING VACATIONS
Two upcoming fishing trips in the summer of 2022 will each offer once-in-a-lifetime experiences. The first is a trip to Legacy Lodge in British Columbia to fish for coho and Chinook salmon as well as halibut. The second trip is to the Sierra Nevada of California to fish for golden, brown and rainbow trout. 
Legacy Lodge in British Columbia
The Outfitter Club will offer a four-day/three-night trip with a layover in Vancouver to Legacy Lodge in British Columbia. Legacy Lodge offers exceptional fishing for Pacific salmon on the calm, protected waters of Rivers Inlet. Known around the globe for its magnificent scenery and unparalleled salmon fishing, the waters of Rivers Inlet teem with some of the largest coho and Chinook salmon in the world. Whether you prefer fly fishing or conventional fishing, this Signature Vacation will provide memories of a lifetime.
Contact Shane Reynolds at sreynolds@cordilleraranch.com or 210.616.6051 for more information.

Fly Fishing the High Sierra
The Sierra Nevada Mountain Range, also known as the Range of Light by naturalist John Muir, runs north to south for 400 miles and 70 miles east to west. One of the special things about working at Cordillera Ranch is getting to travel with our Club members and introducing them to some of the great outdoor recreation opportunities in this wonderful country of ours. When a few members asked me about doing something special this summer, I spoke to them about visiting the high country of the Sierra Nevada. For most people who live, work and play here in Texas, the alpine setting of a high mountain range is usually only a passing thought. The further I explored their interest of fly fishing and visiting the mountains, I focused in on an area I've visited many times with both groups and by myself, solo — the eastern slope of the Sierra just south of Mt. Whitney. Mt Whitney, at 14,505 feet, is the highest point in the contiguous United States and just to the north, south and west of this majestic peak are hundreds of high alpine lakes full of trout.  
One of my favorite fly-fishing quotes is from Yvon Chouinard, founder of Patagonia, and he states that "It's not about catching the fish, it's about the fish catching you." This trip is sure to be a lasting memory for all who venture into the Sierra Nevada with us! – Shane Reynolds, Director of Outdoor Recreation & Outfitter
Contact Shane Reynolds at sreynolds@cordilleraranch.com or 210.616.6051 for more information.