The Club recently added two NEW 2022 Mercedes Luxury Limo Vans to our fleet! The new vans are packed with safety features as well as comfort features in the large, spacious cabin. The vans can carry 11 passengers and we offer all levels of transportation services from airport runs to Longhorn football games in Austin. This service has proven to be extremely popular with our members for their transportation needs.
Whether it's a Spurs game, a night out on the River Walk or one of the local dance halls, a drop-off or pick-up at the San Antonio airport or a shuttle service to a wedding, our friendly Club staff drivers are on standby to take great care of your family and guests.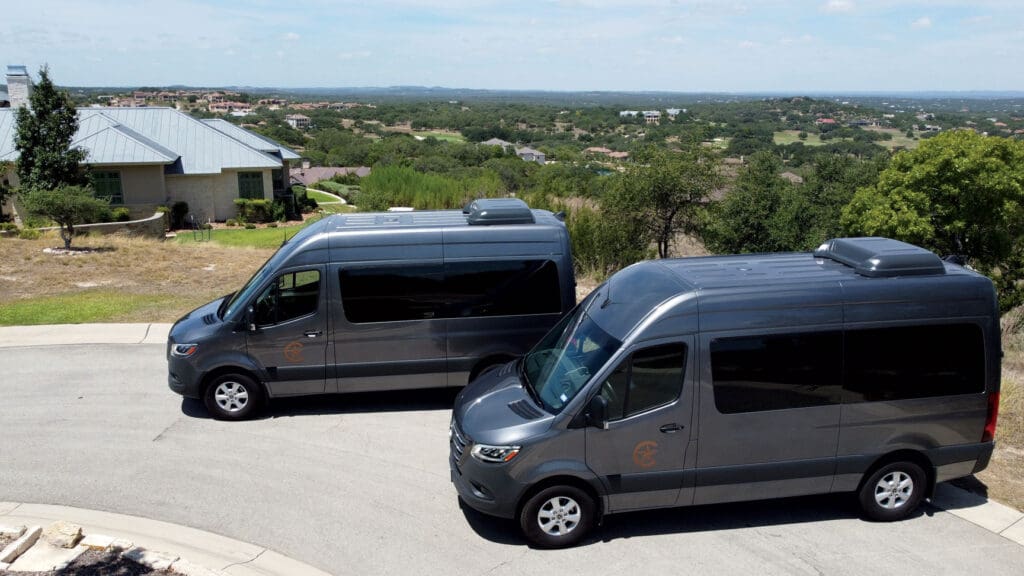 Legendary Texas Music Venues
There's nothing quite like the dance halls and honky-tonks of Texas, and the best way to learn about them is to visit them! The Texas Hill Country is home to music venues featuring everything from rock and rockabilly to jazz, country and reggae. Here's a list of a few venues to consider if you enjoy live music.
Gruene Hall – Gruene Hall was built in 1878 and is the oldest continually operating dance hall in Texas. Even if they don't have live music on the schedule, you should stop by for a cold drink and look at the signed portraits of country music legends spanning over 100 years.
Whitewater Amphitheater – Whitewater Amphitheater brings world-class acts to you in a gorgeous natural setting characteristic of the Texas Hill Country. The Main Stage is mere steps away from the Guadalupe River, and sweeping cypress trees complement the view to create an immersive experience.
Luckenbach, Texas – While every venue on this list is unique, the dance hall in Luckenbach, Texas is perhaps the most unique. It's one of two buildings in the town by the same name, and yet it is one of the most famous and historic music venues in Texas, due in part to Waylon Jennings' song, "Luckenbach, Texas."
John T. Floore Country Store – Throughout the years, the John T. Floore Country Store has seen music greats like Willie Nelson, Patsy Cline, Hank Williams, Elvis Presley, Bob Dylan, Merle Haggard, B. B. King, Little Richard and more. This is another dance hall on our list to have gained some fame due to a song from a music legend, this time from Willie Nelson's "Shotgun Willie."
Broken Spoke – The unassuming Broken Spoke is considered one of the last true Texas dance halls. Several greats have played here since its inception in 1964, including the likes of Willie Nelson, George Strait and several excellent local bands. It's also drawn its fair share of celebrity visitors ranging from Dolly Parton to Fergie to Quentin Tarantino, so you never know who you might see when you visit!
11th Street Cowboy Bar – Bandera – You can't find a better venue in the Cowboy Capital of the World than the 11th Street Cowboy Bar. It calls itself the "Biggest Little Bar in Texas" and features some of the best country western and country swing bands in the state. The clientele is as unique as its décor, and you will frequently find cowboys and bikers mingling with the locals. At its core, 11th Street is a music venue and features top-notch Texas talent every week and often hosts jam sessions open to anyone.
Shane Reynolds is the Outdoor Recreation Director and Outfitter at The Clubs of Cordillera Ranch. He can be reached at outfitter@cordilleraranch.com and 210.616.6051 or at the Cordillera Ranch Outfitter Center at 830.336.4823.