Lures Home Buyers to Cordillera Ranch with Two Spectacular new Homes
Lifestyle by Stadler is a tried-and-true Preferred Builder of custom homes in Cordillera Ranch with nearly 30 years of experience.
"Actually, we build everywhere in Boerne and the surrounding Texas Hill Country, but Cordillera Ranch is our home base and where I spend most of my time," said Dean Smith, Vice President of Sales, who is proud to share they currently have two exciting opportunities for home buyers on the search for their dream home.
The Somerset
Located at the corner of Oakland Hills and Clubs Drive, near The Clubs of Cordillera Ranch Clubhouse, Lifestyle by Stadler's model home is their latest build and is available for tours, as well as purchase. 
"It has so many components that give it a wow factor; most everyone that walks into our model home is taken aback by it," said Marketing Manager, Sara Kathryn Savage.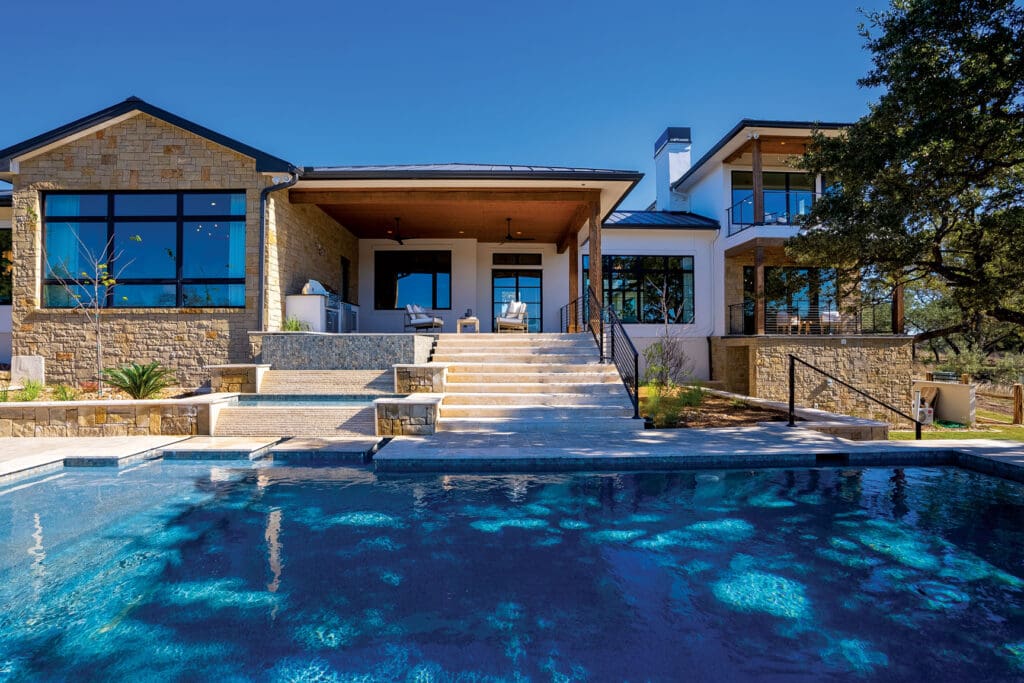 The stunning 4,257-square-foot organic modern two-story home, designed by Jim Terrian, is warm and welcoming. It sits on 1.15 acres and is thoughtfully infused with an abundance of natural products that make it a standout. It comes with three bedrooms, five-and-a-half baths, a game room and a flex room upstairs, along with a pool and an infinity edge hot tub with a cascading waterfall feature. 
According to Dean, as a premier builder, Lifestyle by Stadler likes to take advantage of the land that God provided and make the absolute most of it. As an example with the model, the change in topography allowed for a lower level pool bath with a shower to be incorporated into the design.
"Everyone really likes and comments about the different textures used throughout the home. Some examples are the interior brick we used in one of the bedrooms, the grass cloth wallpaper, Venetian plaster in the powder bath, and the stone walls in the foyer," said Dean. "Bringing these different textures together is where the whole organic theme comes from."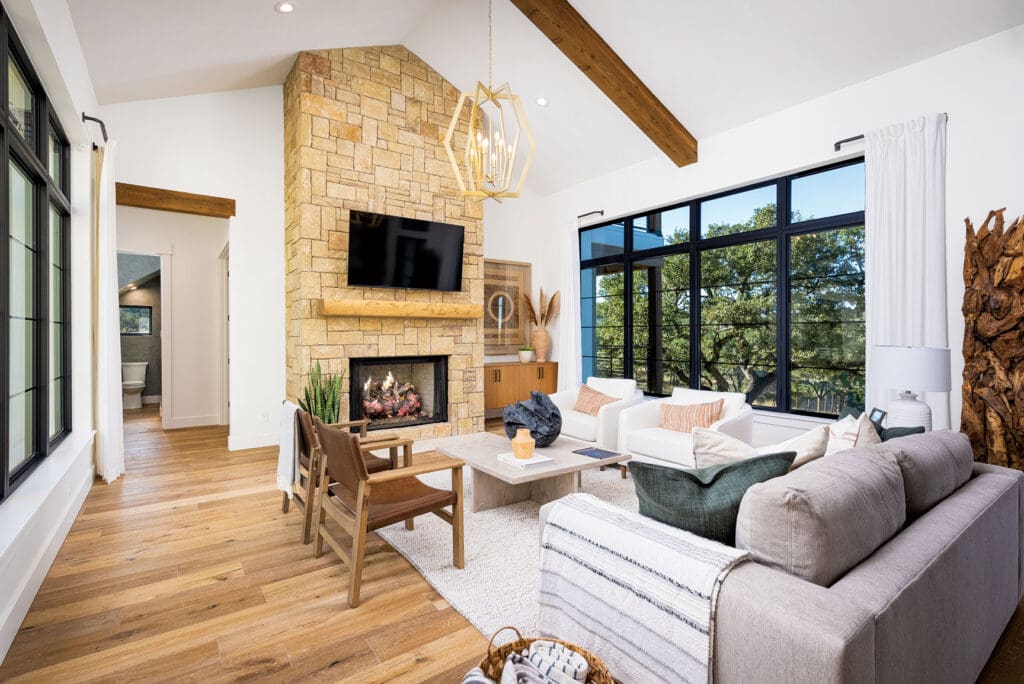 From the beautiful wood-look tile and chopped stone on the exterior, to the European white oak flooring, along with stained birch wood interior doors throughout, the luxurious details abound.  
Another unique feature we created, is a front courtyard with a fountain. 
This is a perfect place to enjoy a glass of wine with friends and neighbors in the evening. It is a really relaxing area, especially with the fountain," added Dean. 
Although Lifestyle by Stadler works with a variety of esteemed designers, both Dean and Sara Kathryn have been impressed with Lori Munn of Mindful Designing, who shaped the style of the Somerset. Lori has designed several of their recent model homes and has been not only a talented team member on projects, but also a loyal one. 
Dean pointed out that Lori's choices for the model were both intuitive and on trend, creating a motif that is equally fresh and popular. Since the pandemic, many homeowners are still working from home and so highlighting earthy elements that bring the outdoors in is a key component. It's quite a skill to anticipate trends in advance of a home being completed, but that's just one of Lori's many gifts. 
"We filled the house with live plants and stone, along with  quartzite countertops in the kitchen to provide an organic natural look. The big windows serve to bring in a lot of natural light and make it very bright," Dean called out.
Not only is this home close to the Clubhouse, less than a mile away, but being on the fairway of the 5th hole offers incredible views of the golf course and beyond. Thanks to the second story, Dean estimates you can see vistas that extend about 10 miles and some of the most stunning sunsets. 
The model home is open daily by appointment during the week or for drop-ins on Saturdays from 10:00am to 5:00pm, and Sundays from noon to 5:00pm.
The Fredericksburg on Sotol Lane
Located in the Springs of Cordillera Ranch on Sotol Lane is Lifestyle by Stadler's new inventory home, which recently broke ground and is intended to be completed by the end of July next year. 
This 4,343-square-foot house is one-story and sits majestically on a two-acre site. The floor plan includes four bedrooms, four-and-a-half baths, a formal dining room, study, game room, wine room and an oversized patio with a fireplace that leads out to the pool. "The topography of this area backs to the east so you will also get some nice views, trees and privacy because there's no home behind it," said Dean.
"The exterior design exhibits a transitional style, which strikes a balance between traditional and contemporary elements," said Sara Kathryn, adding, "A style that is requested often in Cordillera Ranch, featuring white limestone and dark accents." 
Here again, Lori Munn is the interior designer on this project and will be bringing her keen eye, as usual. 
"In order to keep things fresh and appeal to a wide clientele, we designed this one differently than the model home. In the Springs, we see more families, so this one was designed with that in mind," explained Dean. 
It's also important to note that both of these incredible homes have an available Master Golf Membership for purchase. Perhaps, for some golf enthusiasts, this might be the most enticing feature of all! 
Lifestyle by Stadler  
830.243.5471
LifestylebyStadler.com