Junior golfers find innovative instruction and camaraderie on the course at The Clubs of Cordillera Ranch.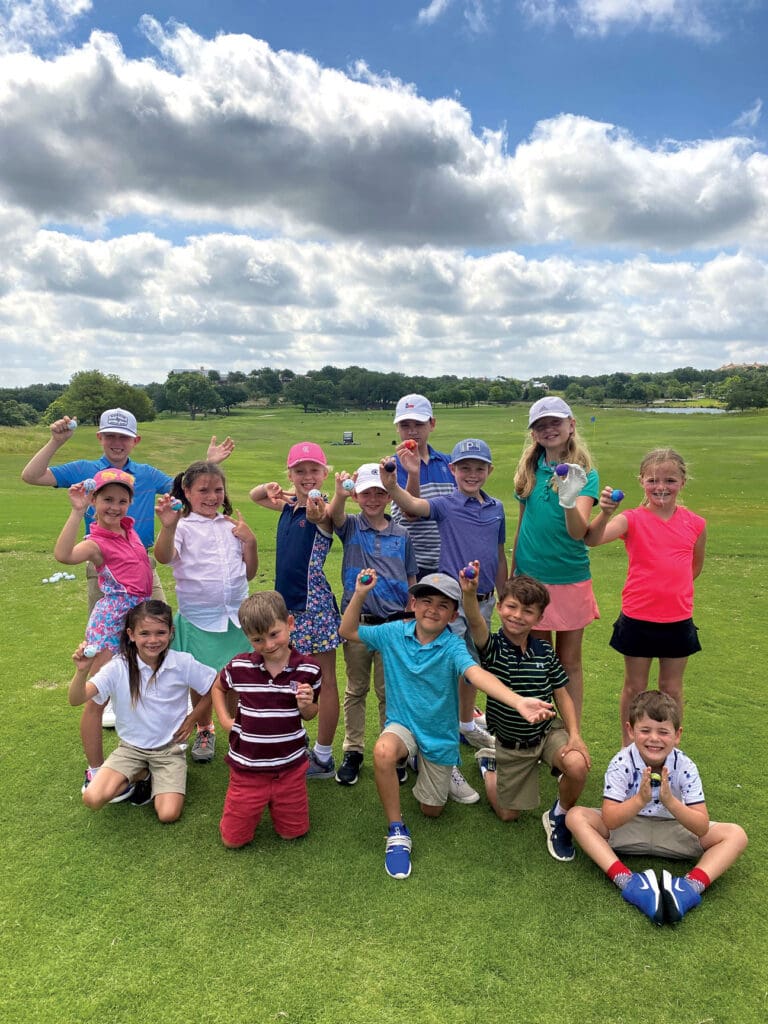 As a professional staff, we are delighted to witness the excitement surrounding the game of golf and are proud to be able to assist our membership in developing their skills and, most importantly, their enjoyment of the game. Junior golfers are now frequenting the golf course and as a Club we are proud and excited for the future of the game.
Cordillera Linkstars
Adapted from the popular Operation 36 program we previously ran at the Club, Linkstars focuses on curriculum-based instruction in all areas of the game and on-course 9-hole challenges starting 25 yards from the hole, working all the way back to the tee box. Classes are on Wednesday evenings for children between the ages of 6 and 14 years old. During the spring and fall, junior golfers commit to a semester of coaching. We realized that during the summer months families' needs change and programs require flexibility, so we created a program unlike any other where juniors can sign up on a weekly basis and attend as many or as few sessions as they wish and still excel. Since its inception in 2020, over 60 juniors have honed their skills and found a love for the game. 
Cordillera Lil' Linkstars
Arguably our fastest growing program at the Club, the Lil' Linkstars (formerly Future 36ers) follows the same blueprint and schedule as the Linkstars program but delivered in a slightly condensed version making it more manageable for the littles to follow along. On Thursday evenings, 3- to 6-year-olds are taught the basic principles of golf and then routinely test their new skills in 3-hole challenges starting just 25 yards from the hole. In just over a year, more than 25 Lil' Linkstars have been introduced to the game and many have already made the smooth transition to the Linkstars program. Getting junior golfers on the golf course early and building confidence and understanding when playing the game is key to our programming and what sets us apart from others. 
Cordillera Junior Golf Camp 
Junior Golf Camps offer a 4-day experience for 6- to 14-year-olds focusing on all aspects of the game. Whether new to golf or an experienced player, all juniors have the opportunity to learn and develop their skills in a fun environment through instruction, play and friendly individual and team competition. Juniors will be coached on the integrity of the game with focus on the rules and proper etiquette. With sessions from 9:00am to 1:00pm each day, camps are the perfect way to immerse your junior in the game. After a full morning of golf, campers enjoy lunch and cooling off at the pool. 
Cordillera Little Ranchers Golf Camp 
New this year, the Little Ranchers Golf Camps for 3- to 6-year-olds are the perfect introduction not only to golf, but to camps in general. Camps run bi-weekly throughout the summer from 2:00 to 3:00pm. Junior golfers will work closely with our expert coaches to master the basic principles of the game, while learning rules, etiquette and how to apply their skills on a golf course. We strive to create a fun and engaging environment full of learning and growth. 
Camp Weeks: 
June 7-10 • June 21-24 • July 12-15 • July 26-29 • August 9-12
If you would like more information or to register for any upcoming Junior Golf Clinics and Summer Golf Camps, please contact Katie Dillard.
Katie Dillard is the Player Development Coordinator at The Clubs of Cordillera Ranch. She can be reached at kdillard@cordilleraranch.com and 830.336.4653.