Jonell and Jim Raborn have been longtime residents of Cordillera Ranch, and remember when the Clubhouse was still in the process of being built. "When we bought the lot in Cordillera, there were about 90 homes and none for sale," said Jim.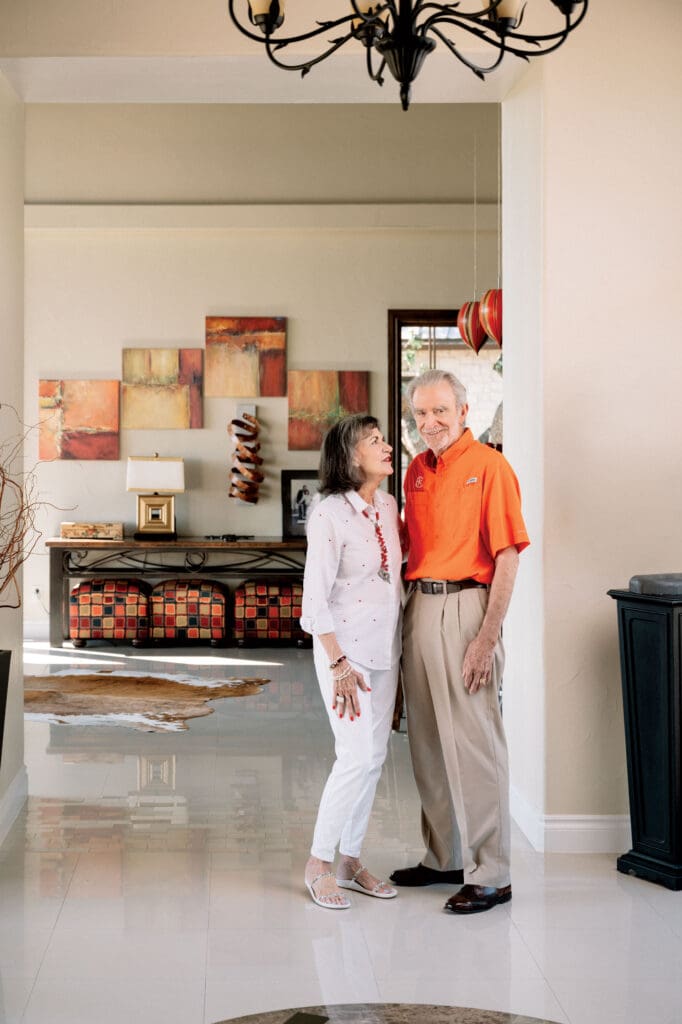 Although their contemporary home was completed in 2007, they didn't move to Boerne permanently until 2014, when Jim finally retired. 
Jim will tell you his is a life of luck. He had good parents and as a self-proclaimed military brat, he moved around a lot, which exposed him to variety that most of his contemporaries did not have the fortune of experiencing until later in life. 
Following in the footsteps of his father, he signed up for ROTC in high school. "By my junior year, ROTC places were hard to come by. I asked for my first USAF assignment to be the same "command" as dad, without knowing the mission was limited to the U.S. and Greenland," remembered Jim. 
He then went on to study law at LSU. Law appealed to him personally and, to this day, he still likes to read about current cases and advise colleagues when requested. "When I got to law school and they gave me books to read, I realized someone was going to pay me to read and to get my advice, which I thought was great because I like to read and think a lot," he said. 
After college, he landed a job as a tax/business lawyer in Houston at a prestigious international law firm, Baker Botts LLP, referred to as the second-oldest law firm west of the Mississippi. He enjoyed a long, successful career there for more than 40 years. 
Enter Jonell. Both Jim and Jonell had been previously married, from which Jonell has two children and Jim has one.
Although Jonell was born in Tucson, she grew up in Corpus Christi. "My father and grandfather were both doctors; my father was a flight surgeon for the Army Air Corps. My family had a long history in South Texas. It was a wonderful place to grow up," shared Jonell. 
She graduated from the University of Houston with an English degree and started off her career as an executive secretary, something she was very good at, before becoming a mother. When her son was 5 years old, Jonell decided to go into retail and worked as a buyer for an upscale women's clothing store. "I very much had a 'passion for fashion,'" she joked. "I worked at Etui, which is a boutique in the River Oaks area in Houston where I was a personal shopper. Helping these ladies feel good about themselves… it was just a big payoff. I did it for 35 years."
The couple first met in 1988 through a mutual friend who was one of Jonell's clients and also a fellow church member. "We went out to dinner," they both said simultaneously. "And just kept dating," added Jim. 
Jonell describes Jim as serious and thoughtful before he speaks — also tall, good looking, educated and successful. "He pretty much had it all," she recalled thinking on that first date. 
Jim was enchanted by Jonell's cheerful demeanor. "She just seemed to be happy," he said, a trait you'll quickly notice as well upon meeting her. 
The couple discovered Cordillera Ranch through a friend and ultimately moved here because of Jim's love of golf and the serenity of the Texas Hill Country. "It's nice out here at night — not many lights, not much traffic, so we like the space out here. There's more elbow room," noted Jim. "I would also go to the exercise facility and we would eat at the Cabana and loved it. The atmosphere was wonderful." 
Jonell picked up golf too, for a while, carrying clubs in her car so she could stop at a public course in Houston and play whenever she had the time. "When we were building our house, I enjoyed playing when it was perfect weather. I liked having friends in the Women's Golf Association," she said, and laughed, adding, "It takes too long to play and then it became I wanted to play because it takes too long! It's nice to get out on the course, away from all the things you need to take care of." 
Now, Jonell's involved with a charity she's thrilled to have started called One Hundred Women in Cordillera, which supports One Hundred Women of The Hill Country, an organization that identifies local charities which need help. 
Additionally, she's a member of the book club in Cordillera, which meets once a month (morning and night). She's been reading "Lessons in Chemistry," "Hamnet" and "Becoming Mrs. Lewis."
As mentioned previously, Jim also likes to read, not only cases he's following in the news, but also mystery or historical fiction, where he can glean some interesting knowledge. Currently, he's reading Thomas Perry's "Murder Book."
"When I was working, younger and healthier, my favorite hobby was running and playing basketball. Age catches up, so I had to transition to golf. Now, I read constantly. If I'm not driving a car or playing golf, I'm reading a book," he shared.
He's likely enjoying a read while sipping on one of his rare bourbons from his extensive bourbon collection, which includes bottles from Horse Soldier, Garrison Brothers, Conecuh Ridge Distillery and a very unusual one called Texas Legation from Berry Bros. & Rudd, among many more. Jim also collects birds, which are hand-carved out of different kinds of wood. 
This love and appreciation for exceptional artwork seems to be within the Raborn's purview and is displayed graciously throughout their beautiful home. Discovering artists the couple admires has been serendipitous. For instance, while wandering the countryside around Abiquiu, they stumbled upon the remote adobe studio of photographer David Michael Kennedy and thus began their collection of the artist's Old World Palladium prints.
"Our artwork has been acquired over many years. Each piece was brought into our home simply because we liked it and not because it matched other decor. However, there is always a place for it because when something attracts you, it will complement other things that caught your eye. A couple of my favorites are a Paul Jenkins graphic, a Lamar Briggs abstract and a couple of Robert Richter paintings that are landscape abstracts," shared Jonell. 
Once avid world travelers, they've ventured across the globe to exotic locales like France, London, Berlin, Warsaw, Hawaii, Italy, Australia and New Zealand, but unfortunately the pandemic put the kibosh on that. "We loved going to the Cayman Islands," said Jonell. "We would go every year, and we just loved snorkeling and diving."  
Although they claim they aren't as active as they once were, they're still on the go, but now mostly a little closer to home. "We go to Houston at least twice a month [via the Vonlane luxury motor coach service]. I had no idea we'd get so involved and be so crazy about our grandchildren," said Jonell. 
For summer, the grandchildren will be visiting Cordillera Ranch to enjoy some of the exceptional youth camps available, including horseback riding and swimming camps. 
"The kids love coming to visit. They like the pool with the slide and seeing the animals. They spend time looking out the window sighting deer and fox, just watching what wanders through our yard. They get a kick out of that," she added. "I love birding, so I spend a large amount of time walking around the house with binoculars. There are so many birds… woodpeckers, now painted buntings and yard birds." 
Jim and Jonell are proud of this house that they live in and share with their family and friends when they come for a visit. The Raborns were the first to have what they call "look-through" windows in their house, veering away from the Texas Tuscan style. "It was a contemporary feel, but now seems to be the rage," said Jim. "Most builders didn't know what to do with it, but Stadler was excellent and jumped right in, and did just what we wanted. This house has stood the test of time. It always amazes me when we're gone for a while, how much I still like the interior and the views." 
After 16 years, it's safe to say that the Raborns, their home and their family, have become part of the landscape that they so adore, together, with books and all.