It's that time of year again when we come together with our loved ones to spend quality time and continue our cherished family traditions. We would like to share our personal, favorite holiday beverages for you to enjoy this season.
Graham House, Clubhouse and Lodging Manager, and Ryan Walters, Dining Room and Bar Manager
Kentucky Bourbon Eggnog
From Graham House
The best parts of growing up in Kentucky are the Derby and bourbon. During the holiday season, snow would blanket the miles of horse farms as we drove to Aunt Tommie's home. As kids we loved to go to her home and sneak handfuls of bourbon balls and cups of bourbon eggnog. Oh yes, we paid for that feast! Years later I acquired her recipe, and this continues to be our holiday tradition. Making eggnog the old-fashioned way takes a while but always tastes better than buying a carton. 
Ingredients
12 Large eggs
1 quart Milk
1 cup Superfine or powdered sugar, divided
1 tbsp Real vanilla extract
2 cups Heavy cream
3 cups Ancient Age (Now Buffalo Trace)
Semi-sweet chocolate shavings and nutmeg
Method
• Separate 12 large eggs into 2 medium-sized bowls. Put the egg whites in the refrigerator (you'll use them during the final step). 
• In a large saucepan, stir together 1 quart of milk, 1/2 cup of superfine or powdered sugar and 1 tablespoon of real vanilla extract. Bring to a gentle boil, then take it off the burner. 
• Beat the egg yolks for 2-3 minutes to thicken them. Take a cup of the hot milk and pour it slowly into the egg yolks, whisking constantly. Then pour this mixture back into the saucepan with the rest of the hot milk, continuing to whisk it so it thickens smoothly.
• Return the saucepan to the burner and cook over medium heat for about 5 minutes, using a wooden spoon to stir it constantly. You'll know it's ready when the eggnog is thick enough to coat the back of the spoon.
• Pour the mixture into a sealable container. If you like, you can cover the surface of the eggnog with plastic wrap so it doesn't form a skin. Refrigerate overnight (or at least 4 hours).
• With an electric mixer, beat the egg whites until soft, white peaks form. Slowly add 1/4 cup of powdered sugar and continue mixing until the peaks stiffen. Then rinse the mixer blades and whip 2 cups of heavy cream until it thickens, adding another 1/4 cup of powdered sugar as you do.
• Pour your chilled eggnog mixture into a large punch bowl. Slowly stir in 3 cups of Buffalo Trace bourbon. With a spatula, fold in (don't stir) the whipped cream and then the egg white mixture. Put it back in the fridge to chill for at least an hour. Keep chilled until just before serving. 
Garnish with semi-sweet chocolate shavings and nutmeg as the final touch. 
Santa's Milk 
From Ryan Walters 
We all grew up being told that if we left milk and cookies out for Santa on Christmas Eve, he would eat them. That's where the inspiration for this drink came from. I thought, if I were Santa, what would I want to have waiting for me when I came down the chimney? Santa's Milk of course! 
Ingredients 
2 oz Vodka 
1 oz Baileys
1/2 oz Vanilla syrup 
1/2 oz Heavy cream 
Rainbow Sprinkles 
Cinnamon Sticks 
Method 
• Coat the rim of a rocks glass with simple syrup (equal parts of sugar and water).
• Roll the rim of the glass in the Rainbow Sprinkles. 
• Fill the glass with ice. 
• Add the first four ingredients and stir. 
• Garnish with a cinnamon stick and enjoy! 
Warning! Santa may not leave if left out for him.
Apple Toddy 
From Ryan Walters
Everyone has had a traditional Hot Toddy. Well, we think it's time you spice it up a bit. This Apple Toddy will keep you happy and warm! 
Ingredients 
1/2 Orange, halved
4 Cloves 
3 cups Apple cider 
2 Cinnamon sticks 
Brandy, to taste 
1 cup Heavy cream, whipped to soft peaks 
Method 
• Stud the orange halves with cloves 
• In a medium sauce pan, bring the cider, cinnamon and orange to a simmer 
• Ladle in the hot cider and add brandy to taste 
• Top with a dollop of whipped cream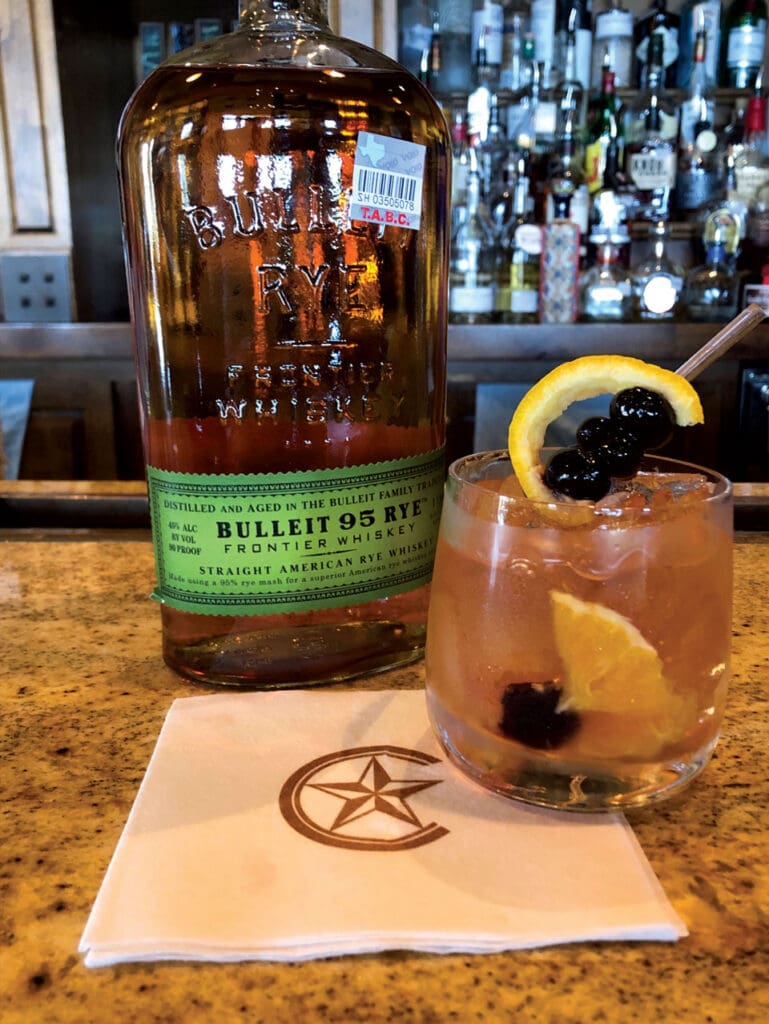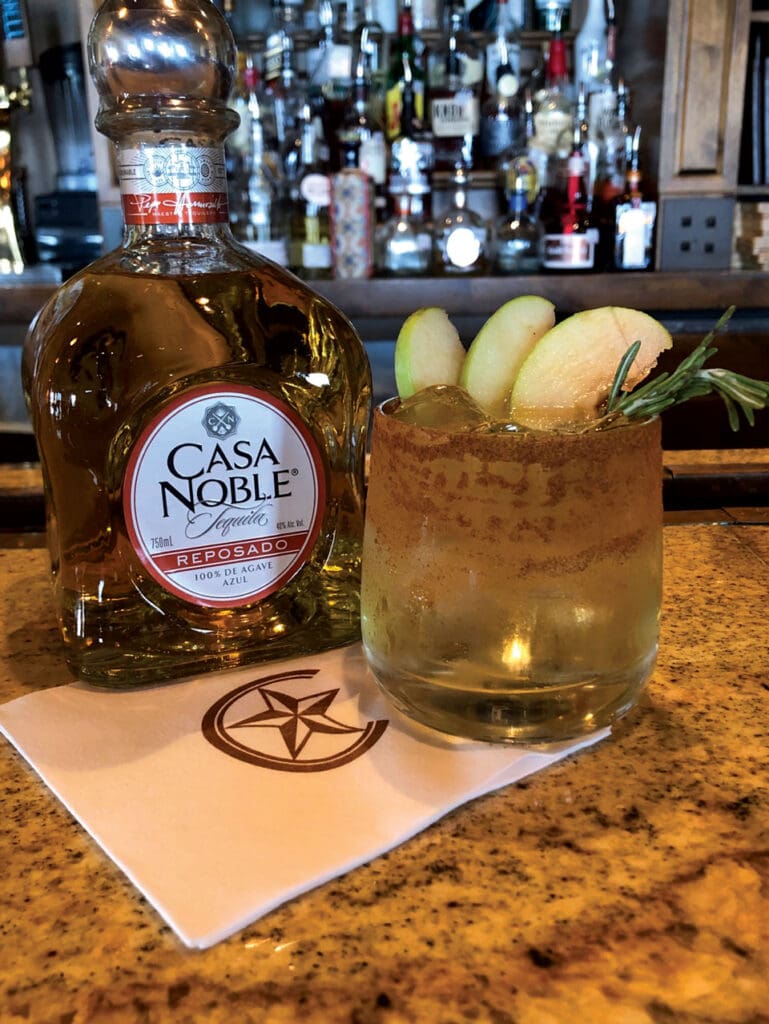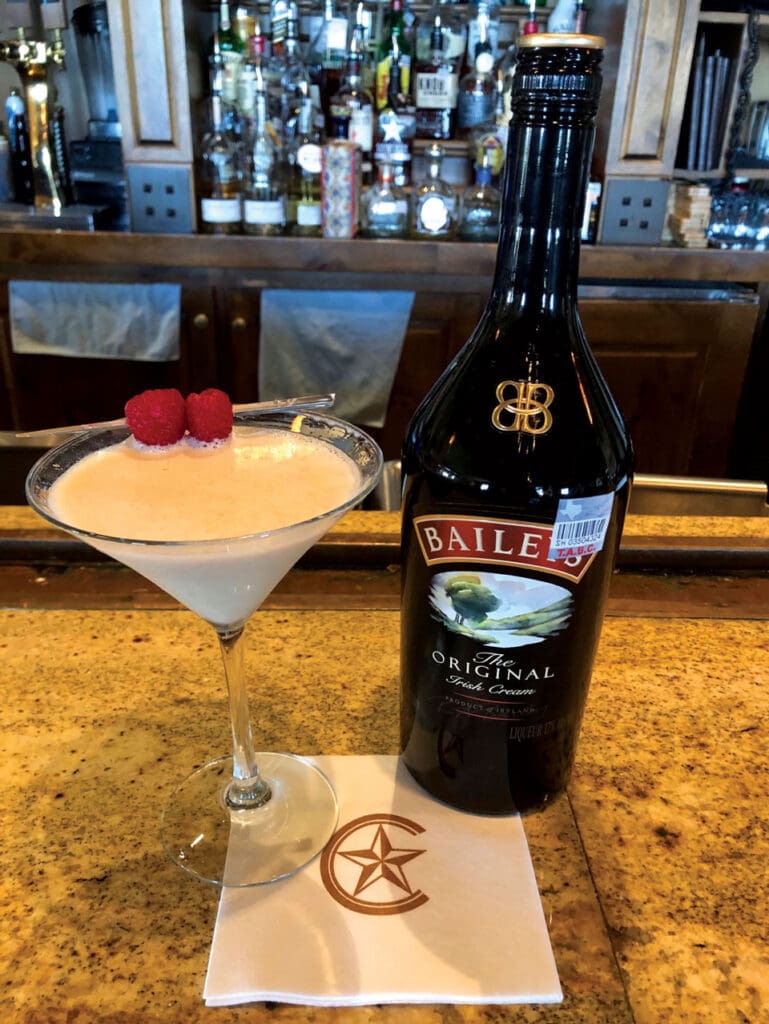 Special Holiday Cocktails at the Clubhouse
The Club's mixologists are ringing in the holidays with seasonal cocktails that are sure to bring comfort and joy.
Maple Bourbon Old-Fashioned
Bulleit Rye, Maple Syrup, Bitters, Orange Peel Garnish 
Apple Cider Margarita 
Reposado Tequila, Grand Marnier, Apple Cider, Cinnamon Rim, Apple Slice Garnish 
Holiday Martini 
Vodka, Baileys, Godiva Chocolate Liqueur, Raspberry Garnish 
Cranberry Gin Fiz
Gin, Cranberry Juice, Prosecco, Cranberry and Rosemary Garnish 
Mexicali Mule 
Blanco Tequila, Ginger Beer, Lime Juice, Bitters
Christmas Cookie
Rum Chata, Cake Vodka, Fireball, Sprinkles for rim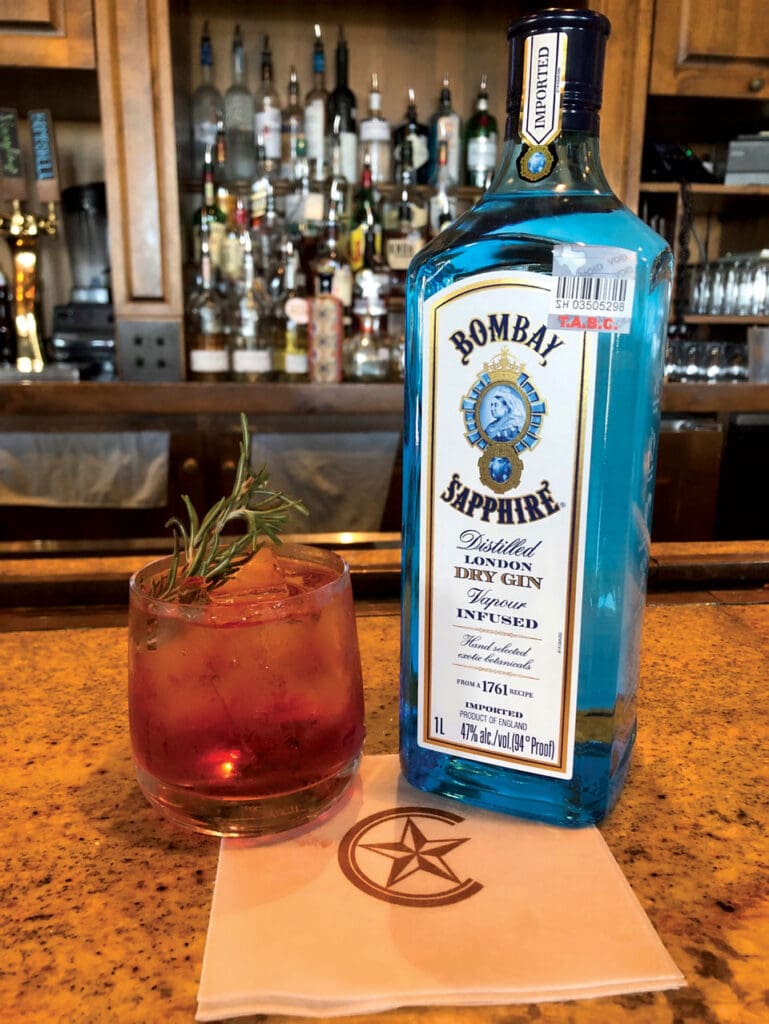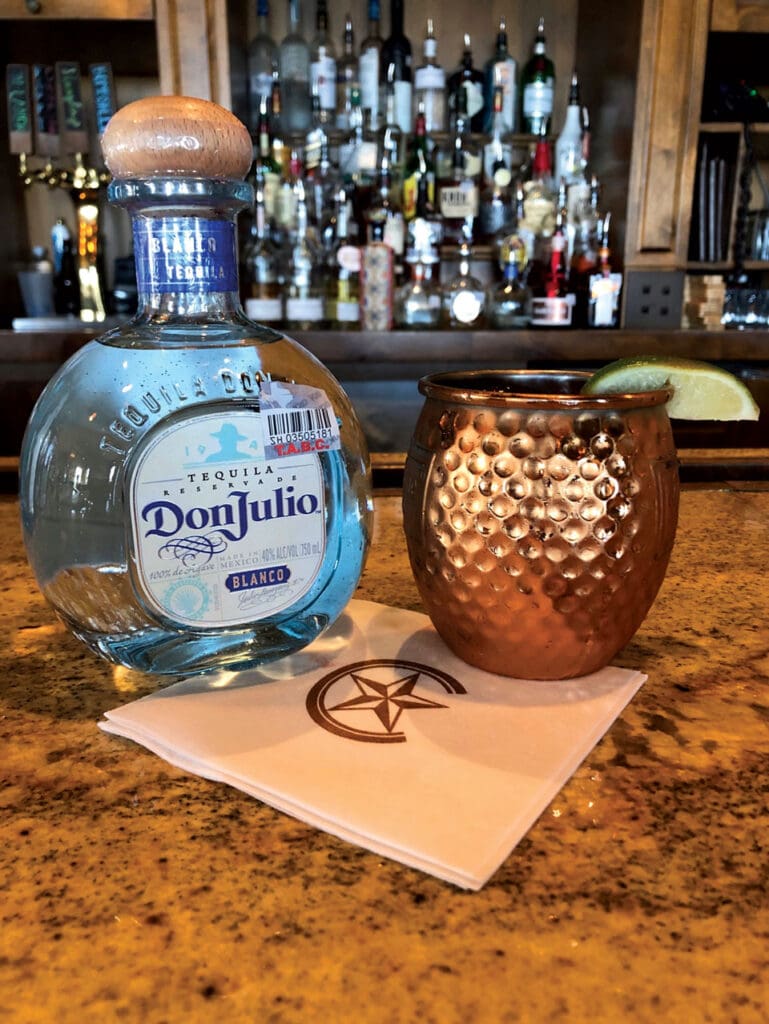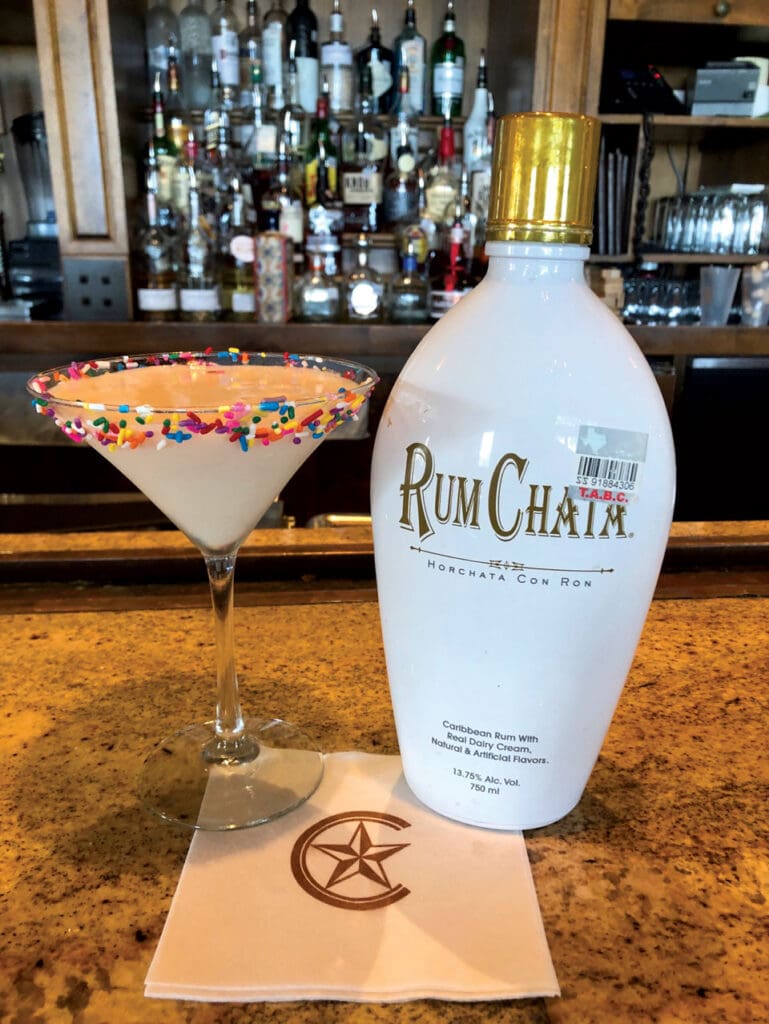 Saturday Night Flights
Can't decide what your favorite margarita is? We can help. Join us on Saturdays for our specialty Margarita Flights where you can choose four flavors from six delicious options: Strawberry, Classic, Peach, Mango, Jalapeno, Watermelon.
Graham House is the Clubhouse and Lodging Manager at The Clubs of Cordillera Ranch. He can be reached at ghouse@cordilleraranch.com or 830.336.9164.
Ryan Walters is the Dining Room and Bar Manager at The Clubs of Cordillera Ranch. He can be reached at rwalters@cordilleraranch.com or 830.336.9164.