Our Texas Hill Country is lovely on its own, but add millions of twinkling lights and it glows brilliantly during the holiday season. The holiday extravaganzas with spectacular lighting displays and entertainment draw visitors from around the world each year. Each small Texas town offers unique shopping and dining with historic architecture and recreational areas. Plan on spending the day exploring, then stay for the evening festivities. Here are a few events close-by, beginning with our very own Boerne!
A Dickens Celebration in Boerne 
Fridays & Saturdays, Nov. 26-Dec.19, 4:00-10:00pm
www.adickenscelebration.com
November 26-27: Aimed at giving revelers some holiday cheer to mark the beginning of the holiday season, "A Dickens Celebration" will begin the evenings of Thanksgiving Weekend, November 26-27, and span four unique weekends of fun and festivities. Dickens Village (Main Plaza) will have a full schedule of family fun including an ice carving show, a great market and the official lighting of the tree on Friday night at 6:00pm. Shops will be decorated and beautifully lit, and guests can stroll along a traffic-free Main Street, freely crossing from shop to shop while enjoying holiday music, street entertainers and fun surprises along the way.
December 3-4: The Weihnachts Weekend includes entertainment and the Weihnachts Market at Main Plaza on Friday, and the 34th annual Weihnachts Parade at 6:00pm on Saturday. Stores and restaurants will be open during and after the parade.
December 8, 10-11: Boerne's downtown retailers are hosting "Toast of Olde Town," which includes a classic holiday movie in the park, wassail sampling, late-night shopping and supervised kids programming at the Patrick Heath Public Library. 
December 17-18: "Kinder Fest" is a family-focused weekend of fun including visits with Santa, a scavenger hunt, cookie crawl, real reindeer and more.  Sunday, December 19, wraps up the celebration with a family holiday movie in Main Plaza.
Come spend the day on the Hill Country Mile shopping and dining, then make your way up and down a traffic-free Main Street from 4:00-10:00pm at Dickens on Main and the Weihnachts Parade. For "Toast of Olde Towne" and "Kinder Fest," watch before you cross because Main Street will be open as usual.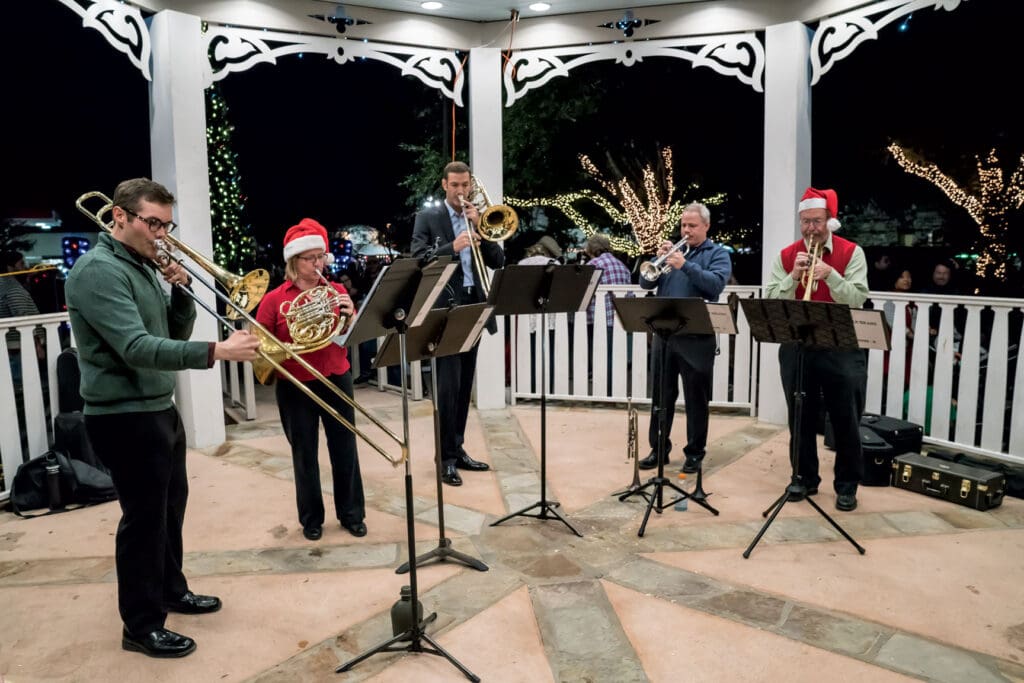 Boerne Festival of Trees & Silent Auction
Nov. 30-Dec.4, daily viewing. Silent Auction Dec. 4, 10:00am-3:00pm
www.facebook.com/boernefot/
Bid on trees/wreaths for your home or business with proceeds benefiting Friends of the Boerne Public Library.
Boerne's Parade of Lights
Throughout December
www.ci.boerne.tx.us
Boerne businesses and residences deck the halls with extravagant lighting displays for the public to view. Sponsored by Boerne Parks and Rec, with a map available on their website.
A Walk in Bethlehem-St. Helena's Episcopal Church
Dec. 7-8, performances at 6:00 & 7:30pm
www.sthelenas.net/bethlehem
Witness the arrival of the Christ child with a traditional nativity scene including camels and Magi.
Concerts in the Cave
Sounds of the Season, Nov. 27, 7:00pm
Winter Solstice, Dec. 18, 7:00pm
www.cavewithoutaname.com
With a combination of dynamic acoustics and nature's beautiful backdrop, concerts in the Cave Throne Room are memorable experiences.
Old West Christmas Light Fest at Enchanted Springs Ranch
Thursdays-Sundays Nov. 25–Dec. 12, 6:00-9:00pm Nightly, Dec. 16-24
www.christmaslightfest.com
Light displays surround you on the drive into an Old West town with a walkthrough light tunnel, games, food and shopping.
Don Strange Christmas on the Ranch
Thursdays-Sundays, Nov. 26-Dec. 24, 6:00 to 10:00pm
www.christmas.donstrangeranch.com
This all-new event features over 4 million dazzling drive-thru lights, food trucks, concerts and photo-ops with Santa.
Christmas in Comfort
Nov. 27, 10:00am-9:00pm     www.comfortchamber.com
It's a full day of shopping, eating, drinking and holiday merriment with more than 125 vendors selling a wide variety of food and holiday gifts, and a lighted parade beginning at 7:00pm.
Fredericksburg's Holiday Season
Nov. 23-Jan. 6, 6:00pm nightly
www.visitfredericksburgtx.org
It all begins on Nov. 23 with the lighting of the Christmas tree and the 26-foot-tall German Christmas Pyramid, which includes moving figures just like traditional German folk art, and it gets better from there. An outdoor ice-skating rink, events throughout town and holiday shows are just a few of the activities Fredericksburg has in store.
Johnson City's Lights Spectacular
Nov. 26-Jan. 2, 6:00pm-Midnight
www.lightsspectacular.com
The Blanco County Courthouse alone has more than 100,000 lights. Add that to the millions of lights on the Pedernales Electric Co-op's lighted forest, and you have one of the largest light displays in the state. Festivities begin with the lighting ceremony on Nov. 26, a lighted parade the next day and continue with a calendar full of events.
EmilyAnn's Trail of Lights in Wimberley
Dec. 4-5, 8-12, 15-26, Fridays & Saturdays 6:00-10:00pm, weekdays 6:00-9:00pm
www.emilyann.org
A walking trail guides guests through almost eight acres of lighted exhibits, and on select evenings, there will be live entertainment, Santa visits, chocolate tastings and the special holiday play, Christmas Melodrama.
Walkway of Lights in Marble Falls
Nov. 19-Jan. 1, 6:00-10:00pm
www.visitmarblefalls.org
There's only one way to describe it: Enchanting. 2 million twinkling lights on more than 350 lighted sculptures illuminate Lakeside Park. Stroll leisurely through this winter wonderland, then enjoy ice skating at the park as well. Adding to the fun, there will be a Christmas Market on Dec. 5 and a trolley will be running on weekends from Downtown Marble Falls to the Walkway of Lights.