He is a musician and gardener and she is a #stemgirl, intent on both exploring the world and putting down roots. And while this might sound like a description of a pair of 20-somethings in Austin, it also accurately describes a pair of very interesting retirees in Cordillera Ranch, Ginger and Toby Barnes.
Ginger's career was marked with an unusual beginning and many twists and turns. While at Vanderbilt University and then the University of Alabama in Huntsville, she explored majors in math, science, English and French before pivoting to a concentration in Business, majoring in Accounting. After two semesters in Accounting, she received an offer from her first professor. He had moved to The Boeing Company, and Boeing was moving new programs to Huntsville. While she hadn't graduated yet, she considered the opportunity. She would have to give up two scholarships and return to school part-time, making graduation take at least another year. Ginger calls the advice she received from her counselor one of the first pivotal points in her career. He said, "TAKE THE JOB!" and reminded her that Boeing would pay for her education.
Ginger's first position at Boeing was Cost Analyst in Financial Controls for Military Maintenance Training Equipment, which she says provided a solid and deep foundation of the manufacturing accounting of the business. She made her way through the ranks, finished her degree, and a few years later, Ginger moved into Program Planning and Control, a position that she loved at Boeing. Approaching her 30s, she decided to pursue her MBA at Vanderbilt. To put things in perspective, Ginger laughs, "Personal computers were just coming available when I started the program, and I was excited to buy a $2,000 laptop that only weighed 27 pounds for my tenure at Vanderbilt!"
After graduation, Ginger changed programs to become the International Contracts Manager for Space Station Freedom, where she worked with NASA and International Space Agencies to build the incredible vehicle. She augmented her French studies with Italian and Japanese language programs, making traveling easier and gaining credibility with international participants. She also studied Russian "for fun," a move that would serve her well.
As the Cold War was ending, President Clinton invited the Russians to join the Space Station Program. NASA and all participants came together to design the "new" Space Station, and the nucleus of the program moved to Houston. Ginger was at the Albuquerque International Balloon Fiesta flying her balloon "Overdew" when she received a call to go to Houston for the next week. That "week" lasted seven years! Ginger was promoted to Program Manager for the first American-Russian element launch, the FGB, which launched in 1998. But her promotion did not come without rebuffs from peers who considered only engineers capable of the position. The Russians, however, always treated her with great respect, and in many cases, more respect than their U.S. counterparts. "The Russians had brilliant women who were engineers, accountants, physicists, etc. The difference was, they would never put them in a position of leadership," says Ginger.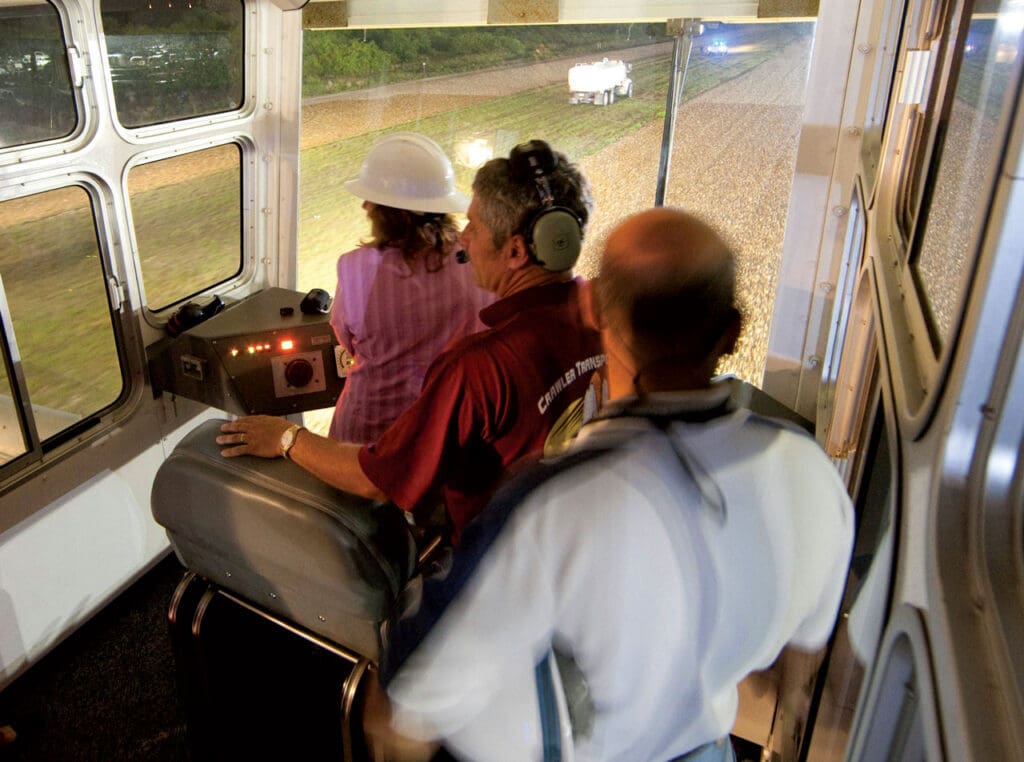 Ginger has countless stories about pioneering business with the Russians and one of her favorites includes their 7-year-old son John. Toby and Ginger coached an Odyssey of the Mind team for boys and one of the tasks was to build a bridge with specific dimensions using 35 grams of balsa wood. At least twice yearly, the Russians and Americans held technical interchange meetings, alternating locations. On one occasion when the Russians were in Houston, Ginger invited a team of Russian engineers over to her garage one Saturday to work with the boys on their project. The Russians spoke little English while the boys spoke no Russian, but it was a magical experience watching the Russian engineers work with the boys to learn design, load dynamics, hand-offs between Engineering and Manufacturing and vice versa, and develop a winning design! The team won locally and went to regionals and, more importantly, had a unique opportunity to share a cultural experience.
Ginger retired in 2015 from her 34-year career at The Boeing Company as Vice President of the Space Launch System Program and United Space Alliance as President and CEO. She was responsible for the last five shuttle launches, as well as the retirement of the Space Shuttle Program for NASA. She calls herself a retired rocket scientist, although her career spanned many "products" in addition to the International Space Station, the Space Shuttle and the Space Launch System. Ginger led programs and businesses in weapons, fighters, logistics and army modernization.
Ginger is an enthusiastic equestrian student. The Barnes have two palomino quarter horses, Goldie (11) and Sunshine (7), currently housed at the Cordillera Ranch Equestrian Center. The newest addition to their herd is a show horse, "Pursuing the Dream" (3), aka "Mel." Having horses and riding is a retirement dream come true for Ginger, and well-tolerated by Toby. Under the artful tutelage of the Equestrian Manager, Susie Phillips, and trainers Meghan Moriarty and Taylor Stone, Ginger has learned what she calls "the right way" to ride.
Now, life in Cordillera Ranch gives the two sweethearts — originally blind dates at Ginger's high school prom, then married after Ginger's sophomore year in college — ample opportunity to explore their interests beyond gardening and riding. "Our requirements for this home were pretty simple," jokes Ginger: "1) close to our son in Katy, TX, 2) acreage to accommodate a horse, 3) a studio large enough to house my longarm quilting machine, 4) remote yet close enough to the airport, fabric stores, LIVE MUSIC and medical facilities, and 5) a good area to walk dogs. This dream home met all our requirements and more." It also has a name: The Rocket B Ranch (for Ginger) and The Rock It B Ranch (for Toby)!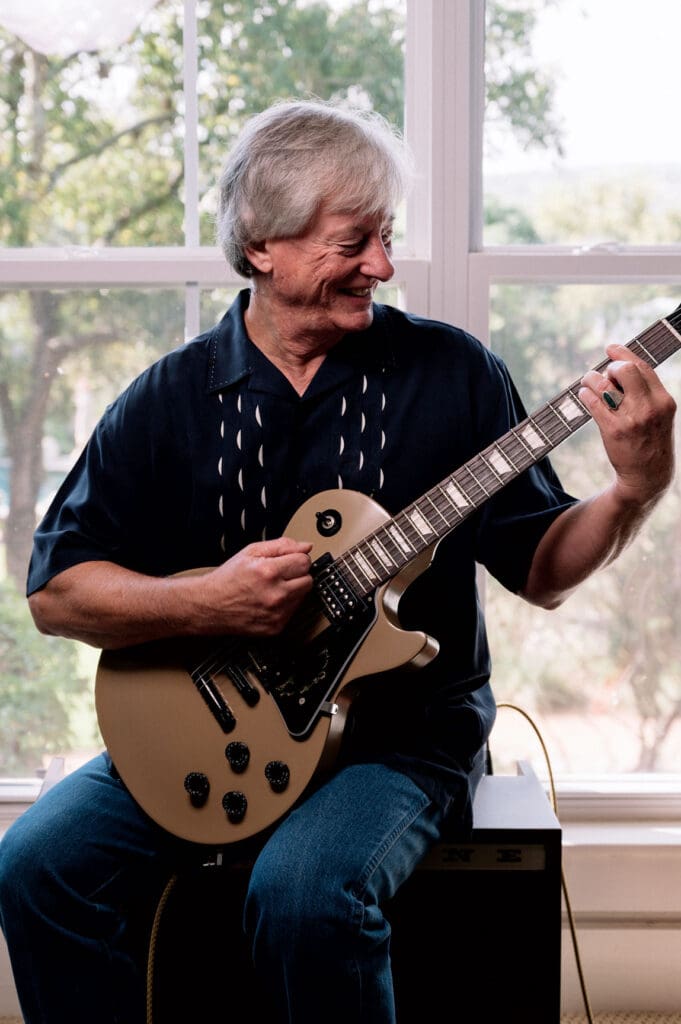 Toby, a self-taught guitar player, especially appreciated the proximity to Luckenbach, one of the many places they like to visit with friends. They also very much appreciate options very close to home. "While we were familiar with the amenities of Cordillera Ranch, both within and outside the Clubs, we really learned the value of the community within the Ranch. We have made fast friends at Wine Socials, met great folks walking dogs and enjoy Guadalupe River kayaking and tubing. We are grateful that we have joined an inclusive neighborhood where people embrace having fun and caring for each other. The community we didn't expect has been a great surprise!" says Toby.
Last April, the pair was thrilled to host their son John's wedding to Nikki Barnes, a STEM educator at a middle school in Houston. Remember the freeze and snow last February? Their beautiful gardens took a huge hit, but the Barnes and a wonderful contractor, Green Space, transformed the space to its former glory just in time for the nuptials. Their son is also a craftsman — a gunsmith by trade and the VP of Operations for Briley Manufacturing. The couple, who were married in the front yard under a copse of old live oak trees, visits Boerne frequently for skeet shoots and Hill Country exploration. Other family members include three rescue dogs and a cat that Ginger inherited from her father-in-law: "Krash Helmet (14) aka the matriarch, Trip (8) aka Porcupine Survivor, and Stitch (2) not of Disney fame…of the quilting kind. And our home is ruled by one recalcitrant cat, Lord Greystokes (>17)," says Ginger. 
Ginger continues to actively mentor and advocate for young women in science and engineering. "I am passionate about education and space," she says. One of the boards she serves on is for AstraFemina, an organization of female scientists, astronauts, engineers and industry leaders who endeavor to open girls' minds to the possibility of a STEM career. She has also served on a number of not-for-profit boards including the St. Louis Arts & Education Board, the St. Louis University Executive Advisory Board, the Maryville University Board of Trustees, the Challenger Center Board and the Industry Advisory Board of The University of Alabama College of Engineering. 
"The life we lead at Cordillera Ranch is an interesting yet different pace from our 30+ year careers in the aerospace industry. We are excited, though, to see the world and hopefully someday, spend some time babysitting a grandchild," Ginger says with a smile.