John and Susie knew that Cordillera Ranch was home shortly after their first visit.
David Teran with personal photos from the Longs
"When we drove through the front gate, saw the incredible views, played the golf course and then visited with the welcoming members, we knew we had found our new home," said John.
John and Susie were both raised in Carlsbad, New Mexico. While John was playing Little League baseball and high school golf, Susie was growing up on the family farm where she was active in 4-H and the band while in school. Both were raised by members of "The Greatest Generation" (John's father served in the U.S. Army in France during World War II and Susie's father was a POW in China and Japan for five years after Pearl Harbor), who instilled the importance of hard work and integrity in their children. This emphasis on hard work is ultimately what led John and Susie to each find part-time work, as well as love, at the neighborhood Kentucky Fried Chicken while in high school. It was there that they met — over a bucket of fried chicken — and fell in love, thus beginning a decades-long love affair.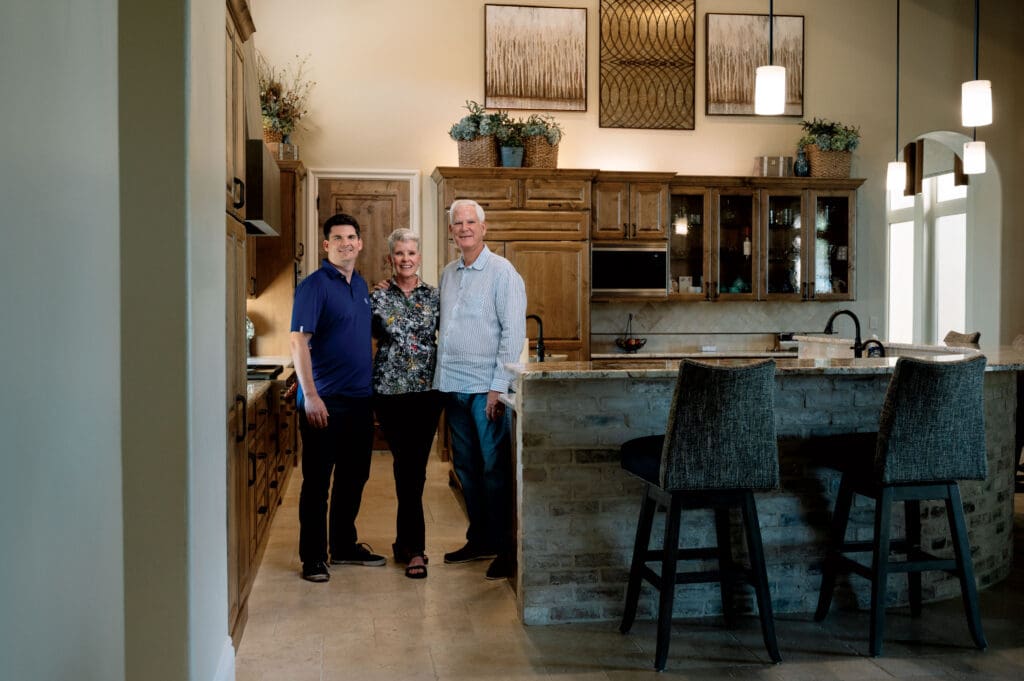 After high school, both John and Susie attended New Mexico State University in Las Cruces, NM. John received his B.B.A. in Accounting and Susie received her B.B.A. in Finance and they both became Certified Public Accountants. In 2011, they both celebrated their inductions into the New Mexico State University's College of Business Hall of Fame for their service to the university — John served 15 years on the NMSU Foundation board of directors, Susie served on the President's Associates board of directors, and both were on the College of Business Advisory Council.  
Upon graduating from college in 1977, the couple moved slightly east, landing in El Paso, where they both built successful careers in accounting and finance. It was also there in El Paso that the couple raised their son, Kevin, who was born in 1983.
Life was good. As active members of the El Paso Country Club for more than 30 years, Susie was part of the Tuesday Ladies Golf Association and competed in many intercity tournaments. John studied under Bill Eschenbrenner, one of the first PGA Master Professionals, and has seen and played with golfers who became mainstays of the PGA Tour. 
But, after 40 years and with the siren song of retirement calling, John and Susie were ready to part with the dusty, arid desert climate and continue a bit farther east, stumbling upon the Texas Hill Country and its scenic views in the process. Susie retired from her career in 2005 but maintained her CPA license and used her knowledge in various volunteer positions within the El Paso and Las Cruces communities. 
The couple knew that they wanted to retire somewhere where golf carts were the norm and where they could enjoy the game several times a week. "Golf was a big thing [when deciding where to retire], but I also wanted to be able to drive my cart to the course and to visit neighbors," explained Susie. John began researching high-end golf communities in the early 2010s. It only took one visit to Cordillera Ranch to seal the deal for the couple, and in 2015, they bought a lot in The Clubs area of the neighborhood and began building their dream home. 
The couple designed their home in Cordillera Ranch to reflect, not only the style of the Texas Hill Country, but also their appreciation for a casual environment. "It is a very different style of home in El Paso than it is here," said Susie of their transition from the architecture of far West Texas. "We were quite taken by the beautiful rock and the home styles of the Hill Country. On the outside, our home looks kind of Mediterranean, but it's a blend of our tastes on the inside…more casual than ornate, and laid out in such a way to take advantage of the views of the lot. We love our porches for enjoying the scenery," she added.
These days, John continues to inch ever more closely to retirement, as he currently serves as the Chief Operating Officer and Mergers & Acquisitions Integration Lead for HUB Texas (a large insurance broker) — a position that affords him the opportunity to reside in central Texas while traveling to other HUB offices within the state. 
The couple's son, Kevin, now lives in San Antonio, after enjoying an exciting career in the television and film industry. Kevin worked as a film and TV editor on a variety of projects — the penultimate being a collaboration with Academy Award-winner Cameron Crowe on the Elton John documentary, "The Union," which opened the 2011 Tribeca Film Festival and aired on HBO. He left the television and film industry in 2017 to pursue a career in IT, where he works for H-E-B as a Salesforce Software Developer.
While Hawaii (specifically, Kauai and Maui) is a favorite annual vacation spot for the couple, John and Susie recently went on a tour of Napa Valley with their Cordillera Ranch neighbors this past July and had the time of their lives. "We had a blast! Jeff Cohen and Debbie Pepper made the trip special and we made new friends. Jeff has helped us expand our knowledge and enjoyment of wine," said John of the wine trip, one of the Signature Vacations coordinated by The Clubs of Cordillera Ranch. John also picked up a new party trick on the trip — sabering a Champagne bottle!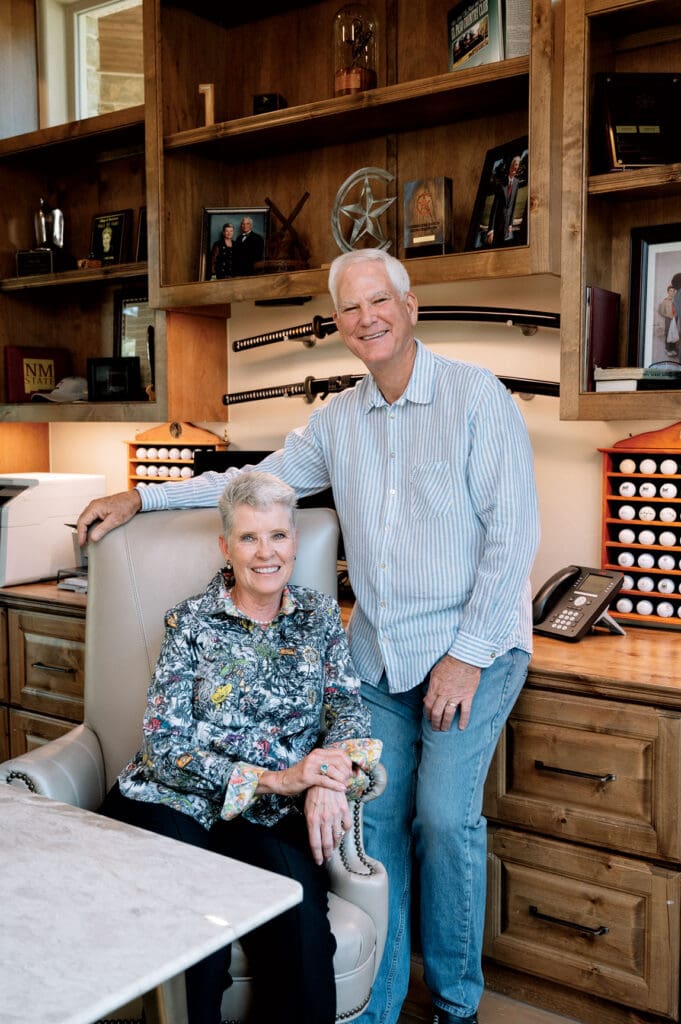 Though the Napa trip was all about wine, one of the Longs' favorite reasons for travel involves golf. The couple has enjoyed visits to Scotland and Ireland to play golf. They also attended the 144th Open at St. Andrews and have been to two U.S. Opens and a practice round at the Masters. 
Obviously, golf is the number one sport played in the Long home, as is evident by their trophy case: Susie won the 2020 Low Net Ladies Club Championship and John is a proud two-time Senior Club Champion, both annual tournaments at Cordillera. They even have their own "Championship Rock" in their backyard, gifted by a thoughtful neighbor, with plenty of room to add on more victories! However, they enjoy staying fit and active with other activities, as well. 
John has practiced martial arts for 15 years and has earned his second-degree black belt in Tae Kwon Do. He has also studied under a master in a variety of martial and internal arts, with a specialty of John's being Japanese samurai sword. 
Susie has become an avid runner, thanks to the help of Cordillera neighbor Paula Mitchell, who recruited her to join a beginner's running group in 2018. Having never run before, Susie trained for a year in order to prepare for the ultimate goal of completing a half marathon in January of 2019. Since taking up running, Susie has run three 5Ks, seven 10Ks and six half marathons, and runs several times a week with the Cordillera Sole Sisters running group. While she maintains that running a full marathon is absolutely NOT on her "bucket list," she has plans to run yet another half marathon in December of this year.
Back at home, downtime for John usually involves landscaping and listening to his "old-school" classic rock albums — that range from Fleetwood Mac to Iron Butterfly — surrounded by Ben Hogan memorabilia. Susie is a talented quilter with the patience and dexterity to complete the most intricate patterns.
Inspiration runs deep in the Long family, as this successful couple has worked hard and solidly earned their retreat at Cordillera Ranch. "My inspiration is to do my best at everything I do — business, golf, martial arts, etc. I'm competitive and don't settle for anything less than 100% effort," John said. 
Susie finds herself inspired by trying and learning new things — even if they're not always an immediate hit. "We tried kayaking down the river recently. I made it, but it's not something that I want to repeat!" laughed Susie. "But getting outside of my comfort zone definitely inspires me," she added.
That "comfort zone" is actually pretty inspiring. Now that John and Susie have settled into their new home and their new lives at Cordillera Ranch, it's all vibrant, watercolor Texas Hill Country sunrises, sunsets, golf course greens and birdies from here.