Personal Photos Courtesy of
Claudine and Tony Coleman have lived in Cordillera Ranch since 2015, but by the time they settled here, they were already very familiar with the resort-like lifestyle and, most importantly, the Jack Nicklaus Signature Golf Course that draws so many to this community. 
The Colemans first joined The Clubs of Cordillera Ranch in 2007, when their daughter, Taylor, was a junior golfer who needed a place to practice and play. Taylor thrived on the course and the greens at Cordillera Ranch prepared her for national competitions. "I saw Tim Hobby for almost my entire golf career. He is based out of Sonterra and he helped me get to the collegiate level and he even caddied for me at the LPGA event I played in. After my wrist surgeries, I went to Bryan Gathright at Cordillera Ranch for lessons as well. We chose Cordillera because no practice facility in San Antonio compares. No other course in SA offers practice holes, and with the Bent greens, it gave me the best opportunity to succeed at other courses for my tournaments throughout the U.S.," explained Taylor. The leadership and camaraderie (both on and off the course) that the Colemans experienced at the Golf Club made a lasting impression on the whole family. "Cordillera, unlike many golf clubs, was extremely accommodating and accepting of Taylor as a young golfer," said the Colemans.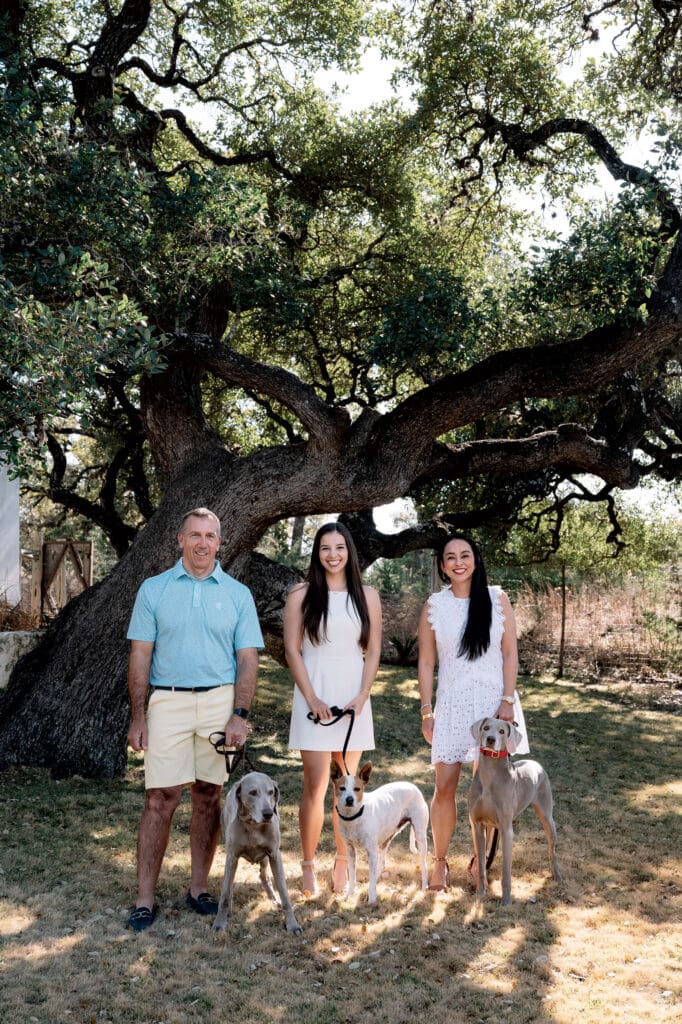 As a result of her natural abilities and with the support of her professional instructors, Taylor won the 5A High School Golf Championship as a high school sophomore. That same year, Taylor qualified for an LPGA event and was featured on the Golf Channel after shooting an opening round of 68 — a feat that is almost unheard of, especially in a player as young as Taylor was at the time. But as it too often happens, injuries derailed her plans for a professional future in golf. She said, "When I grew up, my goal and plan was to play on the LPGA after college, but I had my third wrist surgery in 2017 and realized my wrist couldn't hold up to practicing every day. I wouldn't be able to practice the necessary amount or play the certain number of days in a row for the LPGA so that is when I switched my degree and focused on finding a good job after college and getting my Masters." 
The support and encouragement that Taylor received from the professionals and residents at the Golf Club endeared Cordillera Ranch to the Coleman family and is what ultimately led them to finally make the move from San Antonio to the community when Taylor went off to college. 
These days, Tony and Claudine spend their free time exercising at either the gym at their home or at The Clubs of Cordillera Ranch Fitness Center. "It's always been a part of our lives," Claudine said, an avid runner and former competitor in marathons and triathlons. In the last few years, her races have consisted of 5Ks, 10Ks and half marathons, while Tony supplements his fitness regime by playing golf every weekend. 
But long before Cordillera Ranch (or even Texas) was on the Colemans' radar, their story began in Fountain Valley, California. Tony, who was born in Seattle but moved to Southern California as a teen, worked in the IT department at CAPP (Council of Accountable Physician Practices) Care. California-born Claudine worked part time at CAPP Care while attending UCLA, where she received her Bachelor's Degree in English. Sparks flew in the workplace when Tony and Claudine got to know one another. "Tony told me years later that he made a copy of a picture I had on my desk of my (then) boyfriend and myself, but he cut my boyfriend out of the photo!" remembers Claudine of their early days of courtship. 
The couple married in 1992 and made the move from the west coast to San Antonio. Tony worked for various companies, including Cisco Systems, where he held several different leadership roles, while Claudine became a stay-at-home mother when Taylor was born in 1997. It was only after Taylor was in high school and got her driver's license, that Claudine decided to try her hand in real estate. Today, Claudine is a Realtor at JBGoodwin REALTORS®. "Real estate is interesting to me because it is always changing and every transaction is different," said Claudine. 
Tony, who obtained his education from Control Data Institute, has been in the IT industry for over 30 years. In 2014, Tony left Cisco for a local IT solutions company and is currently Vice President of Sales and Strategy, as well as a partner at Computer Solutions. 
While the Colemans' careers have afforded them much success and accomplishment, perhaps nothing in their lives has brought them as much pride as watching Taylor spread her wings and soar.
Taylor was offered many full-ride golf scholarships when it was time for college and she ultimately chose Arizona State University for both her Bachelor of Science, as well as her Master of Science degrees. Taylor is now a Business Analytics Developer at General Dynamics Missions Systems. She began her career in Arizona, but made the move back to San Antonio when the pandemic allowed her to work from home. "I wish I could say that I, too, live in Cordillera Ranch, but I just finished building a home in Timberwood Park — only 25 minutes away," said Taylor. 
The apple certainly doesn't fall far from the tree in the Coleman family, as Taylor enjoys exercising on her Peloton bike and spending her free time playing golf with her boyfriend. And there's always time for a father/daughter round: "I love that my dad and I will always be able to play golf together. He's what got me into golf, and now we will get to share that for the rest of our lives." 
At home at Cordillera Ranch, Tony and Claudine love spending time with their three dogs — two Weimaraners, Bunker, who is 14 and Fury, who is 9, as well as an adorable rescued dog that Taylor brought home from college. "Our dogs have always been a part of the family and they definitely keep life interesting," added Tony and Claudine.
Travel is something that the Colemans are eager to welcome back into their lives, post-COVID. The couple is excited about a return trip to Scotland and Ireland that was nixed due to the pandemic, but is back on the calendar for next summer. In the meantime, the couple enjoys following Formula 1 races, most of which they watch from home — including all of the practice and qualifying rounds — but Tony and Claudine have frequented the Circuit of the Americas for F1 races and also had the rare opportunity to travel across the globe to watch a race. "We were lucky enough to travel to Monaco three years ago to watch a race. It was an amazing trip," said Claudine. 
The Colemans love living at Cordillera Ranch and are taking advantage of all that the area has to offer. When not on the golf course or at the gym, the Colemans enjoy exploring their new hometown of Boerne, Texas, naming local favorites, The Dienger Trading Co. and Peggy's on the Green, as well as Richter Tavern for a night out. But ultimately, home is where the heart is.
"We love the amenities, our house and the neighborhood," said Claudine. "I feel like we live at a resort," added Tony. "It makes driving to San Antonio for work and back every day that much better."