Doug Gaidry III, dgdigitalimaging.com
Pasadera Builders brings two new villa designs to the Di Lusso Villas community in Cordillera Ranch, allowing full interior customization to match the homeowners' signature style. 
With a dedication to creative design and craftsmanship, it is easy to see why Pasadera Builders has been a Preferred Builder in Cordillera Ranch's Di Lusso Villas community for more than ten years. Now, they are bringing two new villa designs to Di Lusso, which can be completely customized on the interior to fit any design style. Gabe Garcia, the founder of Pasadera Builders, explains that when you work with their team, you "feel like you are truly part of the building process." Valuing a seamless, transparent and collaborative work style, he says that every build project should provide "purpose and meaning to the homeowners." For this team of home builders, it is all about bringing your dream home to life. "Our motto is to lead and set the creative standard for others to follow," explains Garcia. These two new villa designs will do just that. 
TRIONFO
A New Inventory Villa
Coming to Di Lusso 
The first of the two new villa concepts Pasadera Builders is bringing to Di Lusso is named Trionfo, which is Italian for "triumph." The cozy entryway of this villa opens up to a grand living space highlighting stunning Hill Country views. Ringing true to its name, the interior of this home does feel triumphant. The villa boasts 3,040 square feet comprising three bedrooms, three ensuite bathrooms, a guest half bath, an open-concept kitchen, a private front courtyard and a spacious back terrace that invites the outdoors inside. Garcia explains that the "design of the home is meant to enable the owner to enjoy the serenity of Di Lusso without compromise." 
This villa is located in the Texas Hill Country, but the exterior resembles Southern European vacation destinations. Exterior finishes include authentic clay tile roofing, terracotta pavers, stucco privacy walls and fully landscaped and furnished outdoor living areas maintained by the Di Lusso maintenance team.  
While the outside of the home reflects the Southern European architecture of romantic coastlines, the customizable interior has a warm contemporary feel. "We don't fall into the contemporary cliche of cold finishes and straight lines," says Garcia. "What makes our homes contemporary is the concept of less is more." The quality materials used in these villas speak for themselves. Interior finishes include wood flooring throughout the main living areas, solid wood doors, European-style overlay cabinets and solid stone countertops. The Pasadera Builders team also brings in a lighting designer to create the perfect lighting scheme to set the mood, leaving no detail in the dark.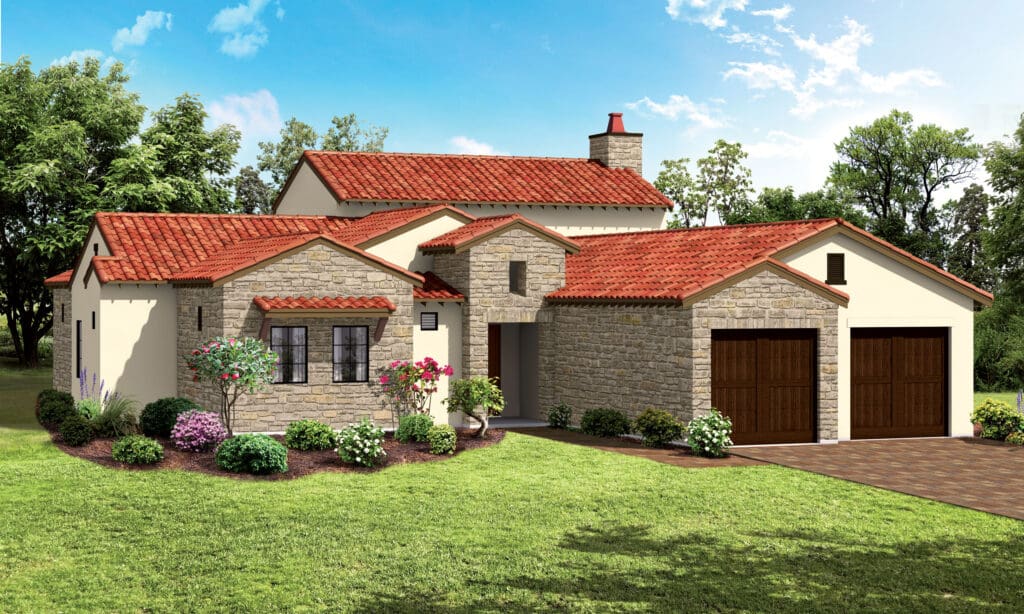 FELICITA
A New Inventory Villa
Coming to Di Lusso 
The second new villa design by Pasadera Builders is named Felicita, which is an Italian word meaning comfort and happiness. What more could you ask for from a home? This spacious villa features 3,195 square feet designed for cozy dinner parties or quiet nights relaxing on the terrace with a glass of wine. The house has three bedrooms, three and a half bathrooms and multiple outdoor living areas. With a classic design, Garcia explains that this villa "will stand the test of time no matter what other design trends happen in the future."  
The exterior of this home also combines elements of Southern European architectural styles, featuring outdoor courtyards and terraces with terracotta pavers, solid wood beams, stucco exteriors, stone accents and traditional clay tile roofing. The primary bedroom features a private terrace overlooking picturesque Hill Country views, perfect for relaxed mornings with a coffee in hand. The covered entryway courtyard provides the ideal spot for shaded gardening or a private moment with a good book. Of course, these comfortable outdoor spaces are fully maintained by the Di Lusso landscaping team. 
The home's interior design is classic and traditional, featuring wood flooring throughout the main living areas and tile in the bathrooms. The open-concept kitchen and great room allow for seamless entertaining and easy flow while still maintaining the definition of space, adding to the cozy feel of the design. In addition, the interior of the villa is outfitted with full LED recessed can lighting designed by Moss Lighting Design, allowing every room to be shown off in the perfect light.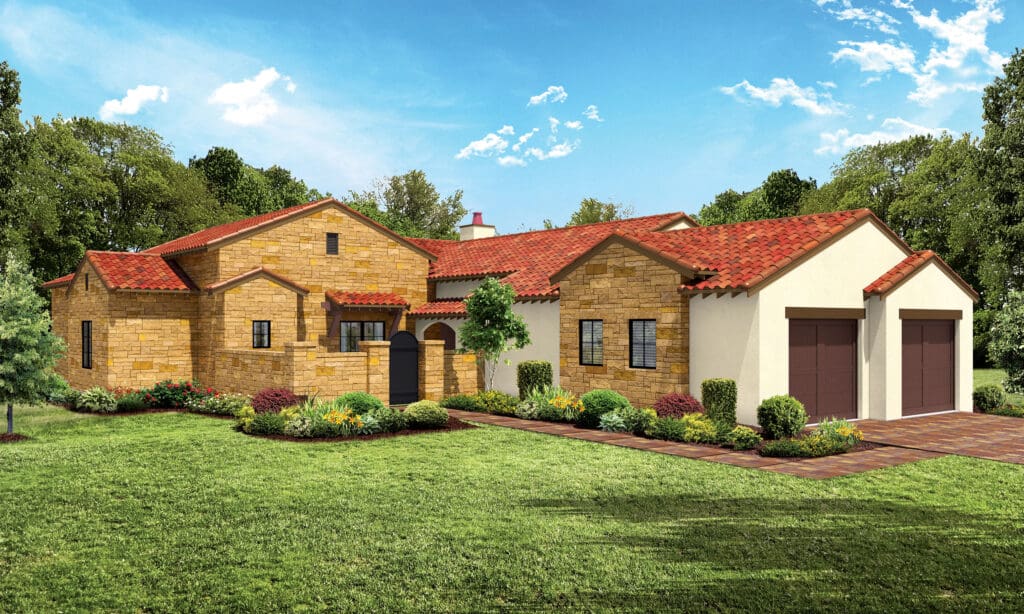 "Living in Di Lusso is like living in a sanctuary." 
Di Lusso is a "lock-and-leave" community within Cordillera Ranch that provides landscape maintenance, remote access security and resort-style amenities, all set in a relaxing Hill Country retreat. Favored by avid travelers, retirees and busy couples, these gorgeous villas take all the stress out of homeownership, allowing owners to reap the benefits and take in the scenery. Garcia says that the new homes his team is constructing in Di Lusso will feature "close proximity to The Clubs of Cordillera Ranch, plenty of privacy and sweeping Hill Country views."  According to Garcia, "Living in Di Lusso is like living in a sanctuary." 
"Every Di Lusso villa has the unique signature of its owner." 
The Di Lusso community resembles the Southern European countryside, dotted with cohesive stucco villas and authentic clay tile roofs. Inside these homes, however, is where homeowners release their creative visions. "We are excited to push our design limits in these new builds," says Garcia. "While we keep the Southern European look consistent and true, every Di Lusso villa has the unique signature of its owner. The interiors are completely designed to the unique tastes of the individual client without exception, ranging from contemporary to traditional." While each of the two new villa design plans provides a base of inspiration, the opportunities for customization are limitless. 
Pasadera Builders
830.336.9131 
Pasaderabuilders.com