When an active young family approached Cordillera Ranch Preferred Builder Garner Homes to build their dream home in the Springs of Cordillera Ranch, Trey Garner and his team set out to deliver an open floor plan centered around indoor-outdoor living while reflecting the homeowners' appreciation of contemporary design.
The Garner Homes team, led by owner Trey Garner, has won 20 statewide Star awards from the Texas Association of Builders, 20 Summit Awards from The Greater San Antonio Builders Association and other accolades for their focus on building science and performance. The Garner team has also been recognized with a Best in American Living Award by the National Association of Home Builders and as a finalist for the San Antonio Magazine Design Awards. Garner Homes not only has a flare for design but a keen ability to hone in on their client's wants and needs.  
"This family was really amazing to design with," said Trey Garner, owner of Garner Homes. "They all appreciate living an active lifestyle and getting outdoors, making the Springs a perfect spot for their dream home. In addition to all the wonderful amenities of Cordillera Ranch, the Springs has access to a large network of nature trails and outstanding views, which we had to take advantage of in the build." 
The 8,696-square-foot home includes four bedrooms, four-and-a-half bathrooms, and an over-sized four-car garage, as well as additional amenities like a home gym, bar, butler's pantry and outdoor kitchen. The home's contemporary exterior features strong horizontal lines and high contrast color palette of coursed stacked stone, travertine cladding and white stucco accented by a black window package and standing seam metal roof. A series of large slab pavers usher you to the front entry framed by a sleek cantilevered roof overhang. Crossing the threshold of the pivoting glass door creates a dramatic welcome inside. 
"We wanted to embrace indoor-outdoor living with this design," explained Trey. "When you step inside, you're greeted by bright natural light from the clerestory accent windows. Additionally, you'll notice that the travertine cladding from the exterior carries through to interior features like the fireplace. Of course, the most important part is capturing the view, so we installed a row of 25-foot glass sliding doors out to the patio. It's connections like these that unite the indoor and outdoor living spaces."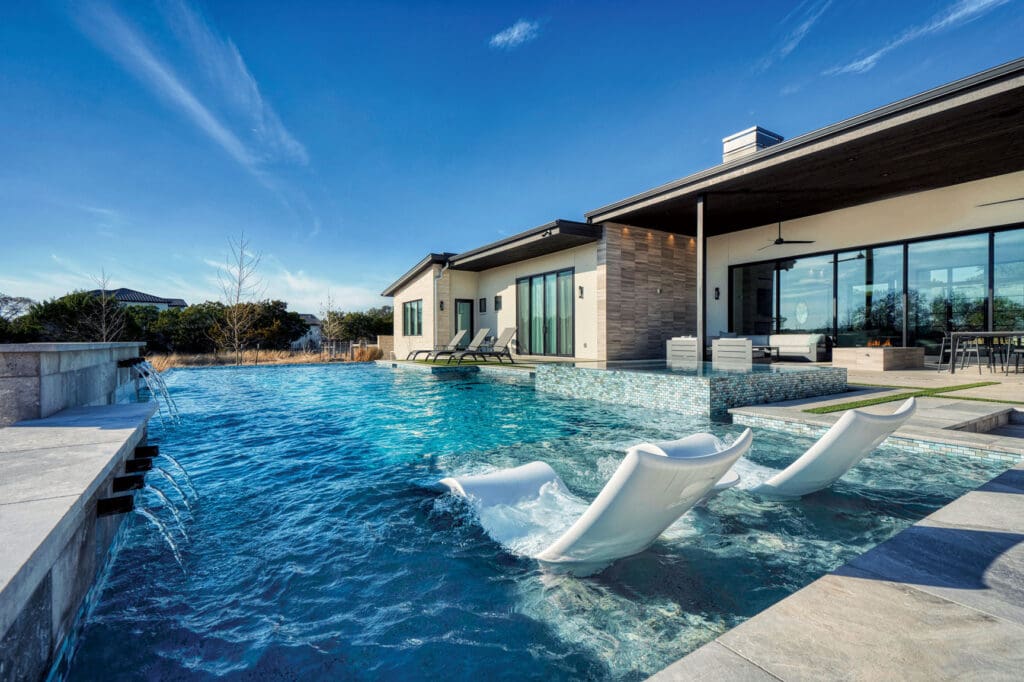 The expansive patio is complete with an outdoor kitchen, fire pit and pool. "You'll notice the porch ceiling height is much taller than the average home," added Trey. "These ceilings come in at 13 feet tall, allowing for an airier feel that doesn't inhibit the view." 
While the home's outdoor space is enough to keep any active family entertained, there is no shortage of equally entertaining amenities indoors. The great room houses a living area, dining space, kitchen and bar. The space also features a unique cloud ceiling feature with LED accent lighting to set the mood for movie nights. In addition, the kitchen and bar space are outfitted with top-of-the-line Wolf® and Sub-Zero® appliances, including a wine fridge, six-burner gas range, concealed refrigerator-freezer set and espresso maker.
"The kitchen is functional but sleek," said Trey. "We paid close attention to detail, concealing plugs inside cabinetry so we wouldn't interrupt the stunning book-matched quartzite backsplash. We also opted for integrated drawer pulls to keep that clean look on the cabinetry. Behind the wall of the range is an open butler's pantry. Items like the dishwasher and counter appliances completely disappear so you can appreciate the beauty of the space." 
While the main living area provides a dream layout for entertaining guests and bonding with the family, the home also features a private owner's wing. "This back wing is very unique," explained Trey. "It contains the primary bedroom, bathroom, home gym and study. It's set off from the rest of the home and is perfectly positioned to take in the Hill Country views. This wing is really its own retreat." 
The primary suite features designated sleeping and sitting areas, complete with a coffee bar and fireplace feature wall. The primary bath continues to embrace indoor-outdoor living, with 21 feet of glass wrapping around the tub that overlooks a private patio. The bathroom includes luxurious features, like a marble accent wall and a multi-head shower. The primary suite is close to the home gym, designed to feel like a workout outdoors. 
Sleek style, entertaining space galore and a private spa-like retreat — this home has it all. But, most importantly, it provides the ultimate contemporary space to sit back and take in the Hill Country views! 
Garner Homes
210.493.1686 
GarnerHomes.com