Dr. Kurt Mackie has been on a journey his entire career, to not just perform dentistry and create beautiful smiles, but to transform lives. He offers an array of services and advanced technologies, as well as comprehensive reconstructive dentistry. 
"After dental school, I started my career in Public Health dentistry in Harlingen, Texas. Once my service was complete, I opened my private practice where I focused on complex dentistry cases for the past 35 years," said Dr. Mackie.
Like so many before him, he was lured to Boerne by the majestic rolling hills of the Texas Hill Country and the exceptional community of Cordillera Ranch. "In 2015, my wife and I moved to Boerne where I opened a new practice because I love what I do and wanted to continue to help people," said Dr. Mackie. 
Dr. Mackie is not only a star to his patients, but a valuable mentor to young dentists skyrocketing in the field. One such dentist, Dr. Grace Zhang, sought him out after she attended one of his lectures. At the time, she was working at the San Antonio Medical School in the department of Neurology with a PhD in Neuroscience. She now mentors associates with Dr. Mackie several times a week. 
"Recent graduates are coming out of school with the minimal basic tools needed making it difficult for patients to access comprehensive and complex treatments. I've made it my passion to pass along my knowledge and skillset so these dentists can continue the work on complex reconstructive cases," he shared. "It's rewarding watching them grow and learn, and seeing their success. This is my way of giving back to a profession that has meant so much to me." 
Additionally, Dr. Mackie has been experimenting with the benefits of red-light therapy to alleviate pain and heal tissues in the mouth, addressing inflammation and destruction. He even has a patent pending on an oral appliance using red-light therapy that he's currently running a clinical trial on.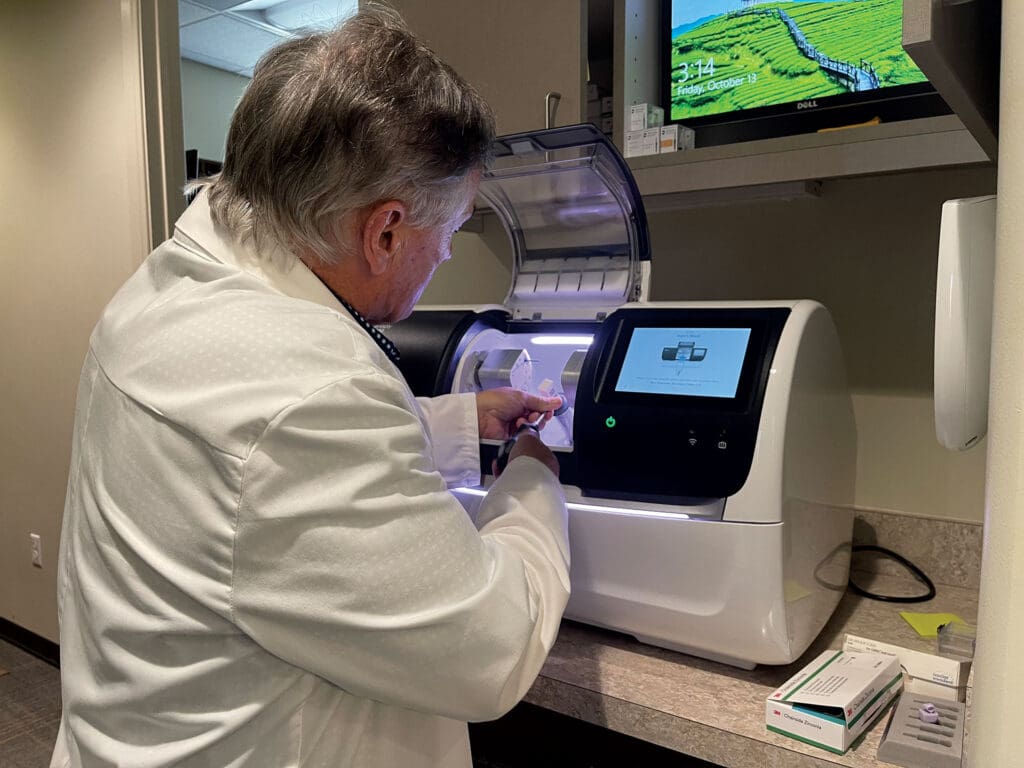 EMS Guided Biofilm Therapy (GBT) 
It may sound like a Sci-Fi film, but thankfully, it's real and it's for your optimal oral hygiene. According to Dr. Mackie, GBT is an alternative to a traditional teeth cleaning. It's a more modern approach to dental care that is a systematic and highly effective method for dental plaque (also known as biofilm) removal. If you're looking to prevent cavities and gum disease, then GBT is for you! Imagine a very gentle and painless sandblaster that thoroughly air polishes your teeth and gums. "We use erythritol and the micro crystals stay in your mouth for up to 21 days, controlling and killing harmful bacteria," he elaborated.
Reconstruction
Dr. Kurt Mackie Dentistry has the capability of doing full teeth and mouth reconstruction. The equipment he uses can make up to 14 temporary crowns in a day, using a state-of-the-art 3D panoramic x-ray and a CEREC machine, which is a system that uses computer assisted design. It's essentially a 3D printer for permanent and provisional teeth. "The temporaries are actually beautiful interim restorations made out of acrylic, until we make the permanents out of ceramics," he noted.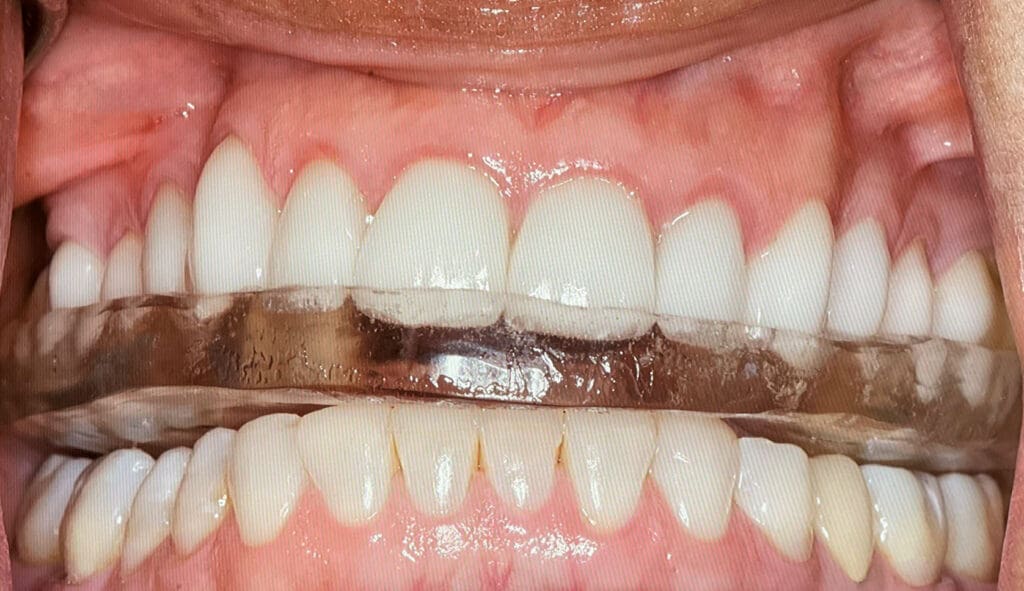 Guard Therapy
If you suffer from sleep apnea, TMJ or a variety of other related issues, you'll be happy to learn that Dr. Mackie offers Guard Therapy to assist. They call it Sleep Dentistry — it's what dentists do to help people with sleep problems. In this instance, Dr. Mackie and his superb staff use the same x-ray process as mentioned above, as well as a TAP, or a Thornton Anterior Positioner, which brings the lower jaw forward while sleeping to hold open the airway for enhanced breathing. "I build bite guards that are hard and built for the individual's skeletal bite to stop nocturnal destructive forces. This helps to control problems like headaches and neck aches, and bone breakdown around the teeth" he described.
Cordillera Ranch resident, Sara Hill, sought Dr. Mackie's help after years of frustration, and thousands of dollars spent on dental work, saying, "Dr. Mackie immediately identified my problem and fitted me with a night guard. Since becoming a patient in 2016, I've been pain-free and dental-work procedure-free! I spent a lifetime with sensitive teeth, having root-canals, crowns and even extractions, and Dr. Mackie completely changed that trajectory for me. He is a seasoned professional with so much knowledge of oral health, and he continues to implement the latest and greatest technology into his practice. As dramatic as it may sound, I truly feel Dr. Mackie changed my life!"  
Interestingly, Dr. Mackie conducts primary research on dental-related sleep issues to identify his patients' problems. For example, he records sleep sessions to determine causes such as TMJ grinding and sleep apnea. Evidently, sleep apnea requires a different appliance. "I do use a Pulse-Ox to get a base line of how patients are breathing at night on their own and then I use a TAP appliance, which lets people breath more efficiently on their own. The TAP was created by Dr. Keith Thornton, who has over 35 patents proving to the FDA that he can get people off of CPAP machines safely. 
If you've been dreaming of a good night's sleep for a while now, then maybe it's time to visit Boerne's premier community dentist for this and any other dental needs you may have.
Reclaim Your Beautiful Smile 
Your new dental experience begins with a thorough hour-long evaluation to assess the condition of your mouth and teeth, what's causing the problems and discuss your goals. Next, Dr. Mackie creates a plan to correct the problems, even in extreme cases that are not just cosmetic. These are truly life-changing treatments for hundreds of patients year after year and all of the necessary equipment needed for these advanced treatments is located right in Dr. Mackie's office in Boerne. Oral surgeons are available as needed. 
To make the process as easy and seamless as possible, Dr. Mackie's office helps with insurance filings. Feel free to call and give them your insurance information and they will find out if you're qualified.
"I have patients that travel from the Rio Grande Valley, 350 miles away. They do this because of the relationship we have. I've repaired their decimated dentition and it has held up for 20 to 30 years because it's engineered the right way and they want me to continue to maintain it," he said. 
It's clear Dr. Mackie's success as a dentist stems from his genuine concern for people — both his patients and fellow industry professionals. His relationship-based practice is most certainly the key to his longevity and the longevity of the teeth he builds and maintains. When it comes to something as important as oral care, there's nothing more satisfying than finding a master in his field who also has a giant heart! 
Dr. Kurt Mackie Dentistry
830.331.7355 
MackieDental.com