Wine lovers are frequently asked, "what's your favorite wine?" The cliché answer is "the wine I'm drinking right now." When you're attending a tasting event at The Clubs at Cordillera Ranch, no one bothers to ask. Every unique pour becomes a favorite and the choices never end.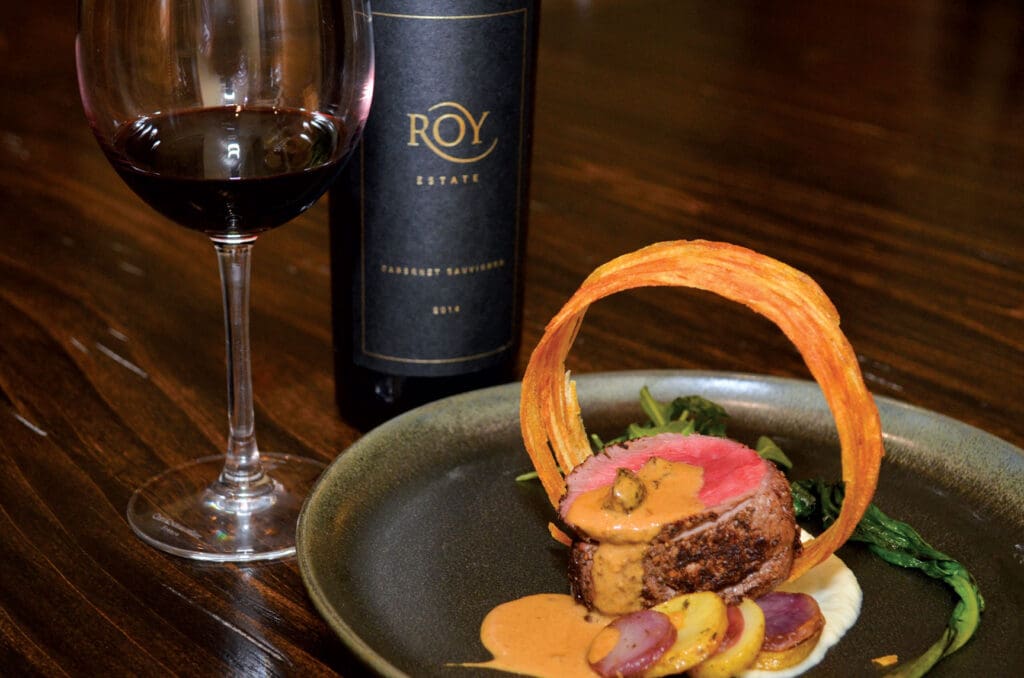 As someone who has spent 40+ years writing about the food and beverage industry, I've tasted a lot of wine, and certainly a lot of food. I've been fortunate to have attended quite a few wine pairing dinners along the way in the U.S., Italy, France, Portugal and Spain. As a member of The Clubs of Cordillera Ranch, you have access to some of the finest wine pairing dinners right here in Texas.
Credit goes to the team of Wine Specialist and sommelier Jeffrey Cohen and Executive Chef Isaac Cantu who combine their years of food and beverage experience and passion into an evening of uninterrupted refined flavors paired with friendly conversation and a side of wine education — all set in the comfortable Club dining room beside those awe-inspiring Hill Country views.
What to Expect

At the recent Roy Estate dinner, held May 5, the honored guest was the winery owner herself, Shirley Roy. After mingling with guests over passed hors d' oeuvres of salmon blini and bacon-wrapped scallops and free-flowing Henriot Rosé Champagne, she welcomed the group warmly with personal stories of her estate winery, and hints about the library wines we were about to enjoy. (Library wines are bottles reserved by the winemaker after their initial release, and generally sold to exclusive groups such as this.)
Shirley's journey to becoming a vintner is an epic saga, beginning with she and her late husband's quest for a home in the beautiful Napa Valley. Finding the existing property in 1999, which was not planted with vines, was "serendipity." Discovering the richness of the terroir and its perfect grape-growing conditions proved to be magic. Hiring winemaker Philippe Melka in 2005 tied it all together into a beautiful story that now celebrates the glory of California wines.
But no saga is complete without struggle. Shirley told the rapt dinner guests about the 2017 fires that swept through the valley. She escaped as fire approached, and returned to find her home in ashes. Yet somehow the vines were spared. "I lost so many memories of Chuck, and the art we collected over the years," she still laments. "Plus, all the wonderful wines in our cellar we never got to drink. And I miss my cookbooks." The lesson for us all: Don't wait. Open bottles of good wine for friends who appreciate them. You don't need a special occasion to share great wines.
That spirit of hospitality extended to the Club members at the dinner, where the 2017 Roy Estates Estate Cabernet Sauvignon, special to Shirley because of its ascent from the ashes, paired with hearty bone-in lamb rib chops stuffed with oyster mushrooms. In the prior opening course, the Estate's signature 2013 Proprietary Red accompanied a generous duck breast, perfectly seared and beautifully plated with a bright chicory and butter lettuce salad. Both courses showcased the winery's grandeur and the chef's skills at understanding how to let both food and wine shine individually and as partners.
After a palate-cleansing granita, Chef Isaac and his team wowed diners with a fork-tender buffalo tenderloin adorned in a crispy potato crown. Shirley doubled down by pairing the rich dish with the classic 2014 Estate Cabernet Sauvignon's silky layers of pure Cab zest.
Shirley regaled the group again, heaping praise on the chef and his kitchen while chatting about how beautifully the food complemented her special collection of wines. The final pours began as the last course arrived, a torte of nearly black chocolate, blackberry and clove cake layered with spiced Chantilly, draped with a red wine ganache. The vibrant fruity tones and full-bodied richness of the 2017 Mr. Evans Proprietary Red added to the chorus of intense flavors, but never drowned them out.
As the remaining morsels disappeared, guests were invited to order their favorite Roy Estate bottles — the ideal way to extend the elegant experience to home.
Get your seat at the table
Toward the end of each year, Jeffrey and his team plan the next year's events. The popularity of the wine dinners, which were originally held quarterly, has made them a monthly event. Watch your activities emails for alerts on upcoming dinners and reservation dates, or keep an eye on the posted information at the Club entrance.
And remember, Jeffrey holds complimentary wine tastings every Wednesday night from 5:30 – 7:30pm, too, with take-home bottle sales available every week. Those events feature winemakers, winery owners, portfolio ambassadors, suppliers and representatives who are happy to talk about the wines they're pouring, sharing their stories and top picks for favorites.
Upcoming Wine Dinners
• July 14 – Gamble Ranch
• August 25 – Round Pond
• September 22 – Clos du Val (subject to change)
• October 15 – Revana
• November 10 – Honig
• December 22 – Shafer
Watch your email for reservation cutoff dates
About the author
Julia's fascination with recipes and ingredients led her to pepper her writing career with gastronomic gigs, including 14 years as the restaurant reviewer for San Antonio Magazine, a few as the local Zagat Guide editor, and a few as the writing instructor at the Culinary Institute of America, San Antonio. In 2014 she co-authored her first cookbook with Fredericksburg chef Ross Burtwell, Texas Hill Country Cuisine: Flavors from the Cabernet Grill. Her second cookbook, San Antonio Cooks, will be released this fall, and features recipes from 42 of the area's top chefs and restaurants. Since 2015, Julia has introduced countless guests to the city's chefs, artisans and producers through her culinary tour company, Food Chick Tours (foodchicktours.com).