Hill Country Council for the Arts
In its 11th year, the Annual Boerne Art Waddle is described as "a relaxed fun event with the attributes of a major fine art event." True on both accounts, this juried art show features approximately 30 local and statewide artists practicing in a variety of mediums and displaying their works along River Road Park in downtown Boerne.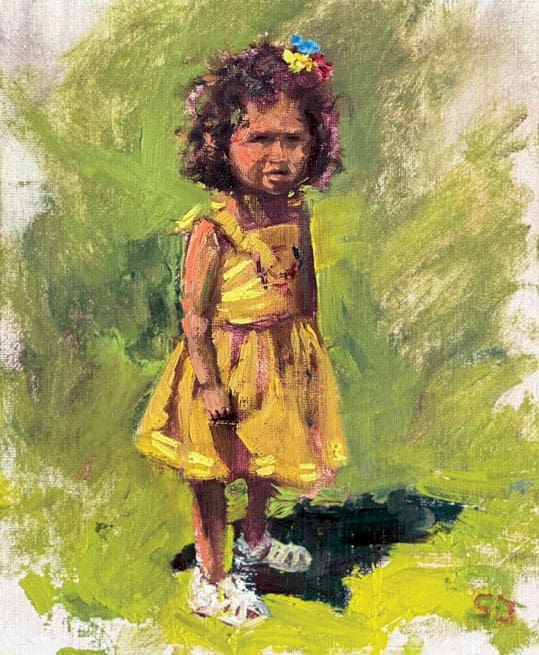 Community partners from Visit Boerne said, "The Boerne Art Waddle is a great event to get out and explore Boerne's charming historic downtown Hill Country Mile district and enjoy a stroll along the Cibolo Trail. We look forward to seeing the artists lined up showing off their works again this year. It would be hard to spend a day waddling along without picking up a treasure or two to feather your nest with!"
If you're new to Boerne, the Art Waddle name comes from the huge population of ducks that live along Cibolo Creek and in River Road Park. Locals happily stop traffic as they cross the street, and it is practically considered a rite of passage for every toddler in town to feed them.
Waddle Weekend festivities kick off on Friday, May 12 from 4:00 to 7:00pm at Salvador Dobbs for an Artists Reception attended by many of the artists in the show. Art partners, Gallery 195 and Carriage House Gallery, will also have coordinated hours where their resident artists will be speaking, and many other downtown merchants, restaurants and breweries will be open throughout the two-day event.
On Saturday, May 13, from 10:00 am to 5:00pm, artists will be manning their booths and ready to chat, demonstrate and inspire. Family activities will include a coloring and painting spot along the Waddle trail, musicians will be entertaining at the beginning and end, and of course, all of the fabulous shopping and dining along the Hill Country Mile are just steps away. 
New this year, Boerne ISD is joining the show with middle and high school winners from their Spring Show, as well as Advanced Placement students, presenting at two booths.
Boerne is an evolving and thriving community of artists, and the Art Waddle is just another way that Boerne supports the arts. Blessed with representatives from the city, county, library, Chamber and CVB who come together in varying degrees to promote art, the Art Waddle has grown over the past decade to include and recognize the talented area artists and the public's growing interest and support.
The Hill Country Council for the Arts (HCCArts) is the nonprofit patron of the arts community that connects the dots and brings leaders in the arts community together to produce cultural events such as The Boerne Art Waddle. 
In fact, HCCCArts is responsible for the development of Boerne's public art master plan that resulted in the 2015 initiation of Art Al Fresco, the program that brings public art to the city each year.
HCCCArts also promotes other Boerne events such as the July 4th Fireworks and Boerne BierFest, as well as several artist workshops throughout the year. The Art AfterHours programs teach applied arts methodologies and meet on Tuesday evenings. For more in-depth instruction, Mini Workshops allow students to explore and perfect a medium or genre through six and 12-week sessions. These and other classes take place at The Classroom at the AgriCultural Heritage Museum and Arts Center. For a complete calendar of classes and events, visit  HCCArts.org. 
For more Boerne Art Waddle information, 
visit HCCCArts.org/art-waddle.