The center's cancer experts have also made presentations to various groups within the community, including the Men's Group on several occasions. These special events are very popular with the members and residents of Cordillera Ranch, who have enthusiastically attended and supported the fight against cancer. The COVID-19 pandemic unfortunately curtailed many activities for the time being, but the Mays Cancer Center looks forward to bringing back the events as soon as is safely possible.
A cancer diagnosis can bring changes to your life. At the Mays Cancer Center, you have a team of experts beside you to make things a little easier. We provide a level of care consistent with the nation's leading cancer programs.
"We offer more of the services you need under one roof, including sophisticated cancer tests and innovative treatments," said Ruben Mesa, MD, FACP, Executive Director of the Mays Cancer Center. "Our expertise, derived from treating a high volume of patients, helps us design a customized treatment plan to keep your care moving forward."
Highlights of our program include: 
Commitment to high-quality care: You receive comprehensive care from a team of highly skilled doctors. We meet regularly and discuss complex cases. The team reviews test findings and tailors your plan to provide personalized therapies that reflect the latest care practices. Read about cancer programs at https://cancer.uthscsa.edu/cancer-care/programs.
National recognition for cancer research: The Mays Cancer Center is the only National Cancer Institute (NCI)-designated cancer center in Central and South Texas. This recognition is reserved for cancer centers with an established history of pioneering cancer research. It also means you have access to promising new treatments close to home. Learn more about our NCI designation at https://cancer.uthscsa.edu/about-us/national-cancer-institute-designation.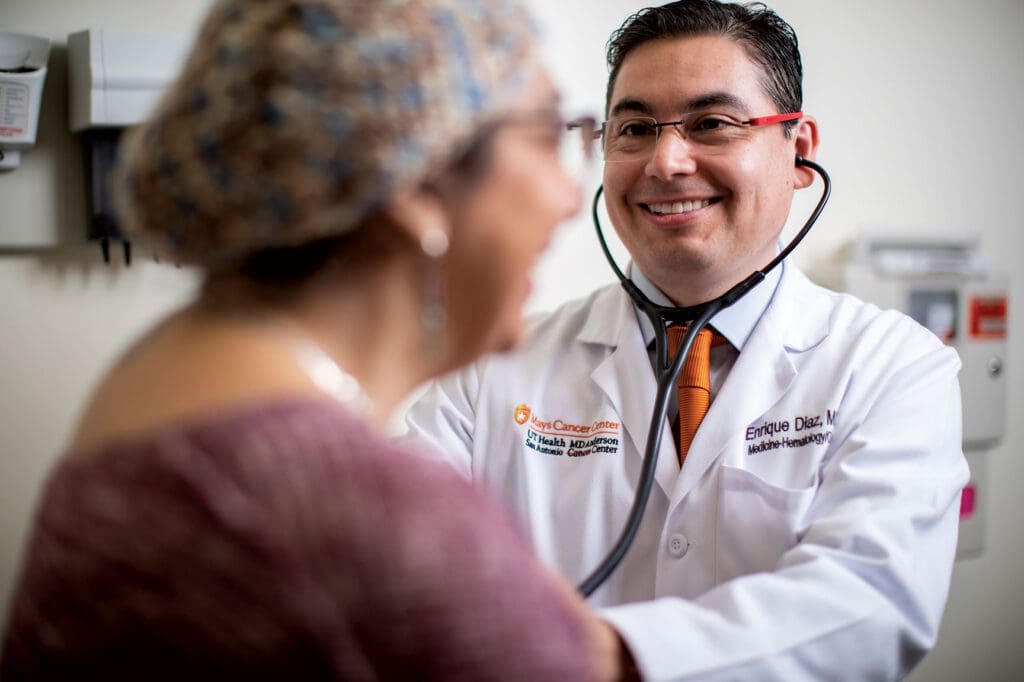 Partnership with MD Anderson Cancer Center: MD Anderson is among the nation's most respected cancer centers and is a trusted extension of our team. By working together, we help more people receive personalized cancer care utilizing the same treatment protocols where they are most comfortable — near home and family.
Expertise in many types of cancer: Our cancer specialists have additional training in their areas of specialty, such as breast cancer and blood disorders. Our active role in research means we stay current on the best care practices for rare cancers, including neuroendocrine tumors. Find out more about the cancer types we treat at https://cancer.uthscsa.edu/cancer-care/cancer-types. 
Advanced treatments: We offer treatment options — such as robotic surgery and immunotherapy — that you may be surprised to find in South Texas. And our experts have years of experience delivering them, so you can count on us for effective care. Read more about cancer treatments at https://cancer.uthscsa.edu/cancer-care/cancer-treatments. 
Focus on quality of life: Your peace of mind matters to us. This is why we offer special services and support to make your life a little easier during treatment. You can get therapies, including advanced pain management, to relieve discomfort and ease side effects. Learn more about supportive care services at https://cancer.uthscsa.edu/patients-and-families/supportive-cancer-care.
In March 2021, our leaders ceremonially broke ground for the UT Health San Antonio Multispecialty and Research Hospital, a destination center for research and treatment of cancer and other complex diseases that disproportionately impact the people of South Texas. Now under construction, this first-in-class hospital will be a major boost to our Mays Cancer Center patients once it opens in 2024.
"We are forging a future in which no patient will ever have to leave San Antonio to receive world-innovative treatments," said William L. Henrich, MD, MACP, President of UT Health San Antonio. "This hospital will significantly and forever change how we serve the sickest and most vulnerable populations in our area."
The eight-story, 144-bed hospital will offer specialty care in cancer, orthopedics, urology and thoracic and bariatric surgery. Owned by The University of Texas, this new facility will be a major site for early phase clinical trials, including novel immunologic and stem cell therapies for cancer.
The hospital will be connected by a pedestrian sky bridge to the Mays Cancer Center. The emphasis on cancer care and research, symbolized by the sky bridge, will be strong. "NCI-designated Cancer Centers with superior access to state-of-the-art hospital care are the nation's leaders in inpatient Phase I clinical trials of cellular-based therapies and surgical technologies," Dr. Mesa said. "In addition, the seamless relationship between our outpatient clinics and inpatient hospital care will greatly benefit our patients."
The hospital is not the only new jewel for Mays Cancer Center patients, however. Another is called MRI-Linac technology.
"MRI-Linac technology combines high-resolution magnetic resonance imaging and generation of cancer-killing radiation beams in a single instrument," said Mark Bonnen, MD, Chief Medical Officer of the Mays Cancer Center and Chairman of the Department of Radiation Oncology. "Our excellent team of radiation oncologists will use this game-changing technology to visualize tumors in real time and deliver beams precisely where they need to be. Our acquisition of this instrument in the next year exemplifies our commitment to offer the latest treatment options and the finest comprehensive care to our patients."
In addition, UT Health San Antonio and Proton International LLC are partnering to build a proton therapy center to offer Mays Cancer Center patients an advanced alternative to conventional radiation treatment for cancer. Unlike with X-ray radiation, proton therapy uses beams of high-energy protons, or positively charged particles in atoms. The proton therapy center at UT Health San Antonio will be the first in the city and South Texas, and one of only about 40 in the United States.
"As important as new facilities and technologies are, however, it is the programs and people of our Mays Cancer Center that set us apart," Dr. Mesa said. He listed these distinctions:
• The region's leading breast cancer team with new faculty specialists. 
• Genetic counseling for families with multiple generations diagnosed with cancer.
• World-class genitourinary cancer team care.
• Leading complex care of pancreatic, liver, colorectal and gastric cancers.
• Excellent head and neck cancer program.
• World-class lymphoma program.
• The region's leader in blood disorders.
"Our specialists have launched new and unique programs in cardio-oncology, cancer rehabilitation, cancer survivorship and other areas that touch the lives of patients and their families," Dr. Mesa said. "And of course, all of the above is offered in affiliation with The University of Texas MD Anderson Cancer Center, ensuring that the MD Anderson model of cancer care is extended to patients here in San Antonio."
This, within a few miles of Cordillera Ranch, is the great resource that is the Mays Cancer Center.
As soon as activities resume, the Club will be sending information and invitations to keep members and residents of Cordillera Ranch informed. For more information, please contact Director of Membership Debbie Pepper at 830.336.3544 or Simone Lewis, Director of Development at the Mays Cancer Center, at 512.947.1882. 
ABOUT THE MAYS CANCER CENTER
The Mays Cancer Center, home to UT Health San Antonio MD Anderson, is the only National Cancer Institute (NCI) designated cancer center in San Antonio and South Texas. There are only four such cancer centers with this prestigious designation in the state of Texas and only 70 in the entire country.
Through the Mays Cancer Center's affiliation with world-renowned MD Anderson Cancer Center, the people of San Antonio and South Texas have expanded access to leading-edge expertise in multidisciplinary, research-driven and personalized patient-centered cancer care. Because this exceptional level of care is available right here in San Antonio, our citizens can stay close to home to receive the very best cancer treatments available anywhere in the world. The UT Health San Antonio Multidisciplinary and Research Hospital, pictured in renderings here, will greatly increase that access to care.
The Mays Cancer Center is transforming cancer care and taking its place among the world's most respected centers devoted exclusively to cutting-edge cancer research and unparalleled patient care. Our physicians and scientists are unlocking the mysteries of disease and translating discoveries into the latest life-saving treatment options. By combining our strengths, we are enhancing cancer care, spurring innovative cancer research, investing in new drug discoveries, and strengthening our efforts to educate and train the next generation of cancer leaders. Together, we are united by one mission: to end cancer.