Every year, we organize a golf trip for the membership at The Clubs of Cordillera Ranch. In 2021, we hosted a couples' trip to Pinehurst and took a group of guys to Lajitas. In 2022, we planned an August trip to Wisconsin for guys, and Lajitas for a couples' trip. This year we will be traveling to Big Cedar Lodge in the Ozarks for one of the greatest golf experiences in the country.
Corey Roberson, Director of Golf
Inspired by a deep desire to connect people to nature, Johnny Morris, founder of Bass Pro Shops®, set out to grow the game of golf while incorporating the beauty of the Ozarks into every shot. The property is quickly becoming known as America's Next Great Golf Destination, with NATURE'S FINEST™ courses designed by some of the top names in golf: Tiger Woods, Jack Nicklaus, Arnold Palmer, Tom Watson, Gary Player, Tom Fazio, Bill Coore and Ben Crenshaw. This is truly an experience you will never forget, and the best part is that it doesn't stop with golf. The property offers a wide variety of 
activities including fishing, bowling, shooting and more. Unique restaurant venues range from casual to elevated dining. Each couple will stay in a one-bedroom cabin situated on the property's wooded hillside, complete with rustic decor, modern amenities and the charm of the Ozarks.
This well-appointed trip, curated for Cordillera Ranch Club members, will accommodate seven couples. To learn more, contact Corey Roberson at croberson@cordilleraranch.com and 830.336.4653.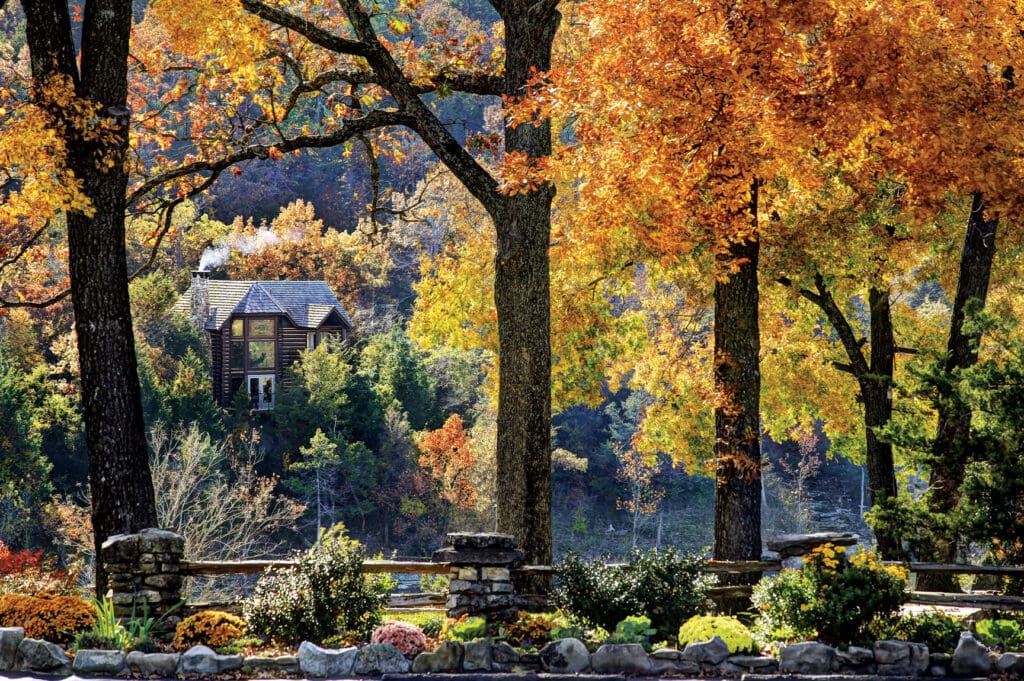 Itinerary
After flying into Branson on Saturday, October 14, to catch a show, we will head out to Big Cedar Lodge for four full days of golf.
Monday, October 16
Play the 9-hole Nicklaus Signature course — Top of the Rock
Dinner at Osage
Tuesday, October 17
Play Buffalo Ridge Springs
Dinner at Uncle Buck's Fish Bowl & Grill
Wednesday, October 18
Play the Coore & Crenshaw course — Ozarks National
Dinner at Devil's Pool
Thursday, October 19
Play the short course — Mountain Top
Play the Tiger Woods course — Payne's Valley
Dinner at The Worman House Bistro
Top of the Rock
One of only two par-3 courses to be used in official competition in a PGA TOUR-sanctioned event, the Jack Nicklaus-designed Top of the Rock is perched high above Table Rock Lake with peaceful waterfalls, wandering creeks, bass-filled ponds and pristine lakes. This is a 9-hole experience.
Buffalo Ridge Springs
Already acclaimed as one of the region's top golf courses by GOLF Magazine® and Golf Digest®, Buffalo Ridge has been transformed by visionary conservationist Johnny Morris and renowned golf course architect Tom Fazio. Together, they redesigned the course to bring players in close contact with nature, native grasses and free-ranging buffalo from nearby Dogwood Canyon Nature Park.
Ozarks National
Opened in 2019, the 18-hole Ozarks National Course will surely test avid players. The golf course architect team of Bill Coore and Ben Crenshaw designed a championship course to connect golfers with nature and provide the perfect complement to the existing 18-hole layout at Buffalo Ridge Springs.
Mountain Top
Johnny Morris teamed up with golf icon Gary Player to create a world-class 13-hole short course that delivers an unparalleled experience for golfers. Sharing a similar passion for nature and golf, they created a renowned golf experience for all skill levels. The course routes through unforgettable, 300-million-year-old rock formations and includes some of the most dramatic views in the Ozarks. 
Payne's Valley
Opened in 2020 and named in honor of the late Payne Stewart, the new Payne's Valley is the first fully public-access course in the world designed by Tiger Woods' design firm TGR Design. The championship course features an extraordinarily dramatic 19th hole, "The Rock," that can be used to settle unfinished wagers. The challenging but player-friendly walkable course has an unforgettable finish where golfers actually traverse through a breathtaking natural cavern system to return to the clubhouse after completing the 19th hole.
Corey Roberson is the Director of Golf at The Clubs of Cordillera Ranch. He can be reached at croberson@cordilleraranch.com and 830.336.4653.