The 2022 Men's C-Star was played on April 28 – 30 where 120 guys (60 members and 60 guests) battled it out in five 9-hole matches. Mother Nature was mostly good to us as we only got rained on a little, and the golf course was in amazing shape.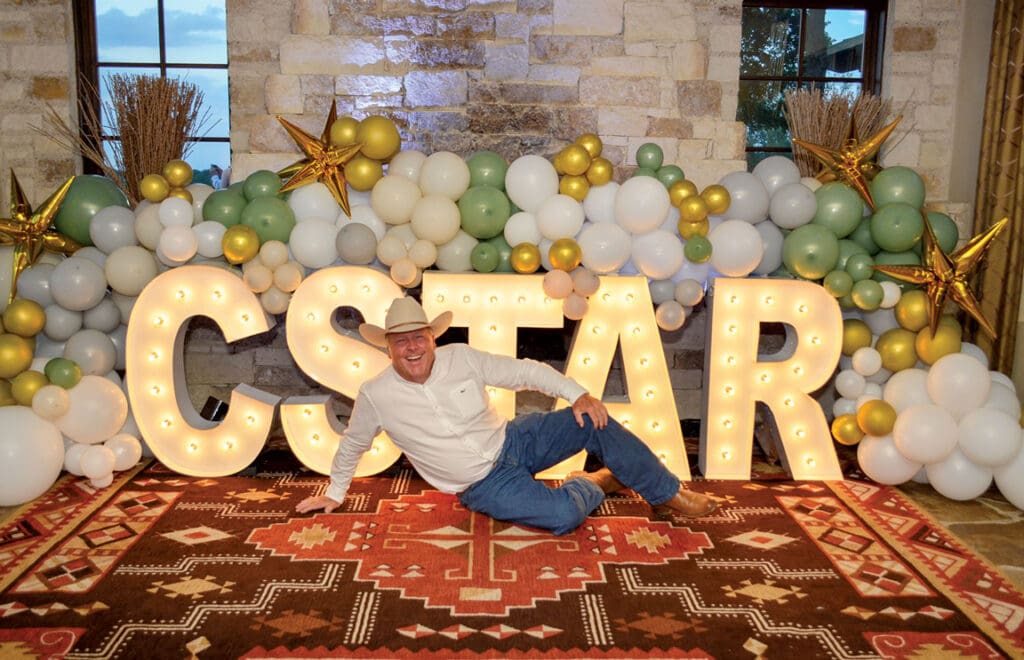 The event kicked off with a practice round, 18-hole putting competition, and Stag Party on Thursday. There was no formal game in the practice round, but the putting competition was a two-person modified alternate shot format (both players hit the first putt, select the best one and then alternate from there). Congrats to the team of Andrew Tosdevin and Lawrence Bailey who captured the title with an impressive even par 36 — they would also go on to win their flight… more on that in a bit. Before we move on, I want to give a special shout-out to Chris Wiseman and Jake Valenzuela who finished putting in last place and got to take home these sweet helmets!
We took a different direction with the Stag Party this year by adding a little Cajun flair to the menu with fresh crawfish, and for entertainment, guys had the opportunity to play Chicken Shit Bingo. It's probably safe to say, most of you haven't heard of that — don't worry, you're not alone as I never had either. Here's how it works: you sell tickets that coordinate with numbers on a board. Once all the tickets are sold for that round, they release a chicken on the board and if the chicken poops on your number, you win the pot!
The real part of the tournament started the next morning where we divided the 60-team field into ten flights of six and then each team played a 9-hole best-ball match against each other team in their flight. On Friday, we played three matches and then two on Saturday. To crown an overall champion, the 10 flight winners advanced to the Lonestar Shootout on Saturday afternoon.  
In this modified alternate shot format, all teams receive 35% of their combined handicap and all teams play from the Blue Tees. Let me just start by saying there was some interesting golf played in the shootout, but the champions played strong from start to finish. Our standard shootout rotation is #10, #11, #16, #17 and #18. Two teams are eliminated on the first four holes that we have two teams on #18 tee box. I'm not going to go into detail about how the Alamo Flight champions made a 10 on #16 or how the Tosdevin/Bailey team showed up to the shootout late and fired it OB right when there's 196-yard-wide area to hit your tee ball. Instead, we are going to skip right to #17 — the Bandera, Cordillera, Lonestar and Nicklaus flights were all still alive and all four teams were on or near the green in two. The hole would end with the Bandera and Nicklaus flights advancing and the Lonestar flight finishing in solo 3rd.
On #18, both guests hit the tee shots — the Nicklaus flight found themselves in the left side of the fairway and the Bandera flight was in the right rough with a hanging side-hill lie. The Nicklaus flight was first to play and Ken Nibling over-hooked his second shot leaving his partner a tough pitch. Representing the Bandera flight, David Murdock was next up and hit an awesome shot to about six feet behind the hole. Quentin Lutz hit the pitch a little too hard leaving Ken a tough downhill chip out of the rough where he elected to go with the putter. Ken managed to leave the next one below the hole where Quentin drained a 15-footer for bogey. Mind you — this ain't over yet… that little 6-footer that Paul Griff had left can run away from you in a hurry. He hit a very conservative putt leaving David a simple 2-footer up the hill that he quickly drained for the victory.
Congratulations to the 2022 C-Star Champions — David Murdock & Paul Griff.
Corey Roberson, PGA, is the Director of Golf for The Clubs of Cordillera Ranch. He can be reached at 830.336.4653 and croberson@cordilleraranch.com.
Alamo Flight – Isaiah Navarrete & Alberto Nabarrette
Bandera Flight – David Murdock & Paul Griff
Cordillera Flight – Jim Crites & Sean Sassin (not pictured)
Guadalupe Flight – Andrew Tosdevin & Lawrence Bailey
Hill Country Flight – Reed Smith & Sean Foust
Lonestar Flight – Ron Ainsworth & Tom Knittle
Nicklaus Flight – Ken Nibling & Quentin Lutz
Riverwalk Flight – Zane Price & Hunter Malatek
Rodeo Flight – John Kester & Greg Biagi
Wrangler Flight – Mac Northington & Burt Hooton